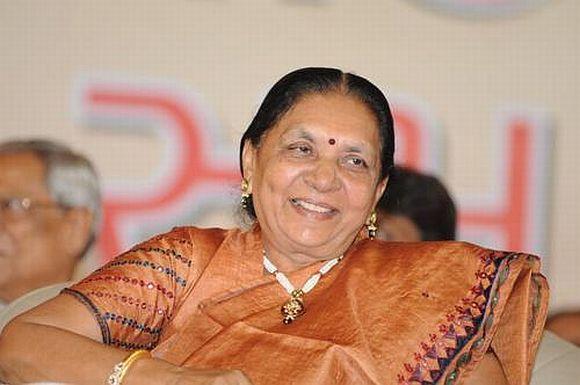 The somewhat intimidating Chief Minister of Gujarat Anandiben Patel talks to Aditi Phadnis about the politics of the Patel agitation in her state, how her government is working to enable entrepreneurship and the saas-bahu power dynamic.
When Narendra Modi resigned as chief minister of Gujarat and Anandiben Patel was elected by the Bharatiya Janata Legislature Party as its leader, Modi said Gujarat was in safe hands. "I know she looks a bit strict," he said, introducing his successor, "I know she doesn't smile much. But under her leadership, Gujarat will march ahead after me."
It is true that Anandiben appears at first glance to be forbidding, dour and grim; but only until you hear her laugh. If something amuses her, she smiles and then utterly spontaneously, the laugh turns into a gurgling giggle. There are many in her party -- including members of the Patel clan who are agitating for 'anamat' (reservation) -- who consider her unfriendly. She says: "Those who stick to rules always appear unfriendly to people who come for personal favours. I should be judged for my work, not by the look on my face."
The tea served at Gujarat Bhavan in New Delhi where we meet is robust -- somewhat excessively so for my timid palate. I take a sip as I sit across the first woman chief minister of Gujarat. The beverage is abandoned, left to form an unappetising beige skin on the surface, as Patel talks about the challenges in her job.
The agitation for reservations by a caste that is relatively better off in Gujarat confronted her within months of becoming chief minister. She is a bit shifty talking about the Hardik Patel-led agitation and the government's response to it: negotiations are still on, so could I please be judicious in what I write?
Many are coming to her from the Patel community to say the agitation has shamed the caste, she says. On the other hand, it is also true that with 95 per cent marks, a Patel child is unlikely to get into a government medical college and can be required to pay Rs 5 lakh or more to become a doctor while a Dalit child even with 87 per cent marks gets free education. "So I asked them: you want to be classified as Dalit? Or as an Other Backward Class?" The community was not clear. "It will all be sorted out. You will see," she says confidently.
Sorted out? But Hardik Patel is in jail on charges of sedition, I ask. She looks at me unblinkingly. "I did not put him there. The court did," she says and smiles chillingly. I get the feeling Hardik is unlikely to be released anytime soon. I could be wrong.
Anandiben is clear about what needs to be fixed in Gujarat: the status of women.
Although the BJP has evinced no particular view on the matter, she says unequivocally that all women must be allowed entry into all temples. Not letting them in is ridiculous. She says she comes from a state that practises a particularly severe ghunghat (veil).
When she became a teacher and later, a political activist, she refused to observe it and was panned for being too forward. She didn't care. Today, when she goes to villages, she makes it a point to ensure that women are on the stage, especially those in positions of leadership.
"I went to a village that had elected a woman as its head. But sitting next to me on stage was a young man. I asked him who the head was. He said, 'It is my auntie'. I demanded the auntie come forward. She came on stage, I made him get up and she sat on the chair. By the end of the function, she had pushed her veil back and was answering questions quite confidently."
It must be hard living in the shadow of such big leaders as Modi and Amit Shah. "A person is called a leader if he encourages development. When I take Narendra Modi's name, there is applause. I feel a great sense of pride."
So what is her USP? "Social change," she answers promptly. "My leaders have never stopped me from going ahead. But my priority is to bring about a change in the way people think. In our state, people tend to spend a lot of money on marriages. I have not only made it my mission but have also enforced it on my family -- you should spend as little as possible on weddings."
Child marriage is another bane of the Gujarati society. When her brother died and the family made preparations to get his son married at 20, she warned that she would go on a hunger strike if that happened. The family didn't take her seriously. She wrote a letter to the police, which arrived when the marriage was about to be performed. "My family did not speak to me for five years," she said.
Whether the marriage is of a son or a daughter, people have been reduced to penury, forced to sell land. She recalls that when her daughter got married (to the son of Ishwarbhai Patel, one of Gujarat's leading social reformers) she insisted that not more than five people attend from the groom's and bride's side.
Behind her back, her husband had made plans for a grand wedding. When she got to hear of this, she went early morning to Ishwarbhai Patel's home and persuaded him and his wife that no more than five people would attend the wedding. It is customary for uncles of the bride to give huge amounts of cash to the couple. All they were permitted to give was Rs 100 -- she would not countenance anything more than that. They had brought money in sacks, she says.
This brings us to the sensitive issue of her daughter Anar's involvement in a land allocation scandal.
The Opposition claimed that prime land was given to Anar Patel at a price below market value. Anandiben insists there was no scandal: Wild World Resorts signed a memorandum of understanding in 2007 when the Vibrant Gujarat event was on. The cost of the land is calculated according to circle orjantri rates. No one person but a committee decides the cost based on several parameters. The land changed hands thrice -- finally only to be declared an eco-sensitive zone. This means now the value of the land is zero. Only at one stage was her daughter associated with the company.
I hint at other bad odours wafting from the state. Anandiben is dismissive. "We are doing so much that somebody will always complain. Take the Centre's Start-Up India mission. The Gujarat government is enabling entrepreneurship by paying 50 per cent of the rent for a workshop for those who want to start business in the state. This means 50 per cent of the capital cost. The Gujarat Industrial Development Corporation is erecting multi-storeyed buildings on vacant industrial plots to enable start-ups, especially those run by young women. I could go on…."
As minister for primary education from 1998 to 2007, Anandiben restructured the system of transfer, posting and appointment of teachers, nearly ending the transfer-posting industry in primary schools and doing away with rent-seeking. This period saw the girl child dropout rate falling -- it was two per cent in 2013, plummeting from 37 per cent in 2001. I catch her looking surreptitiously at her watch and save my questions for another day.
But I can't resist asking her how she views the saas-bahu power dynamic. She is thoughtful: "If there is a feeling that either the mother-in-law or the daughter-in-law has had to compromise excessively, there is conflict."
On that wise note, we part.