Only nine out of India's 29 states have Hindi as the official language, so why impose Hindi on the other states, asks Syed Firdaus Ashraf.
Illustration: Dominic Xavier/Rediff.com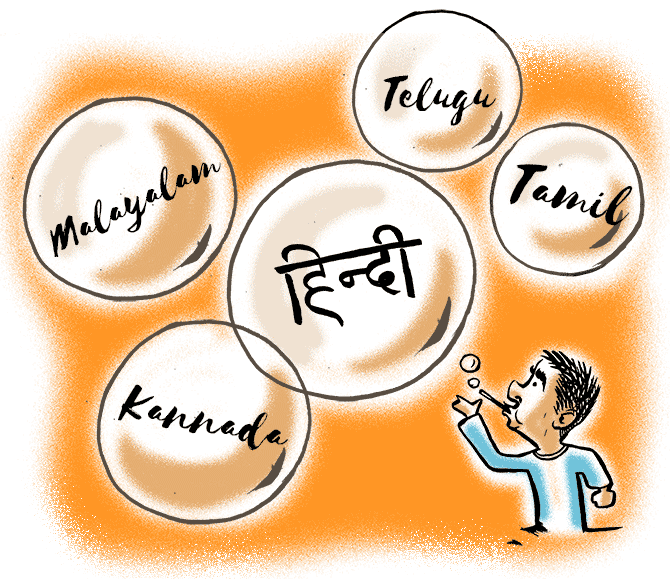 My first encounter with Hindi versus regional languages occurred in 1982.
My maternal grandfather, the late Kamruddin Sarwar, had booked bus tickets for his seven grandchildren from Londa to Savnur in Karnataka.
He was on the final lap of his life and wanted his grandchildren to visit his village Savnur so that we would cherish the memory all our lives.
We entered a Karnataka government bus at Londa only to discover that our reserved seats had been occupied by villagers.
My grandfather argued with the villagers over their occupying our seats. All seven of us Mumbai kids were dumbstruck. We didn't open our mouths. The reason: The Kannada language.
None of the locals on the bus knew Hindi, Marathi or English.
The bus driver and conductor too pitched in, but they too spoke Kannada.
I recall my grandfather telling the villagers occupying our seats 'En madtha iddhira? (What are you doing?)' if I remember right.
My grandfather loved Kannada and never lost an opportunity to speak in Kannada whenever he encountered a fellow Kannadiga in Mumbai.
Hindus or Muslims did not matter to him, what did was only Kannada!
He only had Kannadiga friends in Mumbai, Hindus and Muslims.
He was a Kannadiga first and an Indian next.
When Muslim government employees in undivided India were given an option to migrate to Pakistan, my grandfather asked his youngest brother to travel to Pakistan and see if that new country would suit the family.
My granduncle traveled from Karachi to Peshawar for a month in 1947. He liked what he saw, but Pakistan had a problem, he told his elder brother, my grandfather.
And what was that?
'No one speaks Kannada in Pakistan,' he told his brother.
My grandfather decided there and then that he would not move out of India. All because, Pakistanis didn't speak Kannada.
After the incident on the bus, I realised how fluent my grandfather was in Kannada.
He could convince many people on the bus that they were wrong, which is how we kids got the seats reserved for us.
During our stay in Savnur I discovered that my grandfather's relatives only spoke in Kannada.
We Mumbai kids on the other hand had no knowledge of South Indian languages.
Every language from beyond the Vindhyas -- be it, Tamil, Kannada, Malayalam or Telugu -- was the same for us.
We felt proud speaking in Hindi, and assumed that ours was the national language of India.
It was only later that I learnt that India has no national language. Hindi and English are only official languages.
Four years after the incident on a Karnataka bus, Hindi overnight became a villain in my life.
I failed in Class 9. Guess in which subject? Hindi.
The school's principal summoned my father -- who ironically is a well-known Hindi writer -- and showed him my answer paper.
The principal pointed out how I had written words like aaju-baaju, a Bambaiya construct, and khushboo, which was not Hindi, but Urdu.
The correct word in Hindi was sugandh. And as for aaju-baaju, it was aas-paas.
My father promised the principal that I would score a first class in Hindi the next year. That was not to be; I only got 58 marks out of 100.
A fear of shuddh Hindi remained in me after that. I was cautious while speaking the language when native Hindi speakers were around, careful not to lapse in Bambaiya Hindi which we Mumbai natives use in every day discourse.
In 1997, when I moved to Delhi, my perspective about Hindi began to change further when I became friends with Indians from Kerala and other non-Hindi speaking states.
I realised how intolerant Hindi speakers are towards those who do not speak Hindi.
One day a Malayalee friend asked the vegetable vendor in all earnestness, 'Do kilo pyaar do (Give me two kilos of love).'
I laughed loudly; even the vendor could not stop laughing. What my friend meant was 'Give me two kilos of onions (pyaaz)'.
My Malayalee friend said I must appreciate his trying to speak Hindi whereas I never made an attempt to speak a single word of Malayalam.
In Bambaiya terms, it was a bolti-bandh moment for me.
On a visit to Kerala two years ago, sitting with a group of Malayalee friends at a resort, I discovered that the banter was all in Malayalam.
'I hope you don't mind it,' one friend told me.
They could have spoken in English for my sake, but were clearly comfortable speaking in their mother tongue.
'We Mallus feel out of place when you Hindiwallahs speak in Hindi,' my friend added.
Point noted.
Only nine out of India's 29 states have Hindi as the state language: Bihar, Chhattisgarh, Haryana, Himachal Pradesh, Jharkhand, Madhya Pradesh, Rajasthan, Uttar Pradesh and Uttarakhand.
So why impose Hindi on other states?
We are Indians, not Hindi-ans.
Muppavarapu Venkaiah Naiduji -- who recently said, 'Hamari matrubhasha hamari pehchan hai. Hamein is pe garv karna chahiye. Angrezi seekhte seekhte hum angrezi mind mein bhi aa gaye hain. Ye desh ke hit mein nahi hai' -- may please note this point.