'At this stage we are closer to military confrontation than at any time since 1971.'
'Given the known positions of the two governments, it will not be surprising if this happens sooner rather than later,' says Vice Admiral Premvir Das (retd).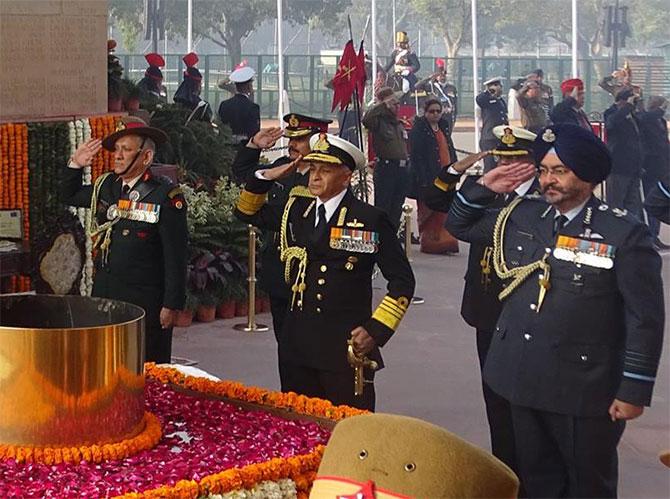 IMAGE: General Bipin Rawat, Chief of Army Staff, Admiral Sunil Lanba, Chief of the Naval Staff, and Air Chief Marshal Birender Singh Dhanoa, Chief of the Air Staff, pay tribute at Amar Jawan Jyoti in New Delhi on the 70th Army Day, January 15, 2018. Photograph: Kind courtesy ADGPI/Facebook
At Prime Minister Narendra D Modi's oath-taking ceremony, leaders of South Asian countries were guests, the most notable of them being the then Pakistan prime minister Nawaz Sharif.
Everyone spoke of the 'acche din' that this meeting ordained.
Relations between the two countries remained quite stable for over a year-and-a-half and Prime Minister Modi, in one of his predictably spontaneous and unplanned moves, visited Pakistan for the wedding of Mr Sharif's grand-daughter.
Everything appeared to be moving along the desired track and then came the attacks on Uri and Pathankot and the surgical strikes that followed.
Since then, more lives have been lost in Kashmir, both civilian and military, than at any corresponding time in the last two decades. Talks between the two countries remain suspended.
Militancy in the valley, both indigenous and abetted from outside, shows little sign of abating. A recent visit to a supposedly Indian spy by his wife and mother has created more acrimony and anger than if this had not taken place at all.
For all practical purposes, India sees Pakistan as a nation which can be termed an 'enemy'. All efforts made by this administration and the previous ones have failed to alter this perception.
In the recently held elections in Gujarat, the ruling BJP was seen by most as the losing side, at least until end-November, when Prime Minister Modi personally took over the campaign.
Brushing aside claims to development, the focus shifted to just two things. One, how the Congress viewed Gujaratis in general and Mr Modi in particular as inferior people.
Just when the 'chaiwala' jibe of Congressman Mani Shankar Aiyar in 2014 was getting forgotten, came the quip on 'neech', which the prime minister said was targeted at him, even as Mr Aiyar claimed it was a result of his poor knowledge of Hindi.
As if this was not enough, there came a poorly timed seminar on 'India-Pakistan Friendship' followed by a dinner hosted by -- who else? -- Mr Aiyar; present at this get-together were not only retired officials with deep knowledge of Pakistan but also a former prime minister.
This was a Godsend; the Congress party was immediately branded as inherently Pakistan-friendly, even as that country threatened our internal stability and territorial integrity.
Whether this accusation had validity is neither here nor there; the fact is that this was a Brahmastra needlessly handed over to an adversary who was fighting for the survival of his party.
That despite all this, the BJP still went below 100 speaks dramatically of what the results might have been.
But let us leave the Gujarat elections aside and focus on Pakistan.
First, we must recognise that Pakistan is geopolitically a very important country and it is very difficult for the world to wish it away.
So, to get carried away by the 'admonitions' by various American dignitaries, including President Donald J Trump, and expect it to change course in its dealings with India is hugely simplistic.
To inflict wounds on us, either through cross-border violations or through militancy and terrorism, has to be integral to any Pakistan strategy towards India.
Let us not forget that it is a country which was reduced in half by Indian military action; something which has not happened to any major country in the last six decades.
This is not a trauma that will be easily forgotten, either by the Pakistan army or political dispensations in that country.
Apart from this, Pakistan will always seek military parity with India which, frankly, it enjoys even today, given our commitments on the other border.
Add to this political support for it from China and our choices are not easy.
In short, the existing tensions are certain to continue and we will keep seeing actions from them and reactions by us, call them by whatever name.
The net result of all this is that in India, at least in the foreseeable future, Pakistan will continue to be seen as an enemy country by the great majority of people. This is the bottom line and any number of seminars and discussions will not help change this.
Therefore, for the Congress party to have talked of India-Pakistan friendship was to commit hara-kiri. That such a relationship might come about at some period of time is a different matter, but at this stage we are closer to military confrontation than at any time since 1971.
What will be its scope or duration is difficult to tell, but its possibility cannot be ruled out.
Given the known positions of the two governments, it will not be surprising if this happens sooner rather than later, and if we look at some recent pronouncements of Pakistani terror groups, the new year could be worse than the one that has gone by.
In this scenario, the bulk of the responsibility will fall upon the army, with the air force being a close adjunct. Neither is seriously superior to the adversary, and their capabilities need to be bolstered.
The navy enjoys that position, but its role in a short-duration skirmish can only be so much.
It could be argued that any military conflict, even a skirmish, might bring in nuclear weapons into play and immediate global intervention.
The first is hardly a possibility unless very serious damage is incurred by Pakistan; as for the second, then prime minister Indira Gandhi coped with a tougher environment in her days.
India's position in the world is much stronger today. This is not to suggest that military conflict is imminent, but to point out that its possibility cannot be ruled out.
Therefore, clear and credible military superiority over Pakistan is essential; this alone will impose a degree of restraint on its anti-India activities.
That country will continue to be seen in inimical terms by ordinary Indians and any school of thought that presently suggests friendship with it is doomed to failure.
It is not so much Mr Aiyar's 'neech' comment that brought the Congress grief in Gujarat as the perception that it wanted to be 'friendly' with the 'enemy'.
These are not the days to talk of India-Pak friendship.
Vice Admiral Premvir Das (retd), former Director General Defence Planning Staff, has been a member of the National Security Advisory Board.