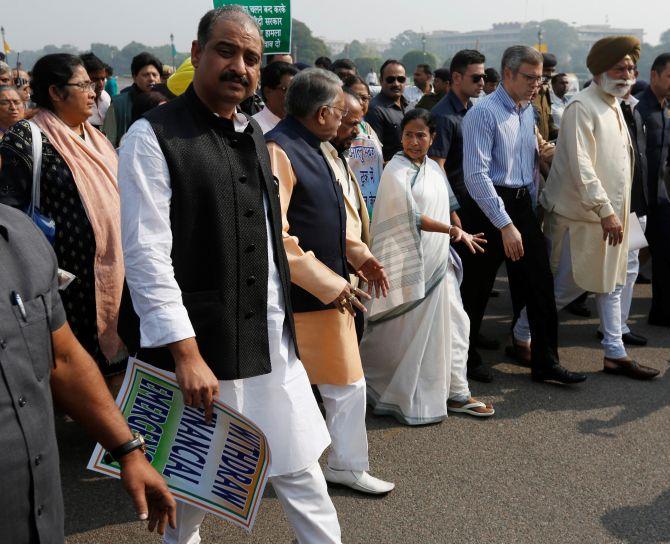 IMAGE: West Bengal Chief Minister Mamata Banerjee leads a march to Rashtrapati Bhavan to protest against demonestisation. Photograph: PTI Photo
Political observers say Mamata Banerjee is fast emerging as the face of the Opposition and would be a force to reckon with in the next general elections in 2019.
Ishita Ayan Dutt reports from Kolkata.
November 8, 10.20 am, West Bengal Chief Minister Mamata Banerjee tweeted: 'One month since demonetisation was announced. More than 90 lives lost. How many more Modi babu?'
The tweet was accompanied by an embedded table, neatly listing the alleged deaths and circumstances, from across the country; a black and white frame around the table probably conveying morbidity.
Demonetisation has kept Banerjee busy, probably, as much as it has central government officials and bank employees.
She has led a rainbow delegation of opposition party leaders to Rashtrapati Bhavan, held rallies in Delhi with state Chief Minister Arvind Kejriwal in tow, created a photo opportunity in Uttar Pradesh with Chief Minister Akhilesh Yadav receiving Banerjee at the airport ahead of her rally against demonetisation.
The only takeaway from the Patna rally, however, was a public display of bonhomie with former chief minister Rabri Devi, Rashtriya Janata Dal President Lalu Prasad's wife.
But it was Banerjee's relentless pursuit against demonetisation that had called for an 'assassination bid' or a 'coup by the army,' or so she said.
Banerjee spent the night at the West Bengal secretariat, Nabanna, 'guarding democracy' when the army was conducting, what it said, was a 'routine exercise' across the North-Eastern states, to gather data on load carriers.
The army said the exercise was carried out in full coordination with the Bengal police. But by then, the imagery of army personnel at the toll gates near Nabanna had occupied mindspace, even if for a few hours.
According to Banerjee, this was the Centre's way of retaliating against her drive opposing demonetisation.
The allegation prompted Union Minister M Venkaiah Naidu to call it 'cheap publicity.' Yet, it found takers in Uttar Pradesh, a state where the Trinamool Congress has zero presence.
Yadav supported Banerjee and said she was right in raising her voice against the Centre. That's not all. Yadav's challenger in Uttar Pradesh, Mayawati, also spoke against the Centre's excesses on Banerjee in the Rajya Sabha.
With the principal parties in Uttar Pradesh supporting the Trinamool Congress supremo, the question uppermost on everyone's mind is: What could they possibly have to gain from Banerjee?
Political observers say Banerjee is fast emerging as the face of the Opposition and would be a force to reckon with in the next general elections in 2019.
A glimpse of things to come was on display at Banerjee's swearing-in ceremony earlier this year.
Politicians across party lines -- those looking for support in the Rajya Sabha and the ones angling for a potential partnership -- were all there: Nitish Kumar, Kejriwal, Yadav, Farooq Abdullah, Prasad found place on the dais, alongside Arun Jaitley and Babul Supriyo.
It's not without reason that Banerjee has been steering and stirring issues of national importance.
Immediately after her second coming in Bengal, when the chambers of commerce got together to felicitate Banerjee for her resounding victory in the assembly elections, she publicly asked state Finance Minister Amit Mitra, also the chairman of the Empowered Committee of State Finance Ministers, to iron out differences on goods and services tax in one or two meetings.
But when it came to ratifying the GST in the assembly, Bengal steered away.
By then, 'central interference' on a host of issues had taken precedence.
Banerjee was especially irked by the 'central interference' in posting representatives in the state treasury to monitor the spending of central funds.
'Bulldozing the autonomy' of the states, 'federalism' and 'central interference' have been resounding in Banerjee's speeches for a while now.
Federalism is also one of the reasons the Centre and states such as Bengal have not been able to reach a consensus on the dual control of taxation in the GST regime.
The only other ardent supporter of federalism from Bengal, ironically, was Banerjee's one-time arch rival, Communist Party of India-Marxist leader and former Bengal chief minister Jyoti Basu.
Improving Centre-state relations was one of Basu's primary objectives; his speeches would be dotted with 'kendrer bonchona' (neglect by the Centre).
Basu, along with Harkishan Singh Surjeet, then the CPI-M general secretary, was instrumental in building an alternative front to the Congress and the Bharatiya Janata Party.
In fact, Basu emerged as the consensus candidate for the post of prime minister in the United Front government in 1996. But the CPI-M Politburo nixed it, prompting Basu to term it a 'historic' blunder.
It is not known whether Banerjee harbours such political ambitions. But she has bought a Hindi dictionary, and 'votebandi,' 'notebandi' have become part of her lexicon since.