Political Pundit R Rajagopalan lists his big takeaways from the election results.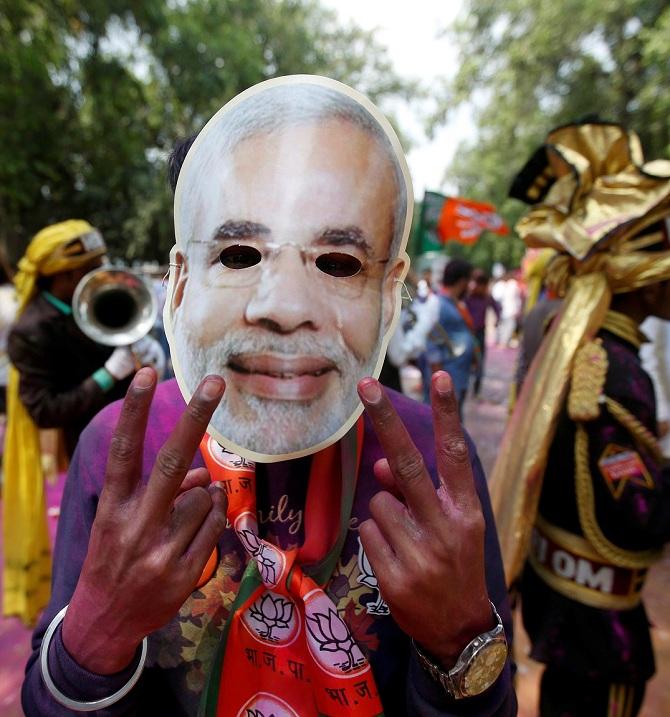 IMAGE: A BJP supporter celebrates the election results outside the party headquarters in New Delhi, March 11, 2017. Photograph: Adnan Abidi/Reuters
When it comes to elections, Uttar Pradesh is never just another state. And a landslide victory of the kind that the Bharatiya Janata Party has just scored in the state elections there will have a deep implication on the national picture.
With the high number of BJP MLAs from UP, Modi will have a free hand in choosing the next President of India; President Pranab Mukherjee's term ends in July 2017.
There are many contenders, including Lok Sabha Speaker Sumitra Mahajan and Minister of Social Justice and Empowerment Thawar Chand Gehlot.
However, what is in Modi's mind will be known only by April.
The UP win also marks a big leap forward for the BJP in the Rajya Sabha.
Until now, the Congress, as the principal Opposition party in the Upper House, had the power to obstruct bills and amendments.
Now, Modi will be able steamroll all bills and reforms on his agenda.
This is likely include the introduction of a stricter law against benami transactions to weed out corruption, and more aggressive steps similar to demonetisation.
The results overall also indicate the need for a major rethink in strategy among all the other parties.
Arvind Kejriwal's dream of becoming the prime minister in 2019 has gone for a toss after the Aam Aadmi Party's losses in Punjab and Goa.
Bahujan Samaj Party chief Mayawati's focus on the Dalit-Muslim voter combination has now failed twice and she will have to reinvent herself.
The Samajwadi Party's Akhilesh Yadav will have to think twice about getting closer to the Congress in 2019 as the alliance with the party clearly let down the SP in UP.
As for the Congress, Rahul Gandhi's leadership has failed. Miserably.
With Sonia Gandhi not on the national scene, there is a vacuum. If Rahul has to fill the space, he has to do a lot of self study in the run-up to the 2019 general election.
Or the dynastic rules of the Congress will have to end.
As former finance minister P Chidambaram has been saying, the Congress is not a private enterprise that only a family member has to head it; there should be a decentralisation of power.