'Communalism was the biggest enemy of a free society and Bhagat Singh imagined a future without it.'
'Did we succeed in bringing alive such a future?'
Utkarsh Mishra remembers the revolutionary freedom fighter on his birth anniversary today.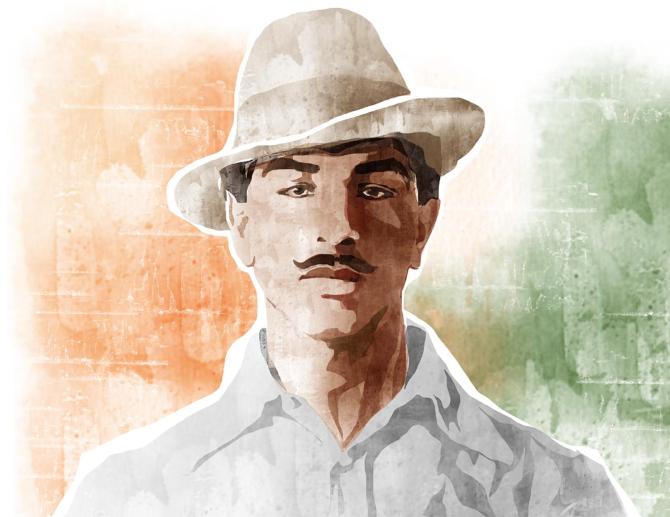 In one of his widely read poems, revolutionary poet Avatar Singh Sandhu, popularly known as 'Pash', wrote:
'The day Bhagat Singh was hanged, a book on Lenin was found in his cell.
'A page of that book was folded (implying that this was the last page Bhagat Singh read).
'The youth of Punjab need to go beyond that folded page, that last day.'
In these lines, Pash calls on the youth to take forward the revolution that Bhagat Singh had started. In other words, build a society, a nation of 'Bhagat Singh's dreams'.
But how does India's youth see Bhagat Singh today?
No doubt that he is India's most popular youth icon of all times. One can find 'brigades', 'armies', 'youth federations' named after him in every part of the country. His t-shirts and posters are sold in large numbers.
But, beyond this idolisation, which is indeed welcome, how many read and understand his philosophy?
How many of us know him in the way Pash wanted us to?
Do we know him as an atheist who turned down a request to 'remember God' even at the gallows?
Do we know him as a man of the Left who got the word 'Socialist' included in his party's name?
Do we know him as a revolutionary who wanted to bring class-consciousness among poor workers and peasants and make them realise that 'their biggest enemy is capitalism'?
Do we know him as an admirer of Lenin who was reading about the latter minutes before his death?
Do we know him for his philosophy and thoughts or only as someone who, opposed to the non-violent movement led by Mahatma Gandhi, picked up a gun to fight the British?
What made Bhagat Singh different from his fellow revolutionaries?
Of course, his courage and sacrifice were hard to match. But so were the depth of his reading, his clear understating of issues and his ability to explain revolutionary ideas and philosophies in words.
In his short life of 23 years, Bhagat Singh produced a great amount of literature.
He read a lot. His comrade Shiv Verma, who has written about the revolutionary movement in abundance, says in his memoir that 'Bhagat spent most of the time at my room, reading.
'He loved to read Victor Hugo, Hall Caine, Leo Tolstoy, Fyodor Dostoevsky, Maxim Gorky, George Bernard Shaw, Charles Dickens, etc.'
His jail diary includes notes taken from Jean Jacques Rousseau, John Locke, Patrick Henry, Karl Marx, Friedrich Engels, Upton Sinclair, Robert Ingersoll, Vladimir Lenin, Leon Trotsky and many others, which defines the breadth of his reading.
In several letters to friends and acquaintances and even to government officials while in prison, he kept asking for books. He encouraged his friends to procure particular books, read them and make others read too.
In one particular letter, dated 1927, he asks a friend staying in the United States to 'send some good books. After all, America has a lot of literature'.
Unsurprisingly, he was the intellectual bedrock of India's revolutionary movement.
This aspect of his personality is somewhat obscured by the image of the great martyr who fearlessly kissed the noose.
Bhagat Singh had high hopes from the youth. He writes, in more than one place, that the 'whole history of human progress is written with the blood of young men and women'.
In an article on communal riots published in June 1927, he writes, 'We have received this bit of happy news that the youth of Bharat are now tired of religions that teach mutual hatred and war and are washing their hands off such religions; and there is so much progressiveness in them now that they look upon the people of Bharat, not from the point of view of religion -- as Hindu, Muslim or Sikh -- but as human beings first and then as citizens of one country. The birth of such feelings in the youth of Bharat gives us hope for a golden future...'.
Bhagat Singh's writings imply that, for him, communalism was the biggest enemy of a free society and he imagined a future without it. Did we succeed in bringing alive such a future?
Rather than 'washing their hands off such religions', a look at social media would made it clear to anyone that a large section of today's youth has become more assertive and more conscious of their religious identity; they have become intolerant to religious criticism and easily take offence.
What would they say to Bhagat Singh who wrote, in another article in 1928, 'Religion stands before us like a mountain'?
If he saw them today, Bhagat Singh wouldn't be very pleased with India's youngsters. Though they remember his birth and death anniversaries, often, as part of that remembrance, they unknowingly post and credit couplets written in filmi language as his writings.
It is vital that they read his work properly, debate his ideas and philosophy freely and apply them to solve today's problems.
It is high time the youth turned that page Pash had asked them to years ago.
Note: References to Bhagat Singh's articles and letters are taken from Chaman Lal's Bhagat Singh: A Reader, published by Harper Collins India.)
Feature Presentation: Aslam Hunani/Rediff.com