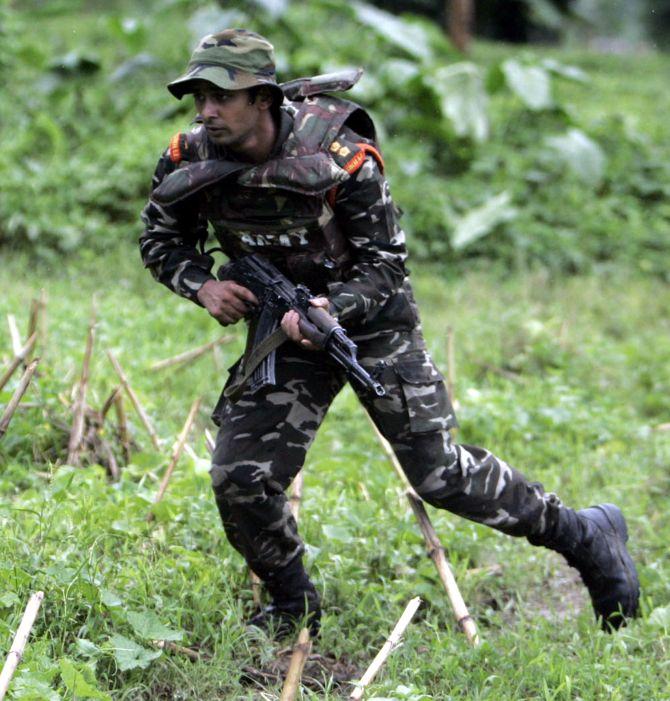 'I feel that any terror strike at this juncture is not on the cards.'
'The reaction would most likely be military in nature and possibly using their special forces or attack helicopters,' says Group Captain Murli Menon (retd), who spent four years at our embassy in Islamabad.
Today is a red letter day in India's strategic landscape.
Criticised over the years -- and even recently -- for lacking the national will to use its military capability in anger, the near perfect special operations effort by our army para-commandos, statedly after an insertion on foot, has put paid to decades of strategic paralysis.
Indeed, the ongoing diplomatic offensive at the United Nations and India's threat to Pakistan over the Most Favoured Nation status and the Indus Water Treaty has been given a tremendous fillip by the dramatic surgical strike.
Videos of the entire operation taken by a suitably positioned drone are already streaming on national media. More details about the exact modus operandi would emerge soon. These are, of course, not really of much relevance at this juncture.
The most important piece of good news is that the Indian politico-military combine has finally crossed the Rubicon!
What next is a question many, especially the uninitiated, would ask.
Having seen and studied the mind of the Pakistani military up close for four years during my assignment at our embassy in Islamabad in the early 2000s, I am quite certain that there would be some retaliation from Pakistan. Now what form exactly it would take is debatable.
Some analysts feel we should expect Mumbai-like attacks to happen. I, for one, feel that any terror strike at this juncture is not on the cards. The reaction would most likely be military in nature and possibly using their special forces or attack helicopters.
India has to be prepared for this, especially with respect to the defence of our forward bases such as vulnerable border airfields. Airfields such as Naliya, Bhuj, Utarlai, Nal (Bikaner), Jaisalmer, Udhampur, Jammu and Pathankot come to mind.
Pathankot perhaps is less vulnerable now post the last strike as defences have perhaps been beefed up there.
But all the other forward airfields can be targeted by Pakistani special forces. Army protection needs to be called in at all these airfields and the IAF/army air defence network optimised in terms of radar cover and terminal defence weapons.
Indeed there was a book written a while ago by a Pakistani army officer which talked of a fictional commando raid on the Bhuj airfield.
Any nation that can seriously talk of a tactical nuclear response is absolutely nutty. Pakistan and North Korea are classic examples.So I say again we should be prepared for a military retaliation.
Some analysts say we need to take advantage of the window that has been opened in the counter-terror campaign and take out other targets like Muhamed Sayeed. This may be a bit premature at this stage and could invite out of proportion escalation.
We would need to continue with counter-terror surgical strikes in PoK, possibly gravitating to attack helicopter strikes or even fighter strikes on terror launch pads.
Special forces operations may not be possible in all scenarios and hence the other options advocated.
The biggest challenge for our decision makers and military planners to consider is the control of the escalation ladder.
We have to maintain the advantage in this respect having made the first move. We should -- especially the higher government and military functionaries -- be careful not to indulge in unnecessary jingoism and bravado on what we propose to do militarily.
We should think things through deliberately, do what we have to do and make sure the political signalling goes through to the adversary.
Another aspect that needs factoring is the expected panic in India's corporate world. One learns from sources that even during the mobilisation post the Parliament attack it was the business lobby that got Atal Bihari Vajpayee to back off.
One does see government functionaries reassuring the public at large and investors in particular -- this is important for the much touted 'government for all' approach.
The key aspect which needs consideration in controlling escalation is our targeting.
While choosing our targets at each stage we need to ensure that our operation are relevant, proportionately lethal and can achieve a high degree of success.
Our targeteers, especially for air power employment, need to do their homework carefully for target-weapon matching and collateral damage.
Having got the international community on our side so far, we should not sacrifice that by wanton targeting or uncalled for collateral damage.
I was reading a report in the Los Angeles Times asking what the point was of India having such a massive military wherewithal if it was not willing to employ it during such security challenges.
Well, we seem to be turning the corner here. The nation needs to stand stolidly behind the armed forces now.
You will then see them deliver and help our country achieve its political objectives. Especially when our potent 'airpower' starts its act in earnest!