TTV Dinakaran's road to reaching the poll stage could still be strewn with legal difficulties, as much as political problems from other new players, like actors Kamal Hassan and Rajinikanth, says N Sathiya Moorthy.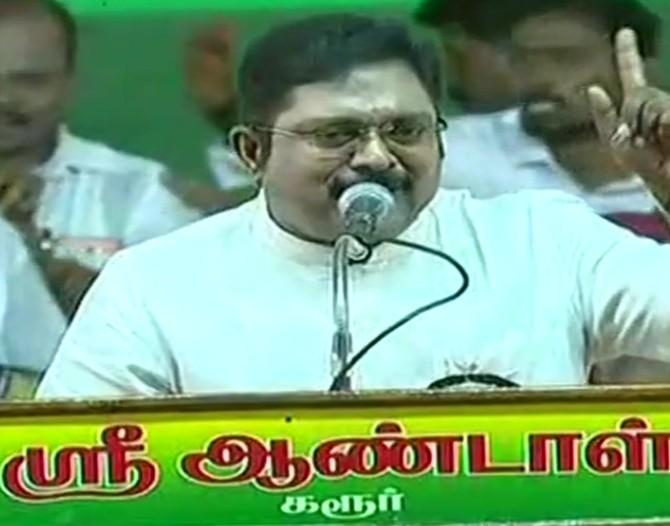 IMAGE: TTV Dinakaran launches his Amma Makkal Munnetra Kazhagam in Melur, Madurai, on March 15, 2018. Photograph: ANI.
After obtaining a Delhi high court order for the Election Commission to recognise his proposed political party as 'AIADMK-Amma' with his lucky-charm of 'Pressure Cooker' as poll symbol, rebel leader T T V Dinakaran seems to have had a change of mind.
He has since named his new party 'Amma Makkal Munnetra Kazhagam', if only to get caught in legal tangles, initiated already by parent AIADMK, thus denying him a standard and symbol to face the much-postponed local bodies polls across native Tamil Nadu.
Launching the new party at Melur in Madurai, Dinakaran however parroted that they would still fight to get back the AIADMK's name and 'Two Leaves' symbol, identified with party founder M G Ramachandran and the latter's political heir, the late chief minister Jayalalithaa Jayaram.
A lot would however depend on if the AMMK could do better in future elections, starting with the local bodies polls. If they do, they may even forget the 'Two Leaves' symbol and retain what they could then claim was a symbol close to the 21st century generation -- the 'pressure cooker', that is, than 'two leaves'.
Yet, the road to reaching the poll stage could still be strewn with legal difficulties, as much as political problems from other new players like actors, Kamal Hassan and Rajinikanth. Of the two, Kamal has already launched his Makkal Needhi Maiiam, with six inter-locked hands as the proposed symbol.
'Proposed' the symbol is, as Kamal too has yet to register his party and symbol with the EC, like TTV. Compared to the two, Rajinikanth is yet to announce the name and standard of the party.
At present, he is away in the Himalayas, given as he is to meditation from time to time, especially after the conclusion of a tough shooting schedule. This time, his Himalayan visit has come ahead of the scheduled 27 April release of his quickie of a popular movie, Kaala, where again he plays a don, which is among his popular filmi roles, on the lines of Baasha, a box-office hit of the mid-'90s.
Though over the years, the EC has simplified procedures and requirements for registration of new political parties with common symbols, yet, if questions are raised and they land in courts ahead of any future election, it could be problematic for whoever is involved.
This would be more so ahead of a state-wide local bodies polls, as individual candidates contesting as 'independents' otherwise with 'free symbols' allotted by the State Election Commission, as against the Election Commission of India could trigger problems for new parties and leaders, to lay post-poll claims to greater popularity and public acceptance.
Going by media reports, Dinakaran's Melur show on Thursday morning was much bigger than Kamal's party-launch inside Madurai city. Rajinikanth's much-awaited announcement was greeted by a crowd of less than 3,000, when made to a year-end holiday crowd on December 31, 2017, a Sunday, and with at least a week-long notice. It could still be a different game as and when the 'superstar' names his party and symbol.
All of it may go on to show the lack of organisational skills at the disposal of the two film actors, who are past their prime, and so are their core fan following, the first pool of 'committed cadres', if ever they are any.
The media temptation for comparing the fan associations of the two superstars to that of the late MGR should thus stop there. MGR was always a part of politics and his fans had worked relentlessly alongside more established DMK leaders, both when in the Opposition pre-'67, and when the party was in power, as he launched the breakaway AIADMK in 1972.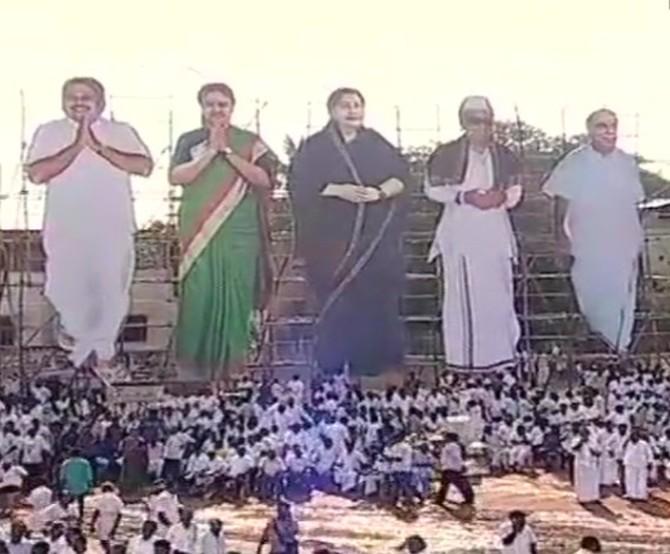 IMAGE: The maidan at Melur had huge cutouts of leaders down generations from C N Annadurai (from right), MG Ramachandran and Jayalalithaa, leading up to Sasikala Natarajan and TTV Dinakaran. Photograph: ANI.
It is anybody's guess if Dinakaran's choice of Thursday, March 15, for launching his party was based on astrological advice, or practical considerations of having to fast-track the procedures and be ready for the local bodies polls, if it were to be announced without further delays and ado.
Yet, his very choice of the day and timing may have lost him the start-up media advantage that Kamal may have enjoyed when he launched his MNM on February 21 after weeks of preparations and pre-launch publicity.
The 'AMMK' announcement came in the midst of Deputy Chief Minister and Finance Minister O Panneerselvam presenting the state budget to the Tamil Nadu assembly. Naturally, both Doordharshan and scores of private Tamil channels covered the 'Budget' live for the whole hour after starting the morning with TTV's launch for a relatively short time. Needless to point out, later in the day on TV talk-shows, and on the print media the next morning, there would be more of the budget than of TTV and his party.
Yet, all of it could not cloud the fact that apart from Dinakaran, who won Jaya's R K Nagar assembly seat by a huge margin, and 18 AIADMK legislators whose case against their 'disqualification' is pending verdict in the Madras high court, at least three ruling party MLAs showed up at Melur. Of them, A Prabhu represents Kallakurichi, V T Kalaiselvan is from Vridachalam, and E A Rathinasabapathy from Aranthangi, taking the 'tentative' total to 22 in a House of 234.
These numbers, whether 22, or four (minus the disqualified 18), might also be an advantage that TTV may now have over Kamal and Rajini for seeking EC recognition and a separate symbol for AMMK.
Another petition, this one by the Opposition DMK, to which the TTV camp joined in, is also pending verdict before a separate bench of the high court. This petition has sought the disqualification of 11 AIADMK legislators, led by present-day deputy chief minister OPS, for defying a 'party whip' for voting in favour of the trust-vote moved by Chief Minister Edappadi K Palaniswami in February 2017, as directed by then acting governor, C Vidyasagar Rao.
Whoever wins or loses the two court cases can be expected to move the Supreme Court in appeal. In between, it is not unlikely that Speaker P Dhanapal would assert the supremacy of the legislature over the judiciary, or claim that both are independent institutions under the Constitution, and have separate powers and purposes. A lot would depend on the HC verdict(s).
So could be the fate and future of TTV's new party and symbol, including their 'continuing' claims to the AIADMK and 'Two Leaves' symbol, this one on their pending petition before the Supreme Court, against the ECI allotting the 'Two Leaves' symbol (alone) to the re-unified EPS-OPS group.
For now however, TTV and AMMK could be expected to popularise their flag, as the 'pressure cooker' symbol became overnight popular across the State (and possibly elsewhere in urban India, at least) after Dinakaran's massive victory in R K Nagar and the controversies attending on the same, as well.
As if to drive home the point, the new flag, taking off from the AIADMK's 'Black-White-Red' flag, has a larger portrait of Jayalalithaa inlaid than that of parent DMK founder C N Annadurai's in the party that MGR had founded.
In a way, MGR had only the parent DMK's 'Black and Red' with Annadurai's in-lay in the original flag of the party. Lest the cadres be confused after the parent party started in-laying the party's 'Rising Sun' symbol, first in yellow and later in AIADMK's white, MGR made it a tri-colour standard with Annadurai's picture in the middle.
It remains to be seen if TTV will improvise on the flag later on, but then the irony is that AIADMK founder MGR does not have a 'flag to call his own' (!) though for a time, present-day state Congress president S Thirunavukkarasar did have the yesteryear superstar politician in an AIADMK-like flag.
At the time, the ex-MGR minister was a partner in the BJP-NDA under Prime Minister AB Vajpayee, before joining the BJP and becoming a Rajya Sabha member from distant Madhya Pradesh -- and dropping all figurative references to his own political mentor and that of his later-day arch-rival Jayalalithaa, in the process.
N Sathiya Moorthy, veteran journalist and political analyst, is Director, Observer Research Foundation, Chennai chapter.