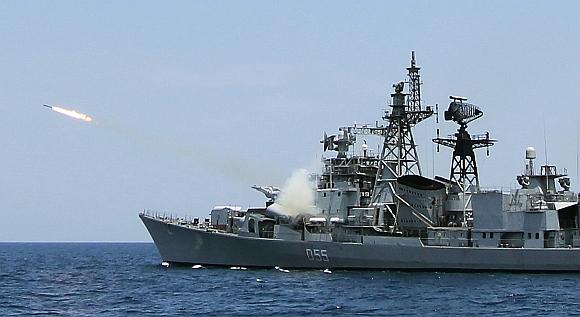 Sometimes security at sea will require action to be taken on mere suspicion alone
The recent episode in which a supposedly Pakistani boat destroyed itself at sea, apparently by setting itself on fire, has aroused a great deal of comment in the media. There have been some positive words for the Coast Guard which responded to the developing situation, such as it was, but also doubts about what had actually transpired.
Some suggestions have been made that the boat may have been involved in smuggling and not in possible acts of terrorism as seen in Mumbai in November 2008.
Initially, it was alleged that only the CG and not the Indian Navy, the apex authority for responding to and coordinating responses to developing threats at sea, was informed by the National Technical Research Organisation of the 'intelligence' it had through interception of some satellite phone talk; later, the Navy clarified that it had also received inputs from that agency. Other intelligence agencies denied receipt of any information.
In short, instead of the clear, confident and precise picture that should have been on display, we have a quite hazy and disjointed account in which the bona fides of the incident themselves have been questioned. This is disappointing and some clarity is needed regarding the manner in which potentially hostile inimical scenarios may develop at sea and the responses that these must merit.
In 1995, a good five years after the Indian Peace Keeping Force had withdrawn from Sri Lanka, a vague input was received at the Eastern Naval Command Headquarters in Visakhapatnam that a vessel suspected of carrying some arms and important leaders of the Tamil Tigers had sailed from Singapore, apparently bound for the east coast of Sri Lanka.
Indian naval ships and aircraft were immediately dispatched to investigate this ship, which was intercepted about 500 miles eastwards of our coast, and in international waters which enjoin right of innocent passage. Voice communications with the ship were not sufficiently convincing either about its cargo or destination, and it was ordered to accompany the naval ship to Madras, now Chennai, for further scrutiny; in effect, it was 'informally arrested'.
Shortly before reaching port, the suspected ship scuttled itself -- i.e., sank. Nineteen persons were rescued from the water but found among those dead was the body of one of the highest ranking leaders of the LTTE, Kittu, second in hierarchy only to Prabhakaran. Clearly, the vessel was heading for the LTTE strongholds in eastern Sri Lanka.
Even though India was not targeted, the purport was criminal. The persons on board were taken to Visakhapatnam, where they were charged suitably and, after a short trial, acquitted by the trial judge, who made scathing remarks on the Navy's illegality in apprehending a ship on the high seas in contravention of international law. Such things can happen only in this country. On appeal, the highest court, mercifully, reversed the ruling and expunged these remarks.
Again, in 1997, reports of arms movement to the LTTE in a vessel, this time sailing from Chittagong, came in. Once again, the ENC sent out a ship and located it in the middle of the Bay of Bengal. The vessel altered course rapidly, seemingly trying to ram the naval warship. A shot was fired to signal our readiness to use force.
But having burnt its fingers once, the Navy decided not to bring the vessel to an Indian port but to escort it towards Sri Lankan territorial waters where it was duly handed over to the that country's naval forces and with expected results -- the suspected vessel was immediately destroyed. Lessons learnt in the earlier episode helped avoid further strictures and uncalled-for deprecatory remarks. This ship also was in international waters when apprehended and India, though not targeted, discharged its lawful responsibilities.
More such incidents, albeit minor, have taken place. In more recent times a Japanese merchant vessel hijacked by Indonesian pirates in that country's waters was being taken to the Gulf when, based on information received, it was intercepted by in the middle of the Arabian Sea by ships of the Coast Guard assisted by those of the Navy and brought to Mumbai.
The captain and crew were tried and released but given our laid-back judicial process had, thankfully, already spent five years in prison before that happened.
In all cases, the suspected vessels were apprehended well beyond our jurisdiction, based on assessment by the captains of our ships that the intent was criminal. There is no illegality in this action whatsoever. Judgment as to whether a vessel is on innocent passage or not cannot be made by people sitting in well-furnished offices ashore or in conference rooms.
They have to be made by the man at the scene of action where weather conditions are often poor and communications only intermittent. This responsibility and authority of the person on the spot has been acknowledged and respected since man first went to sea and there is no reason why it must not apply today.
This brings us back to this recent incident.
First, full marks are due to the Coast Guard for taking a rather insipid NTRO report at face value and sending an aircraft nearly 350 kilometers away to look for a tiny craft. Second, hats must be doffed to the pilots of the small Dorniers who flew for long periods at an altitude of no more than 1,500 feet and were able to spot the speck in the ocean that the small boat was, and thereafter to track it continuously, no easy task as those knowledgeable about these things can appreciate. Third, kudos must go to the captain of the Coast Guard vessel which, after a journey of several hours, found and stayed with the suspicious craft.
All of these are operational actions and without doubt they were performed very satisfactorily. When hundreds of small craft are operating in close proximity as they do in fish-rich areas, it is easy for smugglers and potential terrorists to slip in as, indeed, they did for the Mumbai attack when the criminals appropriated one of our fishing trawlers and after killing all but one crew, forced the master to take them to their chosen point of disembarkation before killing him.
Some years earlier, in 1993, similar boats masquerading as fishermen had landed tons of explosives on the Ratnagiri coast, which were then transported by road and used for multiple explosions in Mumbai. To locate such nefarious activity in good time and then to neutralise it through preventive or responsive action is easier said than done.
Once an input is received, the agencies concerned must act upon it and, should investigation not merit further action, just forget it as part of a day's work. But if there is even the slightest room for doubt, proactive action is essential.
We cannot wait for more than 250 people to be killed in Mumbai before deciding that an act of terrorism has taken place. To stop the miscreants before they can do damage, assertive measures are needed. In this case, it did not matter if the boat was to be used for an act of terrorism or for smuggling or for anything else.
There was enough cause for suspicion. The worst possible scenario had to be catered for and actions taken to prevent it and, quite correctly, this was done. Security at sea in the existing environment is serious business and suspicion will often be good enough for firm action. Ill-informed rhetoric will not help; we must learn to walk the talk.