'Pakistan's negativism should be seen as the reason for India losing interest in SAARC,' says Ambassador T P Sreenivasan.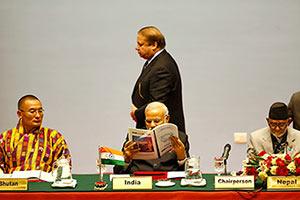 Image: Prime Minister Narendra Modi ignores Pakistan Prime Minister Nawaz Sharif at the SAARC summit in Kathmandu.
Photograph: PTI
From choosing November 26 to commence a SAARC summit, to not knowing the likely outcome of India's initiative in a small group of countries, to not anticipating the pressure building up in favour of China's membership, everything went wrong for India at the Kathmandu summit.
The reverberations of gunfire across the border and the encounter with Pakistani terrorists were audible in the conference hall, preventing the prime ministers of India and Pakistan from shaking hands or even smiling at each other.
The net result was a further deterioration in India-Pakistan relations and an unnecessary confrontation with China on the issue of its status in SAARC.
This was a summit India could have done without.
Another year of waiting would not have made any difference to SAARC or to India's relations with its member nations.

The kind of optimism expressed by politicians and former diplomats alike even a few days before the commencement of the summit was astonishing. They betrayed a lack of appreciation of the history of SAARC and the obvious built-in impediments to its success.
The Gujral Doctrine, which was acknowledged as a failure, was virtually resurrected by the argument that India had to define its role, from seeking reciprocity in bilateral relations to being prepared to go the extra mile in meeting the aspirations of all the other SAARC nations.
To ask for a conflict-mediating or conflict-resolving institution on multilateral and bilateral issues is nothing short of suicidal.
Equally unrealistic was the suggestion that the time was opportune for a new regional architecture and that the time had come to reconnect with India's neighbours. The Indian resource position is not so robust that India could invest in SAARC as Germany did in the European Union.
India has never been unsympathetic to the aspirations of its neighbours. Therefore, advice that India must build trust with its neighbours, showing solidarity and forging with them a habit of cooperation, seems unwarranted. There are many instances of India bending backwards to satisfy its smaller neighbours. Kachativu and Teen Bigha are obvious concessions we made for friendship.
The sense of optimism that India could work with SAARC countries to alleviate poverty and build a coalition to advance Indian interests, which characterised the initiatives of the Modi government from day one, has already been proved wrong.
Nawaz Sharif's visit was followed by a sharp deterioration of relations, leading to heavy firing across the border and encounters with terrorists. The display of animosity between India and Pakistan in New York cast a shadow on both countries.
Under the circumstances, a SAARC summit was doomed to fail. To expect that Pakistan would accept Indian initiatives on energy and road and railways at this time was incorrigible optimism.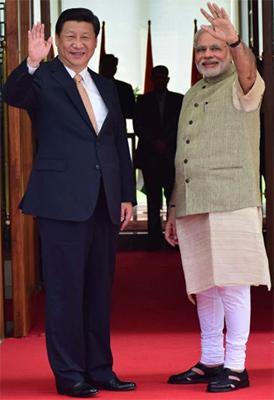 Image: Chinese President Xi Jinping and Prime Minister Narendra Modi during Xi's visit to India in September.
Photograph: MEA/Flickr
The claim that the summit enabled India to isolate Pakistan is false. The normal reaction of all countries, particularly our neighbours, to an India-Pakistan confrontation is to become peacemakers, not to take sides. The greatest favour that they show to us is to say that all matters should be resolved bilaterally.
The Nepalese prime minister, enthused as the host to ensure the success of the summit, pushed the two sides to compromise, not to find fault with either.
The spectacle of Indian and Pakistan leaders avoiding each other amused the others, even after the 32 second handshake and the acceptance by Pakistan of the energy agreement. In fact, India was on the edge of isolation when the other seven showed willingness to accept China as a member.
The suggestion that India should promote SAARC minus Pakistan is impossible. SAARC has been established on the basis that every decision has to be by consensus, not by vote.
Although this provision was made at India's behest in the first instance, the others will quote the same provision to prevent a break-up.
The point to note about SAARC is that it is the sum total of India's bilateral relations with the other countries, though it has a multilateral flavor. The clout that we had with them has been reduced, with the emergence of China as alternate source of strength and money.
The ambition of the founder of SAARC, Zia-ur Rehman, was not to forge a genuinely multilateral organisation, but to create a front to extract concessions from India and that was the reason why Indira Gandhi resisted it as long as she could. Today, SAARC is moving in the direction that its founder had set for it.
Kathmandu showed for the first time that India cannot keep China out of SAARC for long even if we argue that China is not a South Asian country. The moment China enters SAARC, the Indian role will change dramatically. This is another reason why we should gradually reduce the central role of SAARC in South Asia.
The association is not of any particular importance to us in cultivating our neighbours and Pakistan's negativism should be seen by the countries concerned as the reason for India losing interest in SAARC. In a sense, we do not have a major stake in projecting SAARC as a viable regional forum.
Prime Minister Modi has done well to signal in Kathmandu that we will work with our neighbours, regardless of SAARC. Unless Pakistan sees the economic compulsions of a regional organisation to tone down their political animosity towards India, our focus should not be on SAARC, but on the individual South Asian States.
There, the competition will be with China and not with Pakistan and it will be an uphill task. But, with Pakistan out of the game, we may have a better chance to build partnerships with the others.
As to the question whether the prime minister's vision of SAARC is turning out to be an illusion, it should be admitted that it is indeed so. It is time for him to play down the importance of SAARC and reach out farther for strategic partnerships.
His success with the United States, Japan, Australia and even the South Pacific states is encouraging. He should recognise the inherent weaknesses and dangers of SAARC and devise an alternative strategy to deal with his neighbours.
T P Sreenivasan is a former Ambassador of India and Governor for India at the IAEA; Executive Vice-Chairman, Kerala State Higher Education Council and Director General, Kerala International Centre.
You can read Ambassador Sreenivasan's earlier columns here.