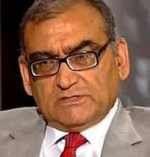 If Justice Katju had desired change, the better way was to approach the new government, and the new law minister, says N Sathiya Moorthy.
By referring to three successive Chief Justices of India not acting on complaints about the suitability of a then acting judge of the Madras high court for high office, Press Council of India chairman and former Supreme Court judge, Markandey Katju, may have let out the cat among the pigeons.
Legal luminaries and some political elements have used the occasion to call for transparency in judicial appointments, which the erstwhile Prime Minister Manmohan Singh had attempted in its own political way.
It's sad that on such important issues and at a crucial time when a new government at the Centre could have been egged on further to address larger issues, Justice Katju walked out of a television interview, when predictable basic questions could have cornered him on motives and timing.
The questions could also gone on to ask what all Justice Katju had done as the then chief justice of the Madras high court first (2004-05), and as a judge of the Supreme Court for five years (2006-11), to address the issues that had agitated him -- and rightly so.
Either Justice Katju could have pleaded 'secrecy clause' on the administrative functions, if any, as a judge of the Supreme Court and CJ, high court, or come out with facts and figures, if any. In between, Katju too had been transferred as the CJ of Delhi high court for a year in 2005.
More questions would beg Justice Katju's answers.
One pertains to the propriety of his digging into a controversy of this nature, challenging the authority of three former CJs, when holding the office of PCI chairman.
Two, pertains to the timing, yes. It is not just about the 10-year gap that has elapsed between the event and his now speaking out.
Naming the dead without naming
It is also about Justice Katju choosing to speak out when there is a change of government at the Centre, and his initial three-year term at the PCI is due to end in early October.
If Justice Katju had desired change, the better way was to approach the new government, and the new law minister.
Three, the law of 'natural justice', of which Justice Katju would be well aware of, dictates that the dead that is not around defend self and reputation should not be named.
Fair enough, Justice Katju did not name names, but the media has predictably reported that he was referring to Justice S Ashok Kumar, who died in 2009.
Justice Katju did not stop there, though. He has gone on to certify Tamil Nadu Chief Minister J Jayalalithaa as not seeking to influence the Madras high court when he was CJ.
For the present, however, despite the self-imposed media black-out, as PCI chair, he would have also known that Jayalalithaa has two pending court cases against her -- one in Bengaluru and another in Chennai.
As PCI chief and former SC judge, who has had courted avoidable media controversy in the incumbent position, he would have known what it would have meant otherwise.
Judges and controversies
For all the high marks that Madras HC has had over decades, both pre and post-independence, it has had its share of controversies.
The one issue that readily comes to mind should be that of Justice S Ramachandra Iyer. He had to quit unceremoniously as CJ in the sixties when his younger brother celebrated his 60th birthday in public, the age of superannuation at the time.
There have also been judges who had been political party workers, office-bearers and more. It may have owed to the Congress' linkage to the independence movement, which caught the imagination of the Dravidian parties, as well. Both were unavoidable after a point.
Thus, a failed party functionary ended up becoming a high court judge at one stage and an SC judge after putting in the years. With lawyers supporting social causes and political parties, thus, their elevation need not be linked necessarily to such affiliations alone. Their efficiency and impartiality would have to be considered on merit, instead.
Thus, Tamil Nadu has had lawyers, who had tattooed the late Chief Minister M G Ramachandran's figure on their hands, as directed by him as an un-erasable display of personal loyalty, being appointed as government counsel, and later elevated as high court judges, too.
The yard-stick of efficiency and incorruptibility should apply to them as well, if that is the argument. It should be left at that, too.
The question is simple. Caesar's wife should be above suspicion.
With the state as a major litigant and the purse-holder for the judiciary, successive chief justices at least at Madras have called on the chief minister, often without being accompanied by any of the senior or junior brother-judges.
Jayalalithaa is not an exception. Political rival and DMK chief M Karunanidhi too had done so in his later innings in office. Karunanidhi even called on an incumbent CJI while visiting Delhi. Rarely have other chief ministers or Union ministers been conferred those honours.
It would be interesting to note, thus, how the likes of Justice Katju, with his scores on public morality of judicial officers, viewed at such aberrations when they occurred and when they too were holding judicial positions -- or, even when out of it.
N Sathiya Moorthy, veteran journalist and political analyst, is director, Chennai chapter of the Observer Research Foundation.