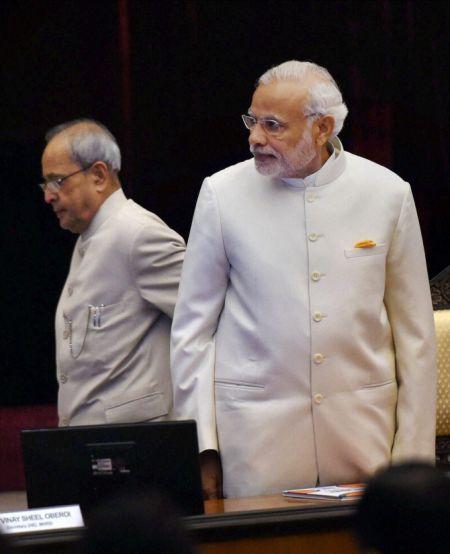 'The BJP has not moved on since its 2014 victory. There is nothing new to offer. There is far too much negativity about the other side and far too little about what has been achieved by its government.'
'That may have worked when the BJP was in the Opposition, but if they believe that the people of India will continue to hold them to such a low standard of expectations, they are really taking the voter for granted or misreading his pulse,' says Shehzad Poonawalla.
There is an old saying, 'We learn little from victory, much from defeat.' Had Prime Minister Narendra Modi and the Bharatiya Janata Party kept learning the small, incremental lessons that both its landslide victory in 2014 and stunning defeat in Delhi in 2015 had to offer, perhaps party chief Amit Shah and Modi would not have had to face the ignominy of facing a staggering loss in Bihar.
This electoral loss, which has perhaps rendered the Modi government as the 'longest lame duck government' in the history of India by upsetting its plans to wrest control of the Rajya Sabha anytime soon, without which its policy agenda will perhaps remain paralysed, is further aggravated by its high-handed and non-consensual manner of treating Opposition parties and managing the floor in Parliament.
What also could have been avoided is the unique situation where a prime minister invested so much of his time, energy, resources and political capital in addressing over 30 meetings and yet managed to secure the victories of just about 12, 13 candidates in those seats which he visited, with a personal strike rate of below 50 per cent.
The BJP, with its tally of 53 seats, is down by about 35 seats against its 2010 performance, and 113 seats against its 2014 Lok Sabha leads.
I have attempted to list what I believe the BJP and Modi missed until now and would be most ill-advised to ignore any further. I must also confess that some, if not all, of these lessons hold true for several parties in our country and it would be intellectually dishonest for me to suggest that a victory would be a good reason to ignore or avoid correctives for flaws that exist in the victors.

The BJP has turned into a one-man enterprise

The BJP is no longer a party that can boast of a 'galaxy of leaders.' Anybody who thinks J P Nadda, Dharmendra Pradhan and Amit Shah have the same calibre as Pramod Mahajan, Gopinath Munde (both deceased) or Murli Manohar Joshi, Sushma Swaraj and L K Advani are clearly deceiving themselves.
Gone are the days when two equals like Advani and Atal Bihari Vajpayee could co-exist in the party. What used to resemble a cooperative federation with various regional stake-holders now functions likes a one-man company owned by Modi and funded by his friends.
Those who are in his camp and pose no threat to him get key positions in government and the party. Some like Rajnath Singh and Swaraj, who have their own independent identities, have been co-opted in the government but are regularly bypassed and belittled by the PMO even when it comes to their official duties.
Those seen as a threat are either packed off to the 'Margdarshak Mandal' or are kept out of any meaningful positions.
I cannot fathom why the likes of a Feroze Varun Gandhi, for instance, is not a general secretary handling an important state.
And then they have an inarticulate and a lightweight like Siddharth Nath Singh handling West Bengal which goes to polls in 2016!
It works for Modi and Amit Shah to keep the party like this. Shah has very little talent, notwithstanding his previously earned (and since completely discredited) media sobriquet of 'Chanakya' to be anything more than a corporator. And Modi would prefer to repeat exactly what he did in Gujarat. Turning the BJP into his own party.
The constant criticism by the BJP of the Congress all these years was over its alleged 'high command' culture where grassroots leaders, regional satraps and genuine mass leaders found little space. Hasn't the BJP of today turned exactly into what it despised?
Can anyone criticise Modi in the BJP and, by implication, Amit Shah?
Having a strong leader who can ensure discipline is one thing, and trading that for internal democracy itself is quite another.
2014 mandate was for DEVELOPMENT, not DIVISION

The reason for Modi's 2014 victory was his Jekyll and Hyde strategy of mixing development with a covert, strategic communal card that played out in the ratio of 70:30 or 60:40.
Most often the heavy-lifting on the saffron agenda was done on the ground by Hindutva groups like the Rashtriya Swayamsevak Sangh, Vishwa Hindu Parishad, Bajrang Dal and others, especially in Uttar Pradesh post-Muzaffarnagar riots.
Today, 'development' has been completely overshadowed by the communal card being played overtly and brazenly. Prior to the UP bypolls, where the BJP faced a drubbing, senior MP Yogi Adityanath was made campaign in-charge and spewed venom about 'love jihad.' Sakshi Maharaj has gone unchecked for a long time. Sangeet Som was rewarded with higher security despite his constant communal commentary, particularly after the Dadri lynching.
That Modi says nothing and the party does nothing about these communal hotheads is no coincidence. At some level there has to be acquiescence or else how could they continue with impunity? And why else would the BJP co-opt those issues, as it did by placing newspaper advertisements in Bihar about the beef issue?
It is a naive belief on the part of the BJP that 'division' can substitute 'development.' The 'Pakistan fireworks' remark by Shah, the attempt by the PM to instigate animosity between backwards and minorities over reservations, and the vicious attack on Shah Rukh Khan by BJP leaders were rejected even more vociferously when the average Joe realised that it was a poor distraction being crafted to obfuscate the real issues of a flailing economy, rising dal prices, falling employment and unfulfilled promises.
As PM, Modi should actually try to live up to his slogan of 'Sabka Saath, Sabka Vikas' by visibly and substantially acting against Hindutva hotheads inside and outside his government. And in a country where crores of people go to sleep hungry, it would be politically smarter to put more dal in his plate than take away beef from the menu.
In the Bihar election, the BJP gave no tickets to Muslim candidates despite their sizeable numbers in the state. A few seats were given by their allies, but the BJP repeated its policy that was seen in Uttar Pradesh in 2014. Does the BJP actually believe that they can call themselves a national party and increase their vote share by playing to such parochial, narrow and primordial instincts?
What then is their game plan to expand their reach in states which have sizeable Muslim populations like West Bengal, Assam, Kerala, Punjab etc?
If the BJP continues to think that they are going to unite the votes of the majority by painting a target on the back of one minority, they will certainly lose the 2019 elections. Too few of the 31 per cent that voted in this government in 2014 voted for the RSS or Hindutva hotheads to super-impose their political-cultural agenda.
Each time you try to push Hindutva as an agenda to placate the hard-line, committed section of voters, you end up losing the floating, centrist and neo-liberal young voter that supported you in 2014.
People expect the PM to be a statesman, not a politician

Modi must realise the people of India expect higher standards from him as PM than when he was a mere candidate or the Gujarat chief minister. Once PM, people expect a statesman, not a Machiavellian politician who plays tricks and uses language like 'Lalu virus' or 'Bihar's DNA' to address his opponents. Chants of 'Modi! Modi!' from the audience at such cheap shots cannot be mistaken for an en masse endorsement by the voter.
Another example of this was the approach adopted by the Modi government towards writers, artists, etc returning awards against the atmosphere of intolerance, who were accused of carrying out 'manufactured protests.'
What is ironic is that instead of assuaging the concerns of a list that keeps growing and includes the likes of Raghuram Rajan, M R Narayana Murthy and others, who have also made statements endorsing the view even if they did not actually protest or return an award, the PM met another group of activists with clear political motivations that were congruous to his own, and endorsed all the verbal attacks made on many of these much accomplished personalities.
That in itself shows that the PM is incapable of being large-hearted.
Time and again, Modi's social media supporters have abused people in the most vile manner. Instead of reprimanding these trolls, Modi continues to follow many of them. That's the tragedy.
Don't defend everything

As BJP spokespersons do the rounds of television studios defending every obnoxious action of their party and its affiliates, many compare them to the UPA spokespersons who were often seen as 'defending the indefensible.'
Usually, when rendered defenceless, they resort to their standard one-liners: 'Why do you pseudo-secularists hurt Hindu sentiments to appease (Muslims)?' or 'Where were you during the 1984 riots?'
If anybody thinks the BJP was voted in to do the same stuff it had criticised and then justify it with lame excuses, they are absolutely wrong. Two wrongs never make a right and, more importantly, it makes for a very graceless attitude in public life.
For the past 18 months, all we have seen from the BJP is defending one wrong action by comparing it to another. That's always going to have diminishing returns. This attitude stems from an innate insecurity and inferiority complex more than anything else and emanates from the very top in the BJP.
The PM defended his position on issues like Dadri and the Kalburgi murder by blaming Opposition-ruled states. He continued to retain ministers like V K Singh and Mahesh Sharma despite their obnoxious remarks on Dalits and Muslims.
People associated with the BJP were arrested in Mohammed Akhlaq's lynching, yet the PM offered a sorry defence. And then his entire defence crumbled when some Dalit killings were reported in BJP-ruled Haryana. This has eroded the credibility of the PM and his party to an unimaginable extent.
As Arun Shourie rightly put it, the problem is that managers of the government are too busy 'managing headlines' instead of reading between the lines.
Stop the negative campaign, start delivering

The BJP has now been in power for 18 months. That's an awfully long period of time, especially in a country like India where we have specially coined the term 'anti-incumbency' to articulate the unhappiness of the voters over the government's non-performance. The 'honeymoon' period is over and increasingly people are getting restless about the promises made to them in May 2014 and their non-delivery.
The BJP, however, has not moved on since its 2014 victory. There is nothing new to offer. There is far too much negativity about the other side and far too little about what has been achieved by its own government. That may have worked when the BJP was in the Opposition but if they believe that the people of India will continue to hold them to such a low standard of expectations, they are really taking the voter for granted or misreading his pulse.
No incumbent can run a campaign exclusively on a negative agenda and expect to win. Attacking political rivals can be one part of a campaign but the entire campaign theme cannot be centred around somebody's DNA or somebody visiting a tantrik!
I hope that in the next few Sundays, the PM, instead of holding his one-way 'Mann Ki Baat,' takes time out to analyse what critics within and outside his party have to say about him and his performance.
It will do him and his party a world of good.
IMAGE: President Pranab Mukherjee and Prime Minister Narendra Modi at Rashtrapati Bhavan, November 5. Photograph: Subhav Shukla/PTI Photo
Shehzad Poonawalla is a lawyer-activist and founder-member of the governing body of the think-tank PolicySamvad.