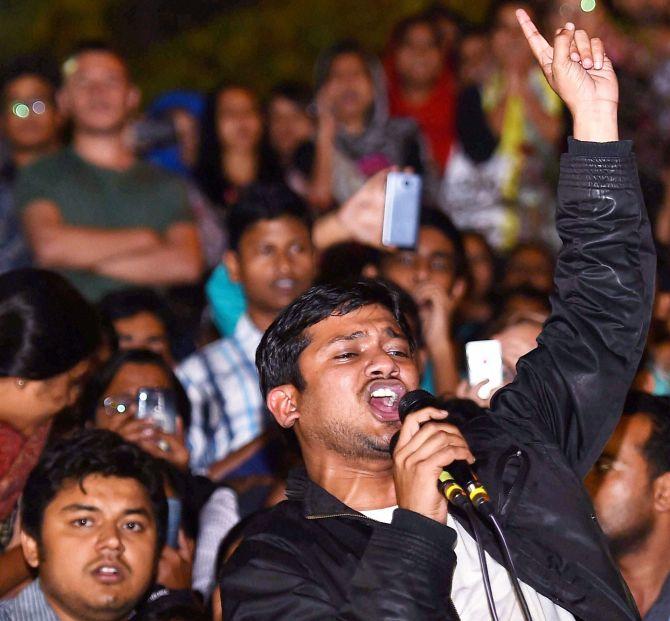 'The BJP should avoid escalating every local issue and minor provocation into a national crisis and claiming a 'holier than thou' monopoly on patriotism.'
'And the Opposition should avoid paying the government back in the same coin by crying wolf about intolerance at the slightest provocation,' says Ram Kelkar.
The Dreyfus affair or 'L'affaire Dreyfus' was a political scandal that divided France in the 1890s into opposing camps, the pro-army, mostly Catholic 'anti-Dreyfusards' and the anti-clerical, pro-republican Dreyfusards.
Captain Alfred Dreyfus, a young Jewish officer, was initially sentenced to life imprisonment based on falsified documents and media. He was eventually acquitted of the charges, but the conviction and the hatred it spawned is a perfect example of how polarisation and trial by media can be a toxic brew.
L'affaire Kanhaiya just happened in India.
Kanhaiya Kumar, a firebrand leader at Jawaharlal Nehru University, which is often called the Berkeley of India for the radical views of many of its students, was arrested for sedition on February 12.
Well before the facts were known, television and news anchors went into overdrive on hyper-nationalism, acting as prosecutor, judge, and jury all at once.
The trial by media frenzy stitched together a dark story of a campus that mooches off taxpayers' funds and squanders its subsidised education on 'unpatriotic' acts. 'ShutdownJNU' and 'CloseJNU' became popular trending Twitter hashtags in India as the media and supporters of the ruling Bharatiya Janata Party descended into paroxysms of patriotic fervor.
Sudhir Chaudhary of Zee News declared that '...we won't tolerate any insults towards India; traitors will not be spared.' He played the patriotism card, making references to the soldiers on the border making the ultimate sacrifice in the defence of the nation while the traitors at JNU were agitating for the breakup of India.
Arnab Goswami on Times Now posited that '...you are more dangerous to this country than Maoist terrorists.' On his Newshour programme, Goswami can be heard repeatedly asking Sambit Patra of the BJP to 'show the video, show the video.' He then turns to a guest, Anand Kumar from the JNU, and says, 'You are the one who is defending him. If this video is correct, then what are you going to say now?'
A month later, as the actual facts began to emerge, including doctored videos like the one shown on Times Now, the very basis of Kanhaiya Kumar's arrest seems to be flawed. Writing in The New York Times, Raghu Karnad noted that '... distorted images are being used to stir up a hateful frenzy against provocative student activists' and Kanhaiya Kumar was condemned and convicted in the court of public opinion without due process or verifiable evidence.
It now appears that Kanhaiya Kumar is only guilty by association with the real organisers of 'The Country with no Post Office' event on February 9.
The two leaders of the event, PhD students Anirban Bhattacharya and Umar Khalid, are also facing sedition charges for raising anti-national slogans at the event commemorating the death anniversary of Afzal Guru and are now in judicial custody.
Newspaper reports and the First Information Report filed on February 11 at the Vasant Kunj North police station indicate that it all began with a meeting titled 'The Country Without A Post-Office' that was organised not by Kanhaiya Kumar, but instead by Umar Khalid and Anirban Bhattacharya, ex-leaders of the Democratic Students Union.
The Country without a Post Office is a poem written by Agha Shahid Ali, and the title of the poem is intended to bring back memories of the troubled times in Kashmir in the 1990s when no mail was delivered for seven months.
According to the FIR, it was Umar Khalid, and not Kanhaiya Kumar, who allegedly incited attendees to raise provocative slogans against the hanging of Afzal Guru and Maqbool Bhat.
Let there be no doubt that these are despicable words which every Indian and anyone who loves India would be horrified to hear and should be condemned unequivocally.
However, there is Supreme Court precedent whereby sedition charges were dismissed against individuals who had raised anti-India slogans in Chandigarh within hours of Indira Gandhi's assassination. The court ruled that mere raising of slogans by a few individuals did not constitute any threat to India, and observed that '... over-sensitiveness can sometime be counter-productive and can invite trouble.'
The law under which the police are prosecuting Kanhaiya Kumar, Umar Khalid and Anirban Bhattacharya is Section 124-A, which was famously used against Mahatma Gandhi and Bal Gangadhar Tilak amongst others.
Mahatma Gandhi said about Section 124-A that 'affection cannot be manufactured or regulated by law. If one has no affection for a person or system, one should be free to give the fullest expression to his disaffection, so long as he does not contemplate, promote, or incite to violence ... I consider it a privilege, therefore, to be charged under that section.'
Whether the very act of questioning the Indian Supreme Court's decision on Afzal Guru's conviction is an act of sedition is for the courts to decide. However, it should be noted that a leader of the Peoples Democratic Party, which is an ally of the ruling BJP in Jammu and Kashmir, told The Hindu newspaper that his party would not stop questioning the legal grounds of Afzal Guru's hanging and still holds the view that it was 'a travesty of justice.' It remains to be seen if sedition cases are in motion for everyone who has questioned Afzal Guru's conviction and execution.
Within hours after being released on interim bail, Kanhaiya Kumar made an electrifying speech that was widely praised by many, including Bollywood star and BJP leader Shatrughan Sinha. Amongst other things Kanhaiya Kumar said, 'I do not want freedom from India, but freedom in India.' He claimed that 'If you speak against this anti-people government, then their cyber-cell will send doctored videos, they will abuse you and count how many condoms there are in your dustbin.'
Bollywood actor and BJP supporter Anupam Kher gave an impassioned speech at the The Telegraph National Debate where he publicly called out Justice Asok Kumar Ganguly who spoke before him for calling in question the Supreme Court judgment in Afzal Guru case. Kher lashed out at Kanhaiya Kumar for being a participant at the JNU event.
But he also said there are some BJP leaders who talk nonsense, such as Yogi Adityanath and Sadhvi Prachi, and 'unko andar kar dena chahiye (they should be jailed).'
One can only hope that the BJP leadership listens to Anupam Kher, whose bona fides as a patriotic Indian are impeccable for supporters of the party, since if anyone else were to say it, the political correctness brigade would probably accuse them of being anti-national.
L'affaire Kanhaiya is symptomatic of the extreme polarisation between the supporters of the BJP and the ragtag combination of left of Centre and regional parties, which is also reflected in the media scrum, and this is an unfortunate development for India.
The Rohith Vemula suicide case at Hyderabad Central University followed clashes with the Rashtriya Swayamsevak Sangh student wing over a protest organised by the Ambedkar Students Association about the hanging of Mumbai blast convict Yakub Memon. And the turmoil at JNU began with an event in support of Parliament attack convict Afzal Guru, with references to 'Brahmanical collective conscience.'
Both incidents point to increased tensions on Indian college campuses between two opposing camps of pro- and anti-BJP supporters, and upper caste versus Dalit students. One group of IIT-Bombay faculty members has sent a letter to the President stating that 'some institutes of higher learning have become "safe havens" for activities that are not in nation's interests' and urged him to ask that students not become 'victims of the ideological warfare' on campuses.
An opposing viewpoint was expressed by 42 faculty members also at IIT-Bombay who have come out in support of the JNU students, saying that the 'State cannot define who is an Indian and what is nationalism.' They have also condemned State intervention in various educational institutions, terming it as 'attempts to stifle dissent and suppress differences.'
It is time for better sense to prevail and the onus is on the leaders of both the ruling party and the Opposition to calm the waters. The BJP should avoid escalating every local issue and minor provocation into a national crisis and claiming a 'holier than thou' monopoly on patriotism. And the Opposition should avoid paying the government back in the same coin by crying wolf about intolerance at the slightest provocation.
For all its challenges, India is fundamentally a tolerant country, though there are intolerant Indians on both sides of the political spectrum.
IMAGE: Kanhaiya Kumar after his release on bail. Photograph: Kamal Singh/PTI
Ram Kelkar is a Chicago-based writer.