'Reduce the perks and privileges of MPs, but let there be no reduction in the money spent on the education of martyrs' children,' says former BJP MP Tarun Vijay.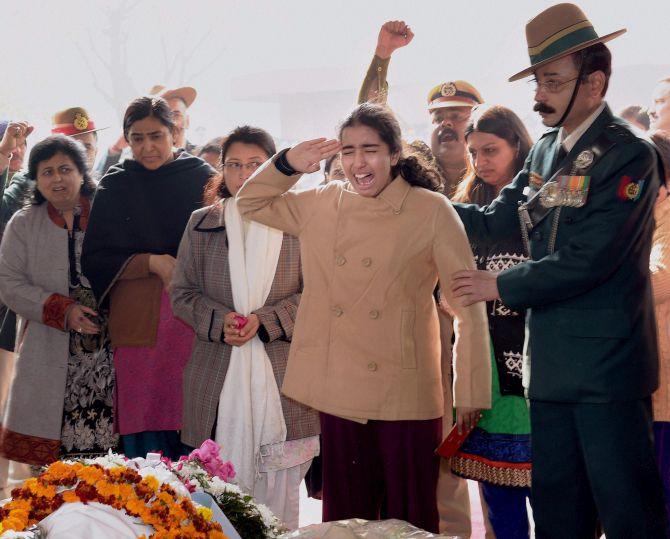 IMAGE: Colonel M N Rai's daughter gives the Gorkha regiment's war cry as she salutes her father who made the ultimate sacrifice for the motherland fighting terrorists in south Kashmir's Pulwama district in January 2015. Photograph: Manvender Vashist/PTI Photo
Sometimes, perception is bigger than reality. Ten thousand rupees per month for a child's education is not a small amount. I could not have afforded it when my children were of school-going age. But I was not a soldier and I was not martyred. And there can't be any cap on the value of sacrifice. Period.
There are many martyr families who send -- and would like to send -- their children to the best schools and those schools are expensive.
This is what they dream about and they have a right to dream big. It is indeed our privilege and honour to ensure that their dreams come true.
I would say reduce the perks and privileges of MPs, but let there be no reduction in the money spent on the education of the children of our martyrs.
Limiting the educational grant for martyrs' children is a setback -- even if they are a minuscule number -- and spreads a false perception that the government is not doing enough for them.
Some perhaps harbour the rich man's perception that visualises martyrs' children going to government schools as if the privilege of expensive public schools is reserved for the rich, bureaucrats and politicians. This class mentality must be destroyed. Why should we think so low, so self defeatingly?
Is that the way to think about the children of our martyrs?
Is martyrdom a small sacrifice that we should hurt the sentiments of our brave just to save some insignificant amount of money?
It must go to the Modi government's credit that in acknowledgement of the unabashed hardships the jawans face, the government has more than doubled the risk and hardship allowance for soldiers posted on the Siachen glacier and hiked the same for security forces deployed on counter-insurgency operations and in Naxal-hit areas.
This week, it doubled the honorarium for armed forces personnel who have received gallantry awards.
No other government has taken such financially bold decisions for the armed forces.
The Modi government has done much more than all previous governments put together for our armed forces. Our finance minister, our defence minister respect and worship the armed forces like gods. The defence ministry's assurance that the capping decision will be reviewed is welcome.
Such a sensitive response can occur only within this government, a government that has taken major steps to help soldiers including the approval of OROP that was kept in abeyance for four decades.
In all, approximately 3,000 martyrs' children get educational support. The amount the government spends on them is in the vicinity of Rs 15 crores per annum.
The saving after capping financial support for each child will be about Rs 3.5 crores per annum.
To save this amount, allowing an incorrect perception to gain ground would be ironical.
We must admit there are heartbreaking stories which need care and warmth.
I know of a young army officer from Dehradun who married his childhood friend. He was martyred in the line of duty in Kashmir.
Their son, a sweet, bright, boy, is dyslexic. He was his dad's darling and his father would speak to him every night wherever he was posted.
With his martyrdom, a great support was lost. When his last rites were performed in Dehradun, the then Uttarakhand chief minister sent an office assistant to lay a wreath. The city's luminaries were absent at the martyr's funeral.
The biggest concern that arose was the continuation of the child's education. The mother was shattered, she needed psychological counseling, and family support to take care of her child.
The child needed a hostel so that he could concentrate on his studies and overcome the impact of the catastrophe that had befallen his family.
The then army chief's wife tried to help the martyred officer's widow. Dyslexia made it difficult for the boy to get admission in a school with special educators. Not all schools have this facility.
Finally, a school in Dehradun agreed to admit the child but his mother had to pay a large fee for this.
The school authorities did not show any special consideration for the martyred soldier's child. But the boy's education was possible as the government bore the entire expense.
Now his education will be critically affected.
Life for a martyr's widow is a challenge every day. Not all of them remarry. The widow lives alone, guided by her himmat (courage).
People, often, sarcastically tell a martyr's widow 'you must have got a handsome amount from the government after your husband's death in action.'
She has to hear such cruel remarks and wipe her tears.
Bureaucrats weighing martyrdom against money often remain oblivious to the fact that India has yet to evolve a uniform policy for grants by state governments for martyrs' families.
It varies from state to state. It all depends on the situation and the chief minister.
Even if the salaries of armed forces personnel is reduced, millions of parents continue sending their children to become faujis.
Such is the spirit of patriotism and nationalism connected to being a fauji family among the people of India.
On Friday, December 9, the Indian Military Academy, Dehradun, will have its passing out parade. I have seen scores of families coming to watch their beloved sons passing out of the IMA at its famous Chetwode Hall.
We live and die for sentiments.
A piece of cloth in a different colour scheme is called our national flag -- we fight to our last drop of blood for it.
It is the sentiment of being honoured by the nation that keeps the sense of pride in the hearts of our soldiers. Let that not be diminished.
Thank you Mr Prime Minister for assuring the nation that the capping decision will be reviewed. That's the difference people love and respect you for.