'It is obvious that the lakhs who come to see it do not see it through the prism of religion,' says Jyoti Punwani.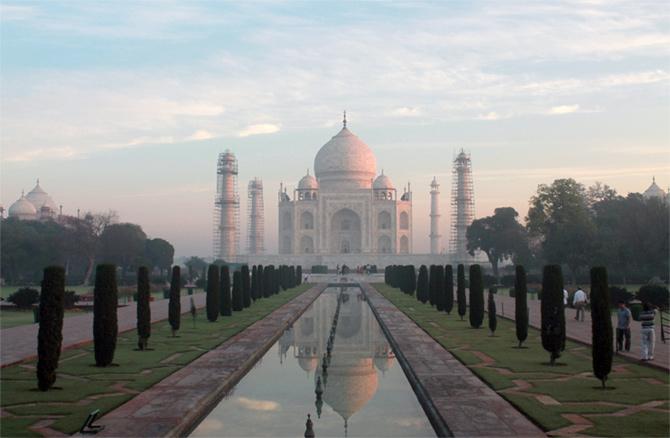 I first saw the Taj Mahal when I was in school. The sight of it literally took my breath away.
After that, every time I've seen it, the effect has been the same. I haven't seen the other wonders of the world, but I know, as does everyone who sees it, that the Taj Mahal is indeed a wonder -- how can anything so solid be so ethereal, as if suspended in air?
As I took in every inch of the monument as a 11 year old, I remember thinking that had I lived in Agra, this would have been the place I would come to study, and also to read my vacations away.
For months after that, I dipped into a fantasy world in which I would get to choose a different spot inside the monument every day to settle down with my books.
That fantasy never left me.
As soon as my child turned five and old enough to appreciate man made marvels, I made sure he saw the Taj before it became all yellow. I remember gasping with surprise as we got the first glimpse of the monument.
Why had I imagined it yellow? It was as it was: Gleaming in the sunlight, a treasure all ours.
The only thing that made me angry whenever I visited the Taj was the way it had been looted by the British. If it was so breathtaking now, what must it have been then!
Growing up, the only debate I heard about the Taj was the story that Shah Jahan had the hands of the artisans who actually built the monument cut off so that they couldn't replicate it.
A terrible thing, if true. But sadly, even such alleged cruelty couldn't detract from the pleasure I got from the monument every time I saw it.
Nor could poet Sahir Ludhianvi's anger that the monument mocked at the love of the poor who couldn't afford to display their love so extravagantly.
ik shahanshāh ne daulat kā sahārā le kar
ham ġarīboñ kī mohabbat kā udāyā hai mazāq
merī mahbūb kahīñ aur milā kar mujh se
Of course, there was P N Oak who said the Taj Mahal was actually a temple. Though we laugh at him, there are people who believe this, and even teach this to their children.
But never had I imagined there would come a day when those ruling us would spew hatred for the Taj Mahal.
The recent hateful remarks against the Taj bring back another hate speech. Akbaruddin Owaisi in his infamous speech in Nirmal (then in Andhra Pradesh) in 2013, threatened 'Hindustan' that if Muslims were driven away, they would take all 'their' treasures with them.
The remark immediately exposed the younger Owaisi's mentality.
He looked at Hindustan through the lens of 'us' (Muslims) as separate from 'Hindustan'. It was 'us' Muslims that had given this separate entity 'Hindustan' the monuments that all Hindustanis took pride in.
Now here's the BJP doing exactly the same, but in reverse. What is Sangeet Som saying?
Forget the colossal ignorance he displays by saying that its maker imprisoned his father, when actually Shah Jahan was the one imprisoned by his son. By now, BJP leaders have displayed so much ignorance of history, we are no longer surprised.
What Som is saying echoes Akbaruddin Owaisi's viewpoint. For Som, the Taj was built by 'them' (Muslims) and so 'we' (Hindus=Indians) cannot relate to it.
If Som is right, Owaisi was right too and so was Jinnah and his theory that Hindus and Muslims constitute separate nations.
Indeed, when the news that the Taj Mahal had been dropped from Uttar Pradesh's tourism booklet reached Pakistan, a friend there asked disbelievingly if it was true. She was sickened when informed that the CM of the state had said it was not part of India's cultural heritage.
Though he changed his stand later, in his original remark Adityanath too was echoing the two-nation theory.
But not all Pakistanis would feel sick by Adityanath's statement. Many would just say: 'Give it to us please. It belonged here anyway.'
Many Pakistanis have started saying: 'It took 70 years, but finally you did prove that our quaid-e-azam (Jinnah) was right, that Hindus and Muslims cannot co-exist.'
Surely he was not.
Despite Adityanath and Som and those who lynched Mohammad Akhlaq in Dadri getting government jobs, the two-nation theory can never be right. And it is not some obstinate idealism that is behind this belief.
Reports from across the country reassure us that even today, despite the Sangh Parivar, bonds between Hindus and Muslims remain strong.
Where the Taj is concerned, it is obvious that the lakhs who come to see it do not see it through the prism of religion.
There is one more factor.
Never before would it have even occurred to me to notice this, but as Supreme Court human rights lawyer Colin Gonsalves said in an interview to Rediff.com: 'We are living in Kalyug.' So we respond like creatures of Kalyug.
Hence, it needs to be pointed out that the long list of Indians who have actually gone out of their way to preserve the Taj -- be they citizens who moved the courts to stop the destruction of the environment around it, the judges who ordered its protection at great human and financial cost, heads of the National Green Tribunal who lashed out at governments over its neglect, or historians who waxed eloquent in praise of it -- this long list comprises all faiths.
Consider the names: Justices T S Thakur, C Nagappan, Kuldeep Singh, Faizan Uddin, Swatanter Kumar; citizens M C Mehta, Rajkumar Singh, Bhim Singh Sagar, D K Joshi, Surendra Sharma, R Nath...
So when UP's Minister for Religious Affairs and Culture Laxmi Narayan Chaudhary said: 'The Taj is not a symbol of any religion and is nobody's', he was both right and wrong.
Though it has a mosque on its premises, the Taj is not a religious symbol.
But far from being nobody's, it is everybody's.
Sangeet Som's remarks have been condemned across the board, including by Dr Karan Singh, the first 'regent' of Kashmir after its accession to India, known for his scholarship in Hinduism.
But what matters more is what ordinary Indians think.
When former UP minister Azam Khan said that the Taj Mahal should be handed over to the wakf board, Agra's residents shouted him down.
Now come reports that they have given the same treatment to Som. Indeed, Vishal Sharma, the Agra tourist welfare centre secretary, has been quoted as having said that if people had to choose between the Taj and the state's BJP government, they would choose the Taj.
There is just one question for Adityanath, Chaudhary and Som: Have you ever seen the Taj?
IMAGE: The beautiful Taj Mahal -- a vision in white in this early morning picture shared by Rediff.com Reader Subrata Chatterjee.