'He is the man,' US President Barack Obama had said at a G-20 gathering, enhancing Lula's stature.
Six years later, has Brazil's impressive economic growth turned to sand?
Will a President, who enjoyed an 80 per cent approval rate in his country, be arrested?
Ambassador B S Prakash, India's former envoy to Brazil, explains what has gone wrong in one of India's BRICS partner nations.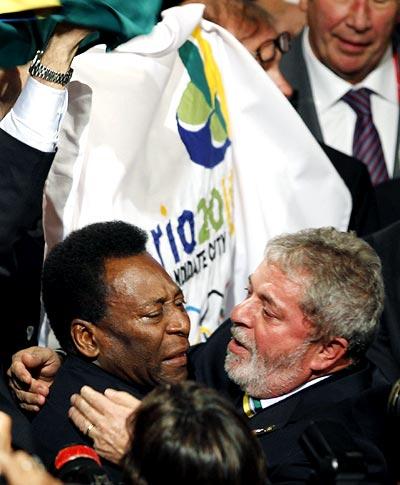 I continue to click a few more times -- the modern-day version of turning pages -- and scan more news. My 'search' is for 'current developments in Brazil.' After all, I spent four years in that country as the Indian Ambassador, and though I left Brazil some years ago, Brazil has not entirely left me.
We in India are certainly used to seeing only 'gloom and doom' in papers. Charges of corruption, mayhem in legislature, strikes and agitations, parliamentary paralysis or Constitutional crisis: Our normal reaction to all this is 'So what else is new?'
As a former diplomat, I also know that the news from the developing world that become international headlines are usually negative, and that life goes on with its normal woes for most of us notwithstanding sensational stories of collapse or catastrophe. 'No water for millions in Delhi,' you hear on the BBC. The taps in your home, however, continue to give you a bucketful.
With all that, I am still shocked and saddened by the cascade of bad reports from Brazil. 'Economy contracts by over 3.5 per cent; protest marches in Rio for presidential impeachment; Olympic stadiums alarmingly behind schedule; Zika virus may cast a shadow on the games...' And more such, day after day.
And this shocker: 'Former President Luiz Inácio Lula da Silva questioned by the police and taken for interrogation.'
My mind goes back to President Lula at his peak in 2009. 'God is Brazilian,' he had declared as the discovery of abundant quantities of deep sea oil seemed to validate his faith in God or in his country. Brazil's resource rich abundance was being recognised the world over: Overflowing water, agricultural profusion, mineral riches and in addition oil!
Brazil was growing at over 5 per cent when the developed world was stagnating; its reserves at over $250 billion had reached an all time high; its BPL (below the poverty line) numbers and the Gini coefficient, a measure of inequality, had recorded all time lows.
As a result, Lula had managed that enviable feat, an 80 per cent approval rating towards the end of his ten years of governance.
Economic growth with social justice, that elusive ideal of the developing world was being realised on the ground in Brazil. 'He is the man,' US President Barack Obama had said at a G-20 gathering, enhancing Lula's stature.
When the country secured its ambition to host the Olympics in 2016, after the FIFA World Cup in 2014, its international reputation had reached a new high.
In that period of euphoria, Brazil became an enthusiastic proponent of BRICS (Brazil, Russia, India, China and South Africa) and its own foundations seemed solid.
Six years later, has it turned to sand? What has gone wrong?
There is plenty of economic and political commentary, but here is my simple analysis of a many stranded narrative. Brazil's success story was that of a resource rich large nation, two-and-a-half times the size of India and a fifth of our population.
Its impressive agricultural and mineral surplus went to feed China's enormous appetite and a significant part of Brazil's growth was linked to China's spectacular rise. China's economy slowing down has meant severe setbacks for Brazil with a cascading effect in many sectors.
On the domestic front, the welfarist orientation of the Workers Party led by Lula was benevolent to the poor and the primary goal of economic policy was to raise millions to the middle class.
That policy package should be familiar to us: Huge subsidies, large spending by the government on public sector projects, generous salaries, pensions etc resulting in significant deficits.
Corruption was always widely prevalent and accepted to a great extent like in India. What was different in the last half a decade is the bad management of one of the world's largest corporations, PETRPBAS that controls Brazil's oil industry.
The political dimension of the crisis is curious. In 2010, Lula was widely hailed as he readily handed over power to his chosen successor Dilma Rousseff, his protege. He was more 'Mandela than Putin' said his admirers as he gave up power, when he could have clung on to it. Dilma was regarded as honest and efficient, even if politically inept.
It is ironical that she is now seen as the cause of Brazil's economic debacles and that she has to bail out Lula by making him a minister and thus providing him a degree of immunity from prosecution.
It is also possible that the opposition to current policies gets accentuated by the aristocratic and business friendly class that had always ruled Brazil till the advent of the Worker's Party of Lula and Dilma.
Frustration with not only the political class, but with the very future of the country has been a result of other accidental factors: The crushing 1-7 loss to Germany in the FIFA World Cup in 2014; the unnerving Zika virus that hangs like a curse on the eve of the Olympics and a breakdown in the relationship between the three organs of the State.
Like in a bad nightmare, all the headaches and problems are coming together and the cumulative result is the venting of anger on the streets.
What of the future, not only of Brazil, but of BRICS where we are partners?
My view is that neither should be written off contrary to the wisdom in the economic pages of The Wall Street Journal or its ilk. Brazil's resources -- natural, material and human -- will make it sustainable and with luck, the political crisis that it is facing can be navigated.
BRICS understood as buoyant economies may have lost its shine, but as a grouping of non-Western (not to be confused with anti-Western) large nations with a different world-view has salience, especially after Russia's resurgent confidence.
But even as I offer this prognosis, a voice within me cautions, 'Who can tell?' Four decades ago, as a young diplomat in Germany, I had bought into the view that the division of Germany was final. Thirty years ago, in Saudi Arabia, I had embraced the fashionable underground perception that the end of that monarchy was just around the corner! The Saudi royal family are still around, though in a state of stress.
Twenty years back in Sri Lanka, I used to articulate that 'There can be no military solution to the ethnic problem.' We still say this though the LTTE was vanquished militarily, changing the equations.
So with greater awareness now of the essential infirmity of our confident assessments, I will sit back and wish Brazil better luck.
IMAGES: TOP: Lula and Pele embrace after Rio won the race to host the 2016 Olympics, October 2, 2009. Photograph: Reuters.
BOTTOM: Lula and his successor Dilma Rousseff, currently Brazil's President.
Ambassador B S Prakash, India's former Ambassador to Brazil, is a long-time contributor to Rediff.com and you can read some of his columns here.