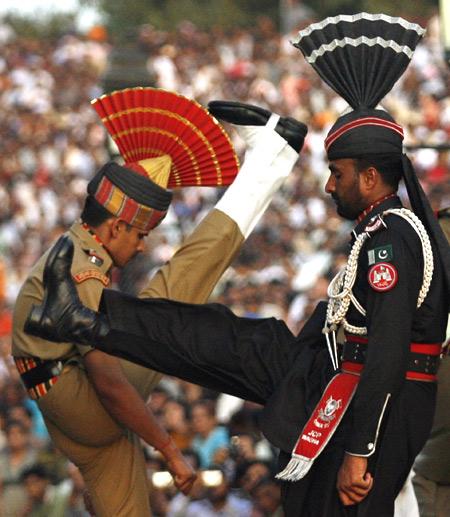 'Despite Modi's high-flown rhetoric about good-neighbourly relationships in South Asia, he lacks a road map how to proceed -- be it with Bangladesh or with Sri Lanka and Pakistan... But a deeper question arises here: Did he duck on his own accord or under the diktat from the RSS, asks Ambassador M K Bhadrakumar.
The Indian decision to call off the foreign secretary-level talks with Pakistan scheduled for the coming Monday is simply appalling.
The justification being proffered -- that Pakistan's ambassador in Delhi inviting members of the separatist Kashmiri separatist Hurriyat Conference meet up with him -- belies logic and lacks credibility.
The motives of the Narendra Modi government are highly suspect and patently lame excuses are being touted as justification.
The most disconcerting thing is the perception that sincerity of purpose is lacking on the part of the Modi government as regards its regional policies.
The gramophone record that held out the promise of playing a mellifluous South Asian symphony on May 26-27 appears on closer examination to have grooves embedded with crud and the lands.
For over two decades already -- including under a previous Bharatiya Janata Party government -- Delhi allowed discourses to take place between Pakistani officials and the Hurriyat leaders.
There is nothing earthshakingly new in what Pakistan High Commissioner Abdul Basit has done.
Indeed, Hurriyat leaders, despite espousing separatist agenda, have been allowed to visit Pakistan and get involved in the cogitations of the Organisation of Islamic Conference and the United Nations Human Rights Commission.
So, what is it that the Modi government is proposing? That Pakistan should give up its stance on the Kashmir issue? That Pakistan should keep the Hurriyat at arm's length?
Even after another 67 years in power, the Modi government cannot hope to achieve that end. Pakistan is a sovereign country and a nuclear power and we simply do not have the capacity (or the right) to force our will on that country on the core issue of its relations with India.
Self-appointed apologists of the Modi government have drawn a parallel between Kashmir and Baluchistan.
But that is a churlish argument since Baluchistan is not an India-Pakistan issue at all; it is Pakistan's internal problem, and if India were to hobnob with Baluchi nationalists, that will be blatant interference in Pakistan's internal affairs. Whereas, Kashmir is an India-Pakistan dispute and there is a file on it in the UN archives.
Simply put, this is the geopolitical reality, however unpalatable it may seem.
Yet another silly argument being touted by our 'hawks' is that the domestic politics in Pakistan has destabilised the elected civilian government in Islamabad and it is advisable that India sat on the fence until things clarified.
But then, when is it in these past 67 years that Pakistan has been in a state of absolute domestic bliss? India has dealt with Pakistan through good and bad times in that country's internal politics.
A third lame excuse being advanced is that Pakistani army is indulging in provocative acts on the border lately and added to the invitation to meet the Hurriyat, there is reason to believe that the 'powers that be' in Pakistan do not want any meaningful dialogue to take place.
Paradoxically, this is an argument that ought to justify the raison d'etre for engaging Pakistan today. By refusing to engage the civilian government in Pakistan, Delhi is only playing into the hands of the hardliners in that country.
Besides, the Pakistani army is not equipped to fight two wars simultaneously. Given the extremely complicated situation on the Afghan-Pakistan border regions where the Pakistani army is overstretched, the generals in Rawalpindi, who are a cautious lot traditionally, simply cannot afford to provoke a war with India.
Clearly, therefore, what emerges is that the Modi government has taken this fateful decision on next week's talks with Pakistan for reasons other than what it is advancing.
What could be the underlying reasons? And what could be the hidden agenda?
In retrospect, Modi blundered into the PR exercise on May 26-27 by inviting his Pakistani counterpart Nawaz Sharif to attend his inaugural ceremony in India. But trifling with India-Pakistan relations in a cavalier way cannot have pleasant ending.
The heart of the matter is that despite Modi's high-flown rhetoric about good-neighbourly relationships in South Asia, he lacks a road map how to proceed -- be it with Bangladesh or with Sri Lanka and Pakistan.
Suffice to say, a constructive agenda is lacking for Monday's talks and Indian Foreign Secretary Sujatha Singh would have twiddled her thumbs in Islamabad in the absence of a mandate from the Indian leadership.
Put differently, Monday's talks held the danger of exposing Modi's carefully cultivated image of being a visionary in a common South Asian home. Unsurprisingly, Modi ducked at the penultimate hour.
But a deeper question arises here. Did he duck on own accord or under the diktat from the Rashtriya Swayamsevak Sangh?
Everything depends on an answer to that profound question and we may never really get an answer here, because these are highly secretive happenings in the sub-soil.
Consider the following. There is every indication that the BJP will make a strong pitch to form the next government in Srinagar following the forthcoming state assembly election in Jammu and Kashmir in October.
The chances are that the BJP will succeed in this project.
Now, with a BJP government in both Delhi and Srinagar, how long can Modi delay the implementation of the RSS-driven pledge to abrogate Article 370 of the Constitution?
Unlike the other two RSS demands -- a common civil code and a temple in Ayodhya -- this one is entirely 'do-able' if the BJP succeeds in forming the government in Srinagar.
Nay, the RSS will insist on it and as a good pracharak Modi will have no option but to comply. Looking back, Modi's Leh speech last week was a harbinger of the shape of things to come.
And, herein hangs the tale of the scuttled foreign secretary level talks. Both Delhi and Islamabad are anticipating gathering storms on the horizon. Modi's inaugural bash already looks a distant dream, as ancient passions take over.
With Afghanistan on the boil and regional security situation being so fragile, the international community would have reason to feel concerned if India-Pakistan tensions were to escalate. The US reaction has been one of 'disappointment' over Modi's decision.