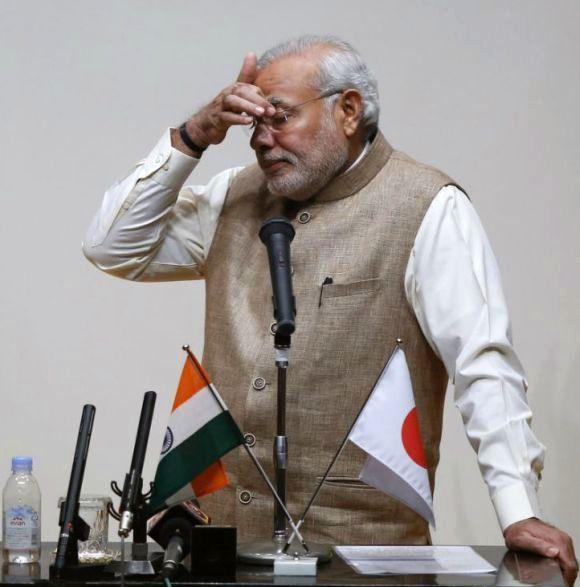 India's 24x7 prime minister may want to draw lessons from the experiences of Indira Gandhi and remember that the one-man band attitude that worked so well for him in the past is not the way to go for the national canvas which is considerably larger, says Bharat Bhushan.
Prime Minister Narendra Modi continues to ride high with rock star gigs abroad and no challengers within or outside the party at home. With international oil prices dipping to unforeseen lows and inflation declining sharply, a perked-up economy provides the perfect backdrop as he strides the national and international stage.
A 24-hour-politician, he is the source of all policy decisions today. He is his own brand manager, the inventor of catchy slogans (Make in India, Act East and so on), the man with vision who needs to share his Mann ki Baat (Heartfelt Musings) with the nation at large and a Nehru-like avuncular figure with school children. He sees himself as a man of destiny, a philosopher and a poet. Someone has already published a translation of his book of poems.
Modi's image-building has voraciously and eclectically incorporated national symbols like Sardar Patel, Mahatma Gandhi and even Jawaharlal Nehru. He has even snatched the electoral symbol from the Aam Aadmi Party -- and integrated it so perfectly with his Clean India campaign that the broom has lost its electoral uniqueness for AAP. Yet Modi's appetite only grows.
Having spent nearly one full month abroad in his six-month tenure, Modi is not only his own foreign minister; he also personifies his entire council of ministers. No decision is taken without his approval. In making key appointments, the Prime Minister's Office seems to consign the short-lists carefully crafted by bureaucrats to the dustbin, coming up with surprising, though competent choices of its own.
Modi's watch over his ministers is already the stuff of legend. It does not matter, therefore, if 31 per cent (20 ministers) in his council of ministers have criminal cases or that 17 per cent face serious criminal charges such as attempted murder, inciting communal disharmony or electoral malpractice. Most of them are there for reasons other than actual governance.
His hold over policymaking is encapsulated in the reply given by a minister holding one of the softer portfolios in the government when asked about his ministry's policy, "Our policy is Modi's policy". As a one-man band, Modi is replicating a strategy that has worked for him as chief minister of Gujarat.
However, the policy canvas is incomparably larger at the national level. What worked for centralising chief ministers like Modi -- or others before him like N T Rama Rao in Andhra Pradesh, M G Ramachandran or J Jayalalithaa in Tamil Nadu or even Jyoti Basu in West Bengal -- may not work at the level of the central government. One man's undivided attention is not enough to address the issues of a complex country like India.
Besides, such dominant figures have limited patience for contrary political voices, especially when listening to their own drummer has worked for them in the past and brought them public adulation. It increases their dependence on bureaucrats, ready to listen to them without question and intelligence officers feeding them information about political colleagues and their shenanigans. With faulty sounding boards, the leader only hears what he wants to hear. If there is only one competent person taking decisions, then even statistically, he is bound to make some mistakes and there will be no one else to take the blame.
Indira Gandhi followed this strategy at the national level after splitting the Congress in 1969. Despite riding the crest of popularity after the 1971 election, she came to grief within four years, declaring a state of Emergency to curb all dissent. By 1977, she was out of power. Indira Gandhi was an outsider like Modi who did not trust her colleagues. What happened to her could happen to Modi also as he insulates himself from public opinion. It is difficult to predict where the problems for Modi might begin since he is still in ascendency.
His confidence that the Bharatiya Janata Party under his Midas touch can dictate terms to allies -- as he does to his cabinet colleagues -- is already coming unstuck.
What the BJP has done to the Shiv Sena will have consequences as other potential and current allies take note of the arrogance on display. An octogenarian BJP sympathiser summarised the situation saying, "Sometimes I wonder whether it was a good thing that the BJP won 282 seats in the Lok Sabha. Perhaps 250 might have been better. Then Modi would have learnt to relate with others better."