Since the change in administration in Washington, DC, Indian leaders such as Sushma Swaraj have publicly and privately identified with American objectives in Afghanistan.
Trump has understood this to mean that America's fight for Kabul is, therefore, also India's fight, says K P Nayar.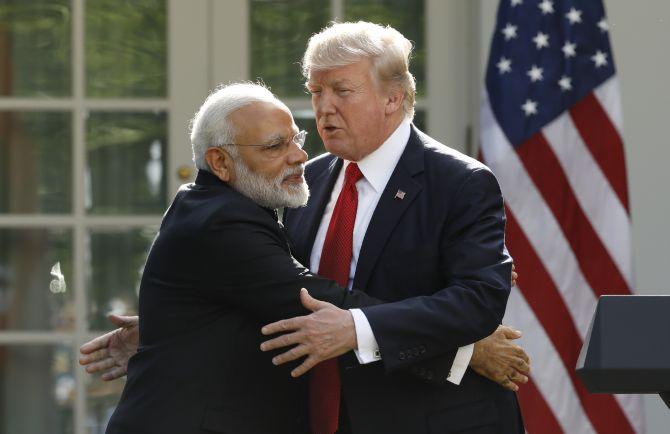 Fourteen years after Donald Rumsfeld, then the American defence secretary, turned on his charm and nearly got India's political leadership to commit troops in United States-occupied Iraq, this country is back to square one in helping Washington to fight another messy overseas war.
The nationwide jubilation over the scolding that US President Donald Trump reserved for Pakistan in his first prime time speech in seven months on national security has successfully obscured a carefully devised American plan to get India involved in Afghanistan's fratricidal conflict where it failed in 2003 in the case of Iraq.
On June 8, 2003, Rumsfeld took an unusual drive to Washington's Willard Intercontinental Hotel, a stone's throw from the White House. It was Sunday.
A few hours before Rumsfeld walked into the iconic Willard lobby, India's Deputy Prime Minister L K Advani had checked into the hotel.
Indian diplomats in Washington, ecstatic about the defence secretary's arrival, impressed upon the number two in the Atal Bihari Vajpayee's government that it was exceptional for an American of Rumsfeld's stature to make a hotel call, that too, on a Sunday.
The Pentagon's hope was that Rumsfeld's gesture would tilt Advani in the direction of sending Indian troops to Iraq over which a debate was the raging within the Vajpayee government.
Five weeks later, on July 14, the Union cabinet decided against getting militarily involved in occupied Iraq.
American President Donald Trump's phone conversation with Prime Minister Narendra Modi on the occasion of Independence Day was of the same genre as the Rumsfeld gesture.
The US marks the national days of most countries with a message from the secretary of state.
In the case of allies, such messages additionally convey the greetings of the President. Until very recently, India had to be content with a message from Foggy Bottom, the seat of the US state department.
Trump's August 15 phone call to Modi went down well with the Indian public and with this country's strategic community, which held forth on television talk shows about the heights that have been scaled in Indo-US friendship.
But the White House was very clear: the primary purpose of the phone call was that the two leaders 'resolved to enhance peace and stability across the Indo-Pacific region by establishing a new 2-by-2 ministerial dialogue that will elevate their strategic consultations'.
President Trump's administration may appear to be in disarray with near-daily departures of key people from the White House and other agencies, hundreds of vacancies still unfilled in key departments and deep internal contradictions.
But on America's strategic partnership with India, this administration has worked to a script. The script has been written by Lieutenant General H R McMaster, Trump's national security advisor, who was in New Delhi in April.
As the first senior Trump administration official to visit India, the Modi government wanted to organise an elaborate programme for McMaster.
But the high-level visitor was strictly business-like and confined his itinerary to meetings with NSA Ajit Doval and Foreign Secretary S Jaishankar, apart from a 20-minute courtesy call on Modi.
His two-hour meeting with Doval was almost entirely devoted to Afghanistan.
So the ministry of external affairs' announcement about McMaster's visit referred only to his meeting with Modi, but the American embassy in New Delhi gave the game away when they issued a press release detailing his activities.
As a result, McMaster's diplomacy, tucked away in a maze of words that made up a joint statement issued at the end of Modi's meeting with Trump on June 26, was an invitation to India to contribute to Afghanistan's security.
This was a significant departure from the past, when the US wanted India to be minimally involved in Afghanistan.
Colin Powell, who was George W Bush's secretary of state, had gone so far as to urge India not to open consulates in four Afghan cities after the Americans overthrew the Taliban regime in the aftermath of September 11.
Even the development work by India in Afghanistan was only grudgingly accepted by the US in deference to Pakistan's opposition to any Indian role in Afghanistan.
The June joint statement broke from the past when it averred that 'recognising the importance of their respective strategic partnerships with Afghanistan, the leaders committed to continue close consultations and cooperation in support of Afghanistan's future'.
Since the change in administration in Washington, DC, Indian leaders such as Sushma Swaraj have publicly and privately identified with American objectives in Afghanistan.
Trump has understood this to mean that America's fight for Kabul is, therefore, also India's fight.
To his entrepreneurial mind, it is only natural that the cost of the Afghanistan project should be shared by all those who have a stake in it: not financially alone, but in men, material and resources. Clearly that explains his remarks about India that 'we want them to help us more with Afghanistan'.
How that help should be of use to Washington, DC, will be left to senior presidential aides, the three generals who today run America's foreign and security policies: McMaster, Defence Secretary General James Mattis and White House Chief of Staff General John Kelly. India, of course, has a choice, just as it did in 2003.
The 'new 2-by-2 ministerial dialogue' involving defence and foreign ministers of the two sides that Modi and Trump discussed on August 15 has been articulated as an Indo-Pacific initiative, but it is naïve to think that when Afghanistan is again discussed bilaterally in the context of Trump's new initiative, it will be confined to India building dams, roads or bridges.
General Mattis will have a say in the discussions with Indians having a sense of déjà vu going back to the US invasion of Iraq in 2003 and Rumsfeld's request for Indian boots on the ground.
Photograph: Kevin Lamarque/Reuters.
K P Nayar reported from Washington, DC, as a foreign correspondent for 15 years.