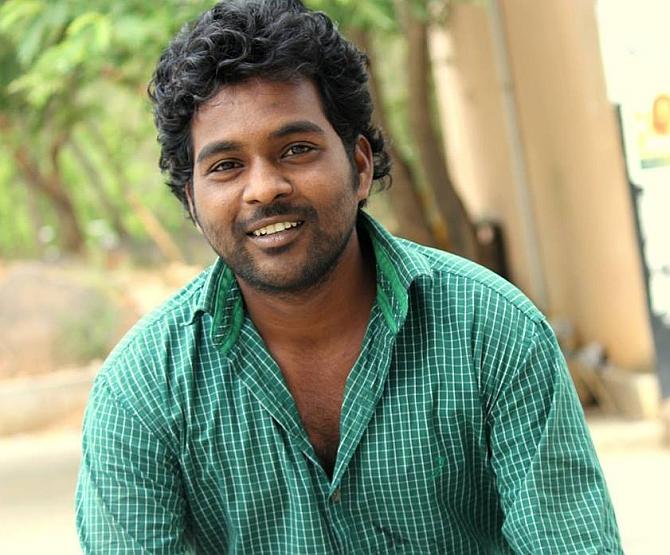 'The loneliness of Rohith Vemula is an indicator that in spite of belonging to a group of activists, such sensitive youngsters have to bear their cross alone.'
'The politicians will come out only when there is political benefit and media coverage,' says Tarun Vijay, MP.
Rohith Vemulu was a young, bright, Indian and his tragic end must make us all sad. He was us. He belonged to a group that thought in a different way and had their demonstrations and protests.
Rohith could have become an engineer or a political activist and he had a future. India must make sure that such incidents do not occur in the future. This is the moment to have a convergence rather than creating political clouds over the tragic demise of an Indian student.
Those who care for national unity beyond caste, creed and religion, and those who care for social harmony working to forge casteless Hindu solidarity or all other believers in human dignity must come together to pay homage to Rohith and show sympathy with his family.
Sadly, as things stand today, this will again be a charged subject for the rudderless Opposition and all those who selectively choose their issues to show sympathy and express anger at their opponents. These people try to twist and misinterpret their ideological opponents and create an atmosphere of acrimony.
Such elements survive on hate and anger. And how genuine are their concerns on such issues? Like calculative politicians, they choose their issues in a manner that they get maximum political mileage.
So Malda, which witnessed a communally provocative crowd attacking a police post and hurting uniformed policemen, is not a matter for their concern. They remained very busy when the Pathankot martyrs were brought home and their last rites were done.
When a careless driver crushed a bright young IAF officer, they didn't find time to go to his family and offer their sympathies. No one -- yes, no one -- among these star leaders reach out to the families of soldiers and console them. They don't find it politically beneficial, perhaps.
When a highly respected police officer in Tamil Nadu, Vishnupriya, known as the 'people's officer', committed suicide under suspicious circumstances and there was a spontaneous public outcry, none of these worthies either visited her family or issued a statement demanding a probe. That too was not, perhaps, thought of as a politically correct move.
When Rohith was seen as depressed and 'going silent', what were his 'comrades' doing? Did they try to have him regain confidence and nurture hope for the future?
If they felt that a grave injustice had been done to them, their camaraderie demanded that they close ranks and show a spirit of strong togetherness. That feeling should have been re-instilled with renewed vigour, helping Rohith to emerge from his state of hopelessness.
The loneliness of Rohith is also an indicator that in spite of belonging to a group of activists and being a member of some protesting organisations, such sensitive youngsters have to bear their cross alone.
What guides leaders with a very high sense of sensitivity for the woes and agonies of our poor masses? Political benefit and media coverage. It is as simple as that.
Like blankets for donation in Delhi's markets, which are sold to those rich and sensitive people who like to proclaim at their evening parties that they can't see the plight of the poor shivering during cold nights, and how much pain they took to donate a thousand blankets for the winter. But the stark reality remains that they won't buy a proper blanket, which is costlier. Hence, shops sell Daan ke Kambal -- donation blankets -- to satisfy your egos and save your money.
The political crowd gathered in Hyderabad is like that.
Tarun Vijay is a Bharatiya Janata Party member of the Rajya Sabha.