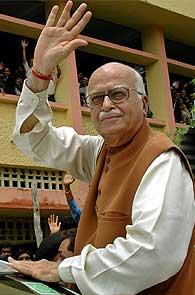 BJP patriarch L K Advani wanted to transform the BJP from a narrow, exclusivist and radical party into a more inclusive, reformist one, says Mohan Guruswamy
I have had close and easy relationships with many of the top leaders in Delhi for nearly 30 years, including several prime ministers.
But of all of them, L K Advani was the most complete personality. He is unfailingly polite, a good listener, curious and ever willing to learn, with a healthy reading habit, is always punctual and a generous friend. Above all, he had little time for gossip or superstition, a major affliction among the nation's elite.
I recall giving him a couple of books by Amartya Sen and commended in particular his views on equality and social justice. A few weeks later Advani called me to visit him. He had marked out several pages and passages and had detailed discussions on them. He always had plenty of time for such interactions.
When he was contemplating nominating Atal Bihari Vajpayee as the party's prime ministerial standard bearer in 1995, I was among several who warned him against doing so. I told him that Vajpayee did not have any agenda or vision, was flexible on corruption, did not reciprocate Advani's warm sentiments towards him and will humiliate him whenever possible after he became PM.
Advani replied that Vajpayee was his senior and was more acceptable to possible allies and to the general public. When I pressed my point, he just said that his mind was made up and firmly closed the subject.
Next morning, he made the announcement in Mumbai. In later years, whenever some point I had warned him about earlier became apparent, LKA would just say that what he did was right and he would do it again.
The biggest factor in favour of Vajpayee, Advani felt, was that he would begin the transformation of the Bharatiya Janata Party from a narrow, exclusivist, ultranationalist and radical party into a more inclusive, reformist and liberal right-of-centre party.
His experiment with Pakistan and its founder M A Jinnah was part of this attempt to reinvent the BJP.
Interestingly, in 1998, when Vajpayee favoured a bill against conversion and wanted it included in the party manifesto, Advani was against it as it infringed on individual freedom, and he put his foot down.
The BJP has now chosen to go back to the path of revanche, revival and narrow nationalism. The language employed in Advani's resignation letter points more to his unhappiness with his supposed close associates like Sushma Swaraj, Anant Kumar, Yashwant Sinha and others whose flip-flops were evident these past few days.
His erstwhile protege Arun Jaitley has been bad-mouthing him for some time now, and though Advani knew about it, he never struck out at him. That was not his way of doing things.
His way was to carry everybody along. That is something Gujarat chief minister and BJP's likely PM candidate Narendra Modi is incapable of.
Mohan Guruswamy is the chairman and founder of the Centre for Policy Alternatives. This column is part of his posts on Facebook.