The real challenge, says Subir Roy, is to go for something affordable whose quality is just right.
Illustration: Uttam Ghosh/Rediff.com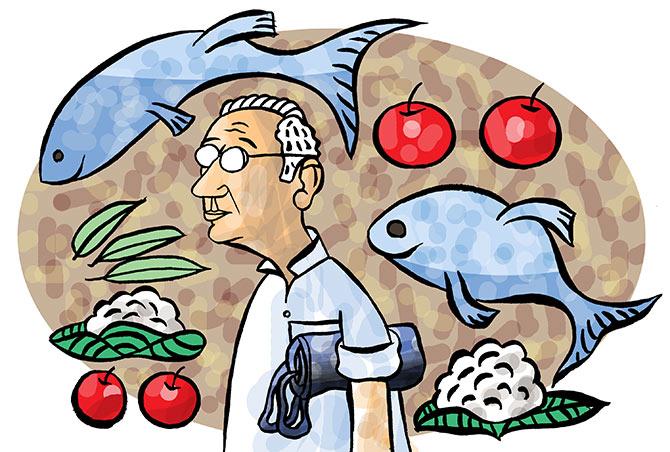 When we were young we were a little intrigued by Sarkar Babu who was the bajar sarkar.
His job was to take one of our joint family servants to the market every morning and bring back a headload of vegetables and fish.
We pitied his life which revolved around such trips for several families that made the filthy bazaar a kind of second home for him.
He earned a pittance, but it was assumed that he more than made up by way of doctored accounts.
The men among the grown-ups, like my father and uncles, all woke up late, read The Statesman carefully over several cups of tea and left for office 9.30-ish without a thought over menus, which was left to my mother and other womenfolk to decide.
It all changed about the time my father retired and the joint family broke up after my grandmother's death.
My sister and I, much older by then, would laugh at my father, who had by then become an early riser and would go off for his morning walk with a rolled-up tholi (cloth bazaar bag, plastics had not yet arrived).
While our servant took over from Sarkar Babu for the regular marketing, my father, after his morning walk, would make not one but two rounds of Jadubabur Bazaar (once to do a recce and a second time to buy what took his fancy).
This was his impulse buying and it amused us children no end that anybody could have fun trudging the narrow pathways of a dirty bazaar looking for best buys.
The other day my sister and I were laughing over the fact that post retirement, I have become like my father.
Twice or thrice a week, after my morning walk and two glasses of divine tea at the roadside tea stall, I venture out in my car to one of several markets nearby, ranging from hawkers with thelas clustered at a nearby crossing with produce fresh from farms offered at a discount, right up to the prestigious Gariahat market where you would get premium stuff, at a premium price.
Over the years, it has been a process of education for me, learning how to spot the best bargains in fruit, vegetables and fish.
(When it came to mutton, I would take no chances, drive further down to the Park Circus market area where a few Muslim shops sell the best stuff at surprisingly affordable rates.)
The first rule I learnt, on which there can be no compromise, is that the stuff has to be fresh. Something even slightly stale would not do.
The second rule was that only a fool threw good money after what was touted as premium.
The real challenge is to go for something affordable whose quality is just right.
To do this you have to slowly learn the rules of the game.
First I used to think that the toughest thing to buy would be good fresh fish that would not burn a hole in your pocket. But over time I have realised that fruit is the king and poses the toughest challenge.
Fresh Shimla apples are the best for me. I don't touch the imported stuff like Washington, which look mechanically standardised in their evenness.
Once you have homed in on your Shimla apples you have to ensure that they are firm, crunchy and don't crumble like sand in the mouth.
The common mistake is to ask and go in for what will taste sweet. Farm research over the years has evolved varieties catering to this.
By far the better eats are those varieties which have a distinctive flavour and taste, be it guavas, papayas (those that have naturally ripened are a class apart) or oranges.
As for the latter, Darjeeling and Nagpur ones are at the top for me, and it goes without saying that I don't touch Kinnow.
For vegetables, winter is a great season. Quality improves, there is a riot of varieties on offer and prices crash. (I try not to think of the plight of farmers.)
We are a family of two but yesterday, I bought a kilo each of tomatoes (they were going at Rs 10) and green peas (at Rs 20).
When the wife protested and I said the peas can be peeled and kept in the freezer, she shot back, "You go do it."
And who can say no to a huge compact, white cauliflower which is going, for heaven's sake, at Rs 10?
Golden rule for both fruit and vegetables: Never buy off-season stuff, they are both costly and tasteless.
On fish, I have narrowed down to two types. One is a variety of small fish alive and jumping around in large shallow tin tanks. You can't go wrong on them.
The other is whole large rohu, weighing over two kilos (ok, you have to have it over weeks but what is a fridge for?). The eyes must look bright, the anus must look red and not dirty black, and don't look for red gills as they have invariably been doctored with blood from a previously cut fish.
Once your fish is cut you will know if you have been had or not. Some blood must come out, the contents of the stomach (mostly fish oil and liver) have to look whitish and, of course, there has to be no roe. That makes the fish taste fibrous.
As for the right colour, be it in fish or mutton (pink is the best, red means the animal was too old) or whatever, there are no strict textbook shades but have to be familiarised through experience.
But more than the stuff rightly picked, the bonus comes with the relationships you develop with the shopkeepers.
The fruit-seller suddenly the other day turned to the other shoppers and declared, "I don't have to worry when I have customers like these, he is a big doctor at Wockhardt's (it is nearby) and he is a top editor."
Not "top" and "was", I corrected, and walked away feeling my day was made.