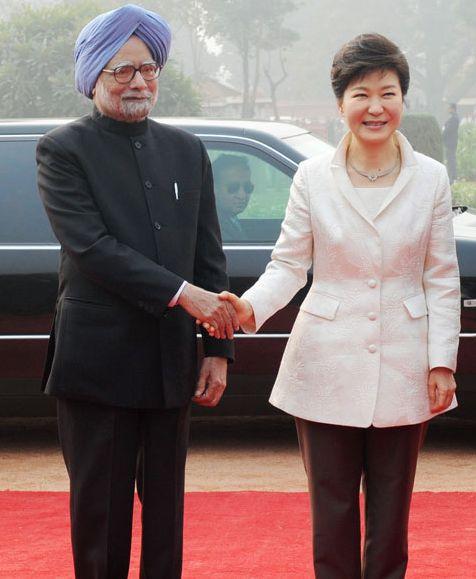 South Korean President Park Geun-hye's visit to India will enhance economic and military ties between the two countries and give the relationship a strategic dimension, says Jiye Kim.
South Korean President Park Geun-hye has completed her four-day state visit to India on January 18, and departed for her next destination, Switzerland. The joint statement between President Park and Prime Minister Manmohan Singh has declared that Korea and India will further develop the strategic partnership.
Three elements of common vision have been introduced: stronger high-level political cooperation, open economic and trade environment and deeper cultural understanding. The statement has indicated the five agreements signed in the summit talk including the agreement on the protection of classified military information, an MOU on a joint applied research and development programme in science and technology.
In the joint statement, the current status of cooperation in diplomatic and security relations has been stated with a positive assessment on previous development such as the RoK-India joint commission co-chaired by the foreign ministers, the annual foreign policy and security dialogue at the vice-minister level, the ROK-India defence ministers' meeting, and the joint committee on defence logistics and industry.
Further, the regular deputy defence minister level strategic dialogue and the national security structures dialogue have been initiated in the statement. Regarding the new agreement on the protection of classified military information, the two leaders have shown their belief that it would enhance mutual confidence in the military arena.
In terms of economic cooperation, Park and Singh have agreed in the statement that the trade ministers of both sides will meet in the first half of this year in Seoul to complete comprehensive economic partnership agreement upgrading process. The two leaders also welcomed initialling of the revised double taxation avoidance agreement. The statement has been also appreciated when Park has sought respect and understanding on it from Indian opposition representatives.
In addition, 70 people of economic delegates accompanying Park have produced achievements in their trip. The Export-Import Bank of Korea has signed MOU on infrastructure finance with India Infrastructure Finance Company Limited, and made contract with State Bank of India on a $200 million interbank export credit line. EIBK, therefore, has constructed favourable circumstances for Korean enterprises in the Indian infrastructure market and launched financial offer to local companies importing Korean goods and services.
Korean small and medium business administration and the Korean ministry of science, ICT and future planning have jointly held IT Exhibition during Park's visit to support small and medium enterprises and their businesses in Indian and global IT market. Park's meeting with the chairman of Mahindra Group, Anand Mahindra, and Dr Singh's support for the POSCO steel project in Orissa have resulted in a positive assessment towards President Park's state visit to India.
What India attains from the cooperation with Korea is to make a breakthrough
in its economy. Since 1991, the Indian economy experienced liberalisation and started to pay attention to East Asian countries under the Look East Policy. Korea was one of the countries deemed as India's role-model and potential trade and investment partner.
Since then, Korea's diplomatic effort was centred on the advertising of Korean business as a successfully liberalised economy. During former President Roh Moo-hyun's state visit to India in 2004, his strategic goal was to re-imprint the image of Korea as an 'open country for trade' for Indian and global partners. Had not Korean companies contributed to Indian economy in reciprocal way, it would not be possible to observe current development in the relations between Korea and India.
Further, as pointed out in the meeting between Park and Mahindra, Korea is a medium to expand Indian economy to other sizable economies. Korea is actively attracting foreign investment and has concluded number of FTAs such as with the United States, European Union, Association of Southeast Asian Nations, etc. In the stagnated world economy and growth rate, Korea is not only the country that pursues 'creative economy'; on the other hand, India is also looking for economic partners from East Asia at this moment.
In regards to regional implication, President Park's visit to India is similar but distinguishable from that of Japanese Prime Minister Shinzo Abe scheduled in the end of January. Both Korea and Japan consider India as another economic opportunity following 'rising China' and the door to the West Asian economies, however, Japan further necessitates India's support in the conflict with China, while Korea requires more cooperation in the issue of Korean peninsula.
In the meeting with Dr Singh, Park has explained her administration's "Trust-building process on the Korean Peninsula" and "Northeast Asia Peace and Cooperation Initiative". Given that India established official diplomatic ties with both South and North Korea in 1973, and it conducted equal distance diplomacy during Cold War and even now in theory, India inevitably has a limit in this issue. So far, no other practical precedent of India's diplomatic contribution has been in the Korean Peninsula issue except India's historical participation in the Korean War as the United Nation's member country.
Lee Dae-woo, an expert from Sejong Institute based in Seoul, suggested the global implication in Korea-India relations. The target of India's military reinforcement is not going to harm global order insofar as it is positioned at holding Pakistan and China.
Considering India's contribution to international society, India seems to willingly participate in sharing responsibility in pressing global matters. President Park's visit to this 'credible partner' India has approved that Korea is proactively pursuing comprehensive goals in India to combine the desire of newly growing middle power in the global system, Korea, and the needs of a BRICS country, India; and consequently enhance the cooperation between two countries in international society.
Image: Manmohan Singh with South Korean President Park Geun-Hye. Courtesy PIB
Jiye Kim is a Korean Government Fellow at the Centre for East Asian Studies, Jawaharlal Nehru University, New Delhi.