The culture of freebies burdens coming generations with the huge bill for the flagrant abuse of power by preceding governments, points out Virendra Kapoor.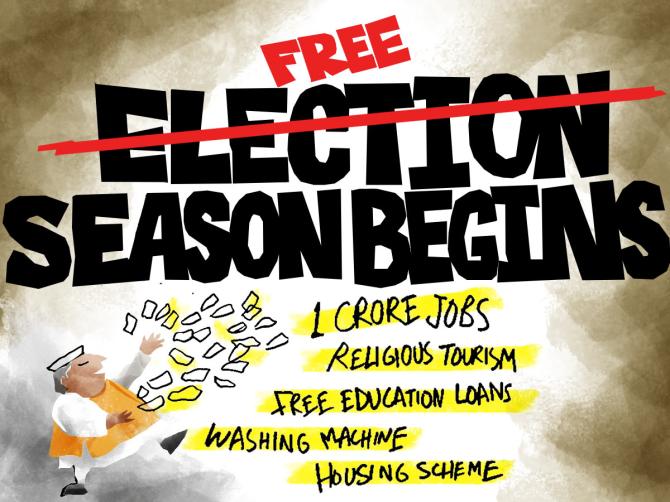 There seems to be an unholy struggle between various contenders for power in the coming assembly elections to woo voters in the coming state elections by opening the door to State treasury wide open.
Though no party is blameless, especially in Punjab, it is the Aam Aadmi Party which seems to have stolen a big march over all others in promising all manner of goodies completely free of cost.
A party which promised clean and wholesome politics, AAP actually made dangling of freebies before voters its sole calling card.
What should be particularly disturbing is that freebies are being doled out without little concern for the poor state of finances of various governments.
Nowhere is that more glaring than in Punjab where the Congress, the Akalis and the AAP are engaged in a fierce contest to outdo one another in promising cash handouts from the empty state coffers.
Though the public focus in the last few days has been on Mamata Banerjee's relentless effort to expand her footprint by granting admittance to all and sundry from the Congress into the Trinamool Congress, the far more dangerous trend which was yet again in play among politicians is their reckless profligacy in trying to buy votes with monies from the state exchequer.
Take the latest from Arvind Kejriwal. Having come to power in Delhi on the promise of 'mufat bijli-paani' -- of that more shortly, the AAP supremo now feels obliged to expand the basket of freebies with each election.
If in Goa he has promised Rs 5,000 monthly payment to every jobless adult, male or female, and a handsome dole to aged women, in Punjab he has promised Rs 1,000 per month to every woman, 18 years and above.
Asked where the money will come from, he dismisses the question airily claiming that 'governments always have enough funds', but apparently the political will to lavish them on freebies is lacking.
Of course, Kejriwal is oblivious, or pretends to be, of the actual state of finances of Punjab.
Once a most prosperous State with its per capita income higher than the national average, Punjab now lags behind in the national per capita income index.
Indeed, it is no longer the granary of India.
Without doubt, the main cause for Punjab's decline is stagnation in the farm sector due to the reckless use of highly subsidized fertilisers and misuse of free water and electricity.
The total debt of Punjab, as per latest available figures, is above 45 percent of its Gross State Domestic Production.
It spends nearly Rs 40,000 crores (Rs 400 billion) annually to service debt.
Default on mandatory payments is not uncommon. The State Electricity Board is deep in the red, with subsidised power to various sections of consumers, and totally free to farmers cutting a huge hole in its finances.
Periodically, the state government has to inject fresh funds to prevent bankruptcy of the electricity board.
Regardless, ahead of the elections Chief Minister Charanjit Singh Channi further slashed power rates causing an additional Rs 3,300 crore (Rs 33 billion) annual loss to the State Electricity Board.
In view of the dire state of the Punjab finances, it is a moot question as to where additional Rs 12,000 crore (Rs 120 billion) per annum would come from for Kejriwal to lavish as monthly allowance of Rs 1,000 per on every adult woman in the state, given that the number of adult women as per the electoral rolls is now over one crore(10 million).
But reliance on freebies to win elections, instead of responsible welfare policy, or an alternative program, seems to have become the sine qua non of most parties.
Some months ago the Madras high court had chastised the state government for what it called the reckless culture of freebies.
In Tamil Nadu, both the DMK and the AIDMK which alternate in power provide all manner of freebies from mangalsutras to new brides to kitchen mixies, television sets, cell phones, gold chains et al.
According to one credible estimate Tamil Nadu has distributed over 6,000 kilograms of gold completely free of cost in the last few years alone.
Unfortunately, the dangerous freebie culture has spread among north Indian politicians as well.
Because Kejriwal spends hundreds of crores on publicity the media has resisted pointing out the reckless and most arbitrary misuse of taxpayers money for buying personal political goodwill.
For, no responsible government however flush with funds it may be will allow limitless free travel on the local Metro to women of all ages and incomes.
The problem with such giveaways is that once given it is hard to withdraw them.
This is not all. The AAP boss has promised free, all-expense paid pilgrimage to voters in Uttarakhand.
Persons of all religious persuasions can have their pick from a dozen earmarked places of worship located in various parts of the country provided they vote APP to power.
All expenses, including for airconditioned rail journey, board and lodge will be paid by government.
But what damage the culture of freebies does can be gauged by considering the cost of just one of Kejriwal's signature populist schemes.
Free water in Delhi has left the Delhi Jal Board at the brink of bankruptcy.
Should the lending banks and financial institutions call back their loans, the Delhi Jal Board will collapse like a house of cards. For, it is sitting on a mountain of debt.
With nearly Rs 30,000 crores (Rs 300 million) in debt and over Rs 28,000 crores (Rs 280 billion) in unpaid interest, the Delhi Jal Board is already bankrupt but survives on the generosity of its creditors.
What is far more shocking is that ever since AAP came to power, not a paisa either by way of principal or interest was paid to Delhi Jal Board lenders.
Admittedly, this column is not about AAP.
But given that it had aroused hope of a new beginning in the rotten politics, it has hugely disappointed by further aggravating the problem of reckless populism.
State governments providing assistance, cash or kind, to the needy, the helpless, the aged and the invalid can only be welcome. This is responsible welfare.
But indiscriminately distributing taxpayers money like Diwali laddoos to all and sundry, such as free travel on the Delhi Metro for women, is desperation of politicians lusting for votes at all costs.
Aside from inducing a culture of dependency among the people, diversion of precious resources on freebies for purely electoral reasons hampers the development of vital infrastructure.
Instead of expanding the provision of public goods such as education, health, sanitation, infrastructure such as power, roads, etc, indiscriminately distributing handouts to people militates against good governance, disincentivizing people from becoming self-reliant.
Above all, the culture of freebies burdens coming generations with the huge bill for the flagrant abuse of power by preceding governments.
No politician should have the right to blight the future of our children and grandchildren by saddling them to pay his debt.
Feature Presentation: Aslam Hunani/Rediff.com