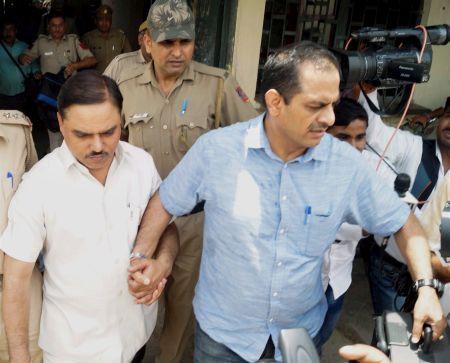 The fiasco over the former Delhi law minister's college degrees has damaged the reputation of the Aam Aadmi Party, says Nupur Sharma.
As I pen this, television news channels are flashing breaking news how a court hearing former Delhi law minister Jitender Singh Tomar's case has yet again extended his police custody by another four days -- a minister the 'internal ombudsman' (read Arvind Kejriwal) of the Aam Aadmi Party had cleared of 'all' accusations related to his fake degree row and continued to support until it became hugely apparent that Tomar, indeed, was lying and the fiasco had started to adversely affect AAP's credentials.
This after news channels flashed (over the last week) that nobody in Munger or in Faizabad recognised him or let alone met and lived with, anybody named Jitender Singh Tomar -- the two towns which house the colleges where Tomar alleged to have completed his LLB and BSc.
Interestingly, a lot went into this full-fledged drama, finally leading to Tomar resigning from his post or perhaps being forced out. The following left little to doubt that the party was shielding a probable criminal who now, police say, could also be charged under the Prevention of Corruption Act.
The Delhi bar council filed a complaint for the police to investigate discrepancies in documents filed with them at the time of Tomar's enrolment to be a licensed advocate. Prima facie the migration certificate (perhaps used towards his admission -- if at all -- to LLB) issued from Bundelkhand University, and also the reason for the Delhi court extending police remand, is the one document which raised their suspicion.
After all, how could a certificate of migration be issued in 2001, when according to his LLB certificates, Tomar completed his law first year in 1995 and further his mark-sheets date to years 1995-96 and 1996-97? Or even otherwise when the graduation degree certificate was from KS Saket College, Faizabad affiliated to Dr Ram Manohar Lohia Awadh University in Faizabad, how was Bundelkhand University issuing his migration certificate and not RMLAU?
At last count Tomar was found by the police to be registered as a 'regular' student at three different colleges, two affiliated to the University of Delhi, at the same time! If I define 'regular' student, in common DU parlance it means Tomar was attending regular classes in Rajdhani College and Shivaji College, as well as KS Saket College in Faizabad during the 1985-87 time period having 'read' economics, zoology/biology and chemistry in the three colleges respectively.
Even for an underrated 'genius' as Tomar, given his vast 'accumulation of degrees' across streams, any DU college-goer would be able to tell you that the trickiest part of admissions to DU is parting with original school mark sheets and other documents --without which the university does not let you in. That actually raises questions that if Tomar was duly registered in more than one college at the same time, how many schools did he pass out from?
One piece of news not drawing enough attention is why Tomar's advocate brother Nagender, who accompanied him till Faizabad, mysteriously disappeared thereafter? Was this a last ditch effort at damage control or was he disassociating himself from a ship that had already sunk? But why so early on in the investigation? As in Faizabad, the proctor of the university has gone on record to say that no reply was ever made to the RTI query -- the document which Tomar apparently presented to Kejriwal to prove his innocence and to show to him that his degree(s) were genuine.
This 'being fooled by the RTI reply' song remains the only explanation and defence the AAP has come up with for protecting Tomar all this while, even though now estranged and expelled former party members and founders Yogendra Yadav and Prashant Bhushan were finding faults with the candidates and screaming the same from rooftops much before this controversy broke.
The undoing of Tomar actually came when he was found absolutely at a loss and failed to recollect and recognise (or be recognised himself) his college faculty, classmates, classroom, canteen and general layout of the college at KS Saket College in Faizabad -- the place where he claimed to have lived for three years during the course of his BSc degree. Not only was he found fumbling when asked to lead the way to his college from the railway station at Faizabad but also seemed to know nothing about the town itself. Further, when quizzed about his subject, chemistry, during police interrogation, the ex-law minister decided to turn philosophical instead of answering basic questions on common names of H2O and NaCl -- something a 9th class student would be able to answer.
Back in Munger, although the principal of the Bishwanath Singh Institute of Legal Study College has said that the name J S Tomar does exist at serial number 10,136 in the Tabulation Register Sheet sent to the college by Tilkha Manjhi Bhagalpur University to which the college is affiliated -- doubt looms large if it was the same Tomar who completed this degree since not only is the original TRS missing from the Bhagalpur University but also the principal of the BNS Institute of Legal Study College having gone on record to add that no photo record exists to ensure that it is indeed the same Tomar who attended college during that time period.
However, what casts a shadow over this confusion and works against Tomar is the fact that police investigation has found that while as per the records of Tilak Manjhi Bhagalpur University, Tomar's registration number was issued in 2001, his LLB mark sheets of 1st and 2nd year show a 1996-1997 registration number. Adding further to his woes, is that not only was the BNS Institute of Legal Studies derecognised by the Tilkha Manjhi Bhagalpur University in 1990 but the commitment of the police to finding out how Tomar got his LLB degree eight years after the derecognition -- registration number from the Bhagalpur University intact.
With this can of fake degree worms now open, the actual clarity on Tomar's educational qualification would only come once the court decides which all colleges, universities and maybe schools did Tomar not graduate from.
Image: Police take former Delhi law minister Jitendra Singh Tomar to RML Awadh University, Faizabad, for further investigation in the fake degree case. Photograph: PTI
Nupur Sharma is a lawyer and a member of the Bharatiya Janata Party.