'It is the impression in Kashmir that if ever a realistic resolution of the problem/dispute is sought to be seriously attempted by New Delhi, the BJP is the best bet,' says Mohammad Sayeed Malik, the distinguished commentator on Kashmir affairs.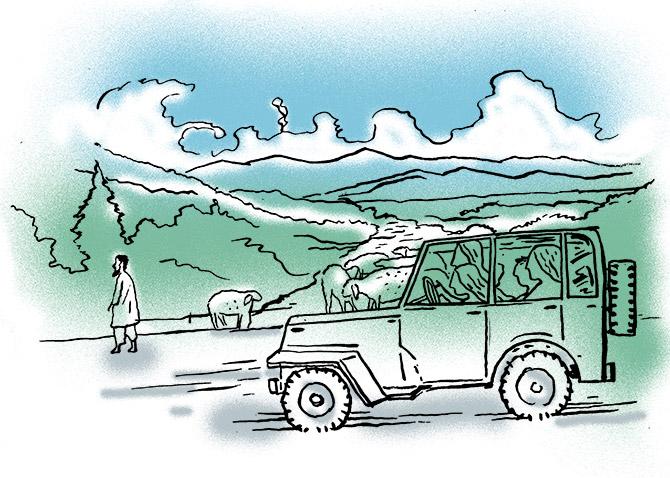 Illustration: Dominic Xavier/Rediff.com
The assessment of the potential worth of the central government's 'political engagement' in Jammu and Kashmir needs to be made in its related context and circumstances, considering that both dynamics are subject to change; from time to time, as much as, from regime to regime and person to person.
The scope of the mission assigned to former Intelligence Bureau director Dineshwar Sharma as the Narendra D Modi government's interlocutor is no exception to that basic rule.
In the gallery of models at one end is the profile of a fruitful, politically productive engagement in 1975 culminating in the disbandment of the Plebiscite Front and, more importantly, Sheikh Abdullah's return to the political mainstream after a 22 year-long confrontation with New Delhi. That was as much a politically oriented project as its dynamics were personality dominated.
That explains why Sheikh Abdullah's death seven years after his accord (with Indira Gandhi) irretrievably eroded all its gains. There was none at the top to step into his big shoes. The debris of that era has left a huge backlog of 'work-in-progress'.
At the far corner of the gallery is the dim portrait of the three non-political interlocutors appointed by the Manmohan Singh government, only to dump their labour of love and consign their reasonably sensible recommendations to the dustbin without even looking at it.
In between these two models, there are different images, definable and amorphous. These are the symbols of half-hearted and less than half-hearted attempts at political engagement only to let them end up as a miscarriage of history.
One such model being that of the (2000) engagement initiated under Atal Bihari Vaypayee's leadership with Hizbul Mujahideen, aborted shortly after it got underway as it discomfited the Farooq Abdullah-led state government and he played spoilsport.
Ever since, this 'engagement' has only been New Delhi's perpetual work-in-progress in Kashmir.
The fallacy that if the separatists are not willing to play ball with New Delhi let them 'go to hell' and that let this 'engagement' go on with the rest, makes mockery of the initiative itself. That amounts to wasting time in convincing the convinced.
If that be Dineshwar Sharma's brief also, then this initiative too is destined to end up as an avoidable exercise. It is not impossible to work out a model reasonably acceptable to both sides without loss of face.
The only condition being to not engage with bad faith.
Related to this crucial factor is the historical fact that, beyond a point, the internal dimension of the larger Kashmir question/problem/dispute does connect with its fraught external dimension. Otherwise, it is cul-de-sac.
Time and history have proved this inevitable co-relation between the two.
Whether that consideration had anything to do with External Affairs Minister Sushma Swaraj's meeting with the Pakistan high commissioner a few days before Sharma's appointment as the Centre's Kashmir interlocutor is difficult to say. But its timing is not without significance.
Interestingly, the Pakistan foreign office in Islamabad went on record to emphasise that theirs was a 'cordial' meeting.
Secondly, not many on Raisina Hill appeared to be in the loop until Union Home Minister Rajnath Singh formally announced the government's decision.
Only a couple of days earlier, the minister of state in the Prime Minister's Office, Jitendra Singh, had said that there was 'no Kashmir issue to talk' with the separatists. Some other BJP office bearers in the state coalition spoke in similar terms.
On the contrary, the army commander in the militancy-gripped south Kashmir went on record to suggest talks with 'all stake holders'. This has, indeed, been a constant refrain in the cantonment.
Lieutenant General D S Hooda, the former GOC-in-C Northern Command, while in service and later also, called for dialogue with all stake holders.
Dineshwar Sharma, replying to a pointed question as to who were the stakeholders in Kashmir, said that 'Every citizen of India is a stake holder'. He went on to say that he was open to engaging with all.
It is good that earlier reservations on this account are, at least for the time being, not allowed to come in the way of a productive engagement in the valley.
Much would now depend on how this significant shift in the Modi government's attitude is reciprocated by the so-called 'moderate' segment of the separatist camp.
For them, it is not easy because this dicey route is paved with the debris of reputations and good intentions.
Surprisingly, both the mainstream parties in the Opposition in the J&K -- the National Conference and the Congress -- have not welcomed the move unreservedly.
Their reservations, expressed and unexpressed, mainly relate to the 'scope' of the engagement. Simply, they want to be taken into confidence on 'what is on offer'.
To an extent, their reservation is not altogether untenable, going by the unenviable fate of quite a few such missions launched by successive regimes in New Delhi.
However, for the beleaguered Peoples Democratic Party in general and Chief Minister Mehbooba Mufti in particular this move by the Centre is a god-send.
The coalition's 'Agenda of Alliance' has accumulated political odium mainly because none of its numerous commitments were acted upon even as the coalition has completed half of its 6-year term.
Dialogue with the Hurriyat is a key element of that agenda. Till now, the PDP's junior partner in power, the BJP, had only been pouring scorn on any such idea. The PDP's political reputation has been in mud in the valley for having 'traded its ideology for power'.
The Centre's lack of interest in honouring the 'Agenda of Alliance' was affecting the chief minister's credibility on her home ground.
The announcement of Sharma's appointment came as a much needed breather to the PDP and Mehbooba. They now have a substantial talking point to go before their supporters and reactivate their dormant cadres especially in their troubled south Kashmir home ground.
However, it is a double edged weapon. And its past history is anything but comforting for a valley-based party in power.
More so, the BJP with its base in Jammu cannot be comfortable for too long with its government in New Delhi seen to be 'compromising' its macho image on -- and in -- Kashmir.
This inherent contradiction is probably going to be a tough knot to untie for the Centre's interlocutor.
Yet, ironically, it is the impression here that if ever a realistic resolution of the Kashmir problem/dispute is sought to be seriously attempted by New Delhi, the BJP is the best bet. Proof is not too far to fetch.
The UPA1 did some useful ground work on Kashmir, holding round tables and setting up working groups, but UPA2, haunted by receding poll prospects, chose to sit over the project and dump even the recommendations of the three interlocutors appointed by it.
The Congress party's belated chest thumping over the NDA's dithering on the Kashmir problem lacks conviction.
Dineshwar Sharma might be an old Kashmir hand for New Delhi. But a sea change has taken place since his last direct contact here. He has considerable home work to do before setting out to engage with whosoever comes forward.
A big problem is that unlike in 1975 when Sheikh Abdullah's solo leadership and command in Kashmir were unchallengeable -- and unchallenged -- the local political arena quarter of a century after his demise is fragmented, vertically as well as horizontally.
This is true of both the camps -- mainstream and separatists.
Petty rivalries are in full play to obstruct attempts at a resolution.
Sharma has to wade through without losing his way; easier said than done.