'Modi is not being consistent with his past record of caution.'
'Has something changed in the way Modi does things?' asks T C A Srinivasa-Raghavan.
Illustration: Uttam Ghosh/Rediff.com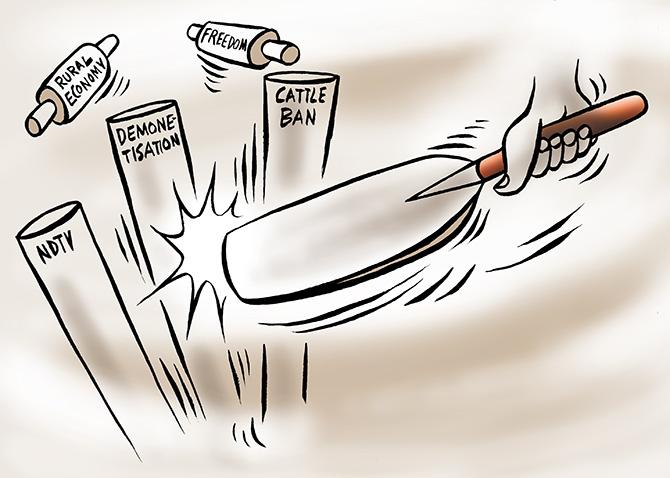 Prime Minister Narendra Modi is not an impulsive man.
He weighs his options and their political costs and benefits fully before proceeding with anything.
Three of his recent decisions have to be judged with this in mind.
The first is the demonetisation of high denomination currency notes in November 2016.
The second, more recently, is the restrictions on cattle slaughter.
And the third is the CBI's search of Prannoy Roy's house.
Mr Roy is the promoter of NDTV, which is a low-on-viewership, long-on-fuss English news channel.
It is, if you will, Indian TV's equivalent of the New York Review of Books.
Mr Modi must have worked out the pros and cons of the three actions very carefully.
Or if not, has something changed in the way he does things?
In the case of demonetisation, his political instinct was absolutely correct.
He won the assembly elections of 2017 in UP -- widely regarded as being critical for him and his party -- by a massive margin in spite of the hardships that demonetisation imposed on voters.
But as the new data suggests, the cost to the economy has been massive.
Depending on your political preferences, there are two views on this.
One was spelt out succinctly by R Jagannathan in a recent article in Swarajya magazine. This is that the current slowdown started in the second quarter of 2016.
The Chief Statistician of India has also said that it would be wrong to ascribe the slowdown solely to demonetisation.
Another view says that even if the slowdown had begun in April 2016, demonetisation has only worsened the situation.
Nothing can convince the holders of this view to the contrary.
That said, both views are correct. This happens with data.
Long ago, I enunciated a theorem for it -- for every piece of data, there is an equal and opposite piece of data.
That could be why Mr Modi didn't worry too much about the possibility of a slowdown.
So the question arises: Was he advised properly?
Given his way of doing things, it seems unlikely he acted without checking.
That leads to the question: Who did he ask? We will never know for sure.
But one thing does seem clear. He is not being consistent with his past record of caution.
How now, holy cow?
We find the same thing in the cattle ban.
It is most unlikely that he was not briefed on the impact on the rural economy generally, and farmers particularly, regardless of their religion.
So here we have to ask why is he willing to annoy Hindu farmers who are a major part of his party's political base.
I can think of only one reason: The ban is designed to destroy the illegal slaughter business which is controlled mostly by Muslims, some of whom may have been providing funds to some political parties and/or politicians.
But if that is the case then, like demonetisation, the PR has been handled very badly.
The government has emerged looking insensitive to farmers' needs and to the notion of freedom.
Since both demonetisation and the cattle ban have seriously dislocated India's rural economy by reducing incomes in it, we must ask: What is the offset Mr Modi thinks he has?
In UP it was his credibility.
But will it last till 2019? He seems to have convinced himself that it will.
Time will tell.
The Roy ripple
If demonetisation and the cattle ban are huge decisions, the decision to raid Mr Roy is at the other end of the scale -- so tiny that one wonders why Mr Modi bothered.
I don't agree with the theory that the media is being muzzled.
Mr Modi doesn't care a damn about it.
He more-or-less said it in as many words when he was launching the Ahmedabad edition of the Hindu Business Line in May 2013. You can find his speech on Youtube.
For me, he said, Facebook and Twitter are far more important.
Meanwhile, the case against Mr Roy seems very fragile and is unlikely to come to court, which leaves the question of his reputation. It is highly unlikely that it has been damaged.
Nor, one must remember, was the reputation of Ram Nath Goenka diminished when Rajiv Gandhi launched his bureaucratic Bofors at the Express Group in 1987.
The Rahejas, who had got the sharp of the stick from the Vajpayee government in 2002, also didn't suffer any diminution in reputation.
Indeed, if anything, their reputations were enhanced in Westernised social circles. The non-Westernised ones don't care anyway.