R Rajagopalan predicts that Tamil Nadu won't have single party rule for the first time in its history.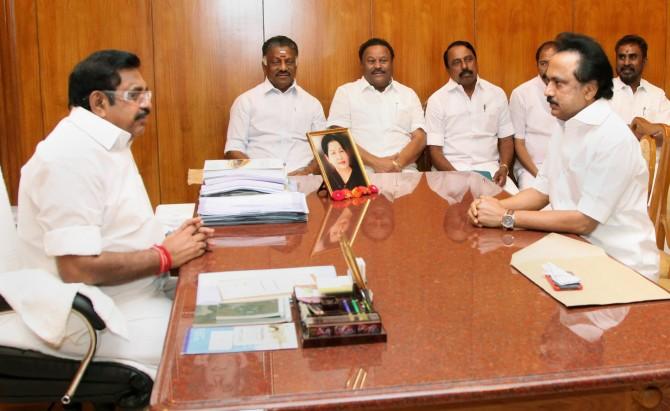 IMAGE: DMK Working President M K Stalin, right, calls on Tamil Nadu Chief Minister Edappadi K Palaniswami at the state secretariat in Chennai, February 13, 2018.
Deputy Chief Minister O Panneerselvam can be seen second from left, with other senior ministers.
Photograph: PTI Photo
Tamil Nadu politics is taking an interesting turn given the restlessness among citizens over Edappadi K Palaniswami's non-performing regime.
Prime Minister Narendra D Modi and Bharatiya Janata Party President Amit A Shah, who evinced keen interest in political goings-on in the state after then chief minister J Jayalalithaa's death in December 2016, seem to have let things slide.
Soon after Jayalalithaa's death, Modi, it seemed, wanted to render a helping hand to the divided house that her All India Anna Dravida Munnetra Kazhagam had become. But all that seems to be in the past.
AIADMK rebel leader T T V Dinakaran's winning the assembly by-election in R K Nagar, a seat represented by Jayalalithaa, sent shockwaves through the political spectrum and it is clear that its impact is far from over.
The impression one gathers is that the style of campaigning that characterised the R K Nagar by-poll cannot be sustained across the state's 234 assembly constituencies.
Further, there are crucial court proceedings and investigations that are bound to have a deep impact on Tamil Nadu politics.
The first is the case over the disqualification of 18 AIADMK MLAs.
The second is the gutka scam case against state ministers and IAS/IPS officials.
The third is the Indonesia coal import scam in which six state politicians are allegedly involved and in which the Central Bureau of Investigation recently filed a first information report.
Politically, there is instability with the EPS faction in the AIADMK busy expelling cadres and district officials, but there is no sign of any fresh appointments of party functionaries.
Edappadi apparently does not want to accommodate anyone from Deputy Chief Minister O Panneerselvam's camp. In fact, it is said that EPS is waiting for the opportune moment to dump OPS.
Ordinarily, such a situation would be ripe for the Opposition to strike, but that is not the case in Tamil Nadu.
The Opposition in Tamil Nadu is fragmented. The DMK's presence, it is said, is limited to the media. Senior DMK leaders have been sidelined with M K Stalin's emergence as party supremo M Karunanidhi's heir apparent, causing resentment among old-timers.
DMK cadres are said to be unhappy with Stalin's style of functioning. And the condition of the other Dravida parties is no better.
While Vaiko's MDMK is likely to merge with the parent DMK, Vijaykanth's DMDK is not effective anymore, and Dr S Ramadoss's Pattali Makkal Katchi remains what it always was -- a caste-based party.
The PMK is strong in four districts, but its voters face the risk of getting scattered to other parties.
There is also the sudden rise of movie superstars Rajinikanth and Kamalahaasan in state politics.
While by themselves they may not seize power in an election, what they can do is damage the votebank of the two Dravidian majors, the AIADMK and DMK.
Rajinikanth could take away 10 per cent of the DMK's votes given the reach of his fan clubs in the countryside. Kamalahaasan, who is more exclusive an actor, may bag the anti-AIADMK votes that would otherwise go to the Congress.
Which means that the next assembly election -- whenever it is held -- will see a five-cornered fight: Among the AIADMK, DMK, Dinakaran, Rajinikanth and Kamalahaasan.
The BJP and Congress will continue to struggle in the state, despite their strength elsewhere. The Congress will certainly go with the DMK, but Stalin is bound to drive a hard bargain given the stakes involved for his leadership.
Most parties will keep away from the BJP given the fallout on their minority and OBC votebanks.
The likely outcome is that there will not be a single party rule in Tamil Nadu for the first time in the state's history.
It will be, I predict, a coalition sarkar.
R Rajagopalan, a senior journalist based in New Delhi, is a keen observer of Tamil Nadu politics.