'The surge of Saudi nationalism is the last thing Washington wants,' says Ambassador M K Bhadrakumar.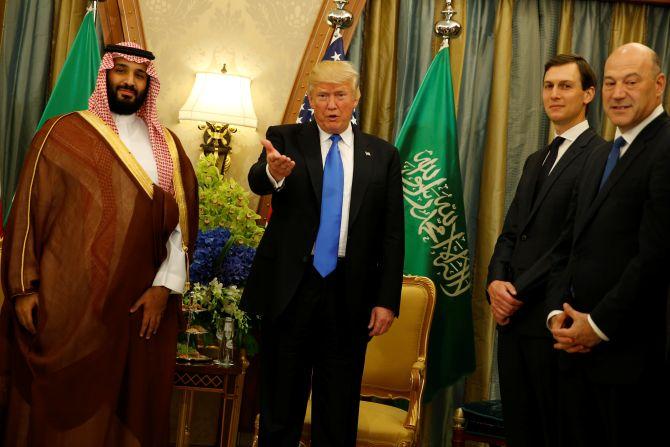 IMAGE: President Donald Trump, flanked by White House Senior Advisor Jared Kushner, second from right, and Chief Economic Advisor Gary Cohn, right, with Mohammed bin Salman, now Saudi Arabia's crown prince and defence minister, left, at the Ritz Carlton hotel in Riyadh. Photograph: Jonathan Ernst/Reuters
Reading tea leaves in Saudi politics is hazardous.
That makes Moscow's jubilation over Mohammed bin Salman's appointment as the crown prince of Saudi Arabia and the next in line to the throne rather intriguing.
The crown prince whom King Salman dismissed, Mohammed bin Nayef, had held the post of Saudi Arabia's interior minister continuously since 2012 and had years of experience in intelligence work.
MbN used to be regarded as the most pro-American of the Saudi leadership.
In February, Mike Pompeo made his first overseas tour as CIA chief to Riyadh to confer the George Tenet Medal on MbN in recognition of his 'excellent intelligence performance in the domain of counter-terrorism and his unbound contribution to realise world security and peace.'
Now, just four months later, King Salman has dismissed MbN and replaced him with his trusted son.
Strange, isn't it?
The Russian state news agency TASS carried a report within hours of MbS's appointment, quoting expert opinion, that the new crown prince may be 'ready to reach compromises concerning complex regional issues -- the crises in Syria and Yemen.'
The TASS report praised MbS' 'political farsightedness by building trust-based dialogue with the Russian authorities, particularly with President Vladimir Putin', which has taken the Saudi-Russian relations to 'an unprecedented high in the past years', and leading to a partnership that 'opens the door to resolving conflicts in the Middle East.'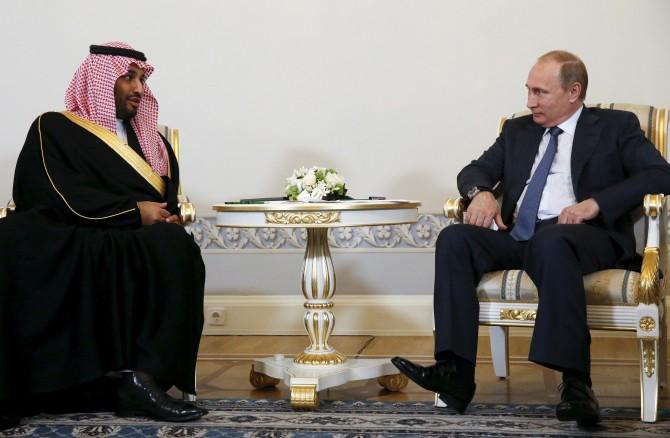 IMAGE: Russian President Vladimir Putin with Prince Mohammad Bin Salman, now Saudi Arabia's crown prince, at the Konstantin Palace in St Petersburg, Russia, June 18, 2015. Photograph: Grigory Dukor/Reuters
Indeed, MbS is a familiar figure for the Kremlin.
He visited Russia four times during the past two-year period to meet with Putin. A Moscow analyst at the Russian new agency Sputnik wrote on Wednesday, June 21:
'The fact that Mohammed bin Salman is slated to be Saudi Arabia's next King -- provided, of course, that no 'black swan' event removes him from that position first -- is wildly good news for Russia and China because of the very productive working relationships that each of them has established with the new Crown Prince... they understand just how positively transformational a figure he's poised to be... Russia and China are poised to see their own interests promoted if Mohammed bin Salman becomes the next Saudi King.'
What explains such high expectations?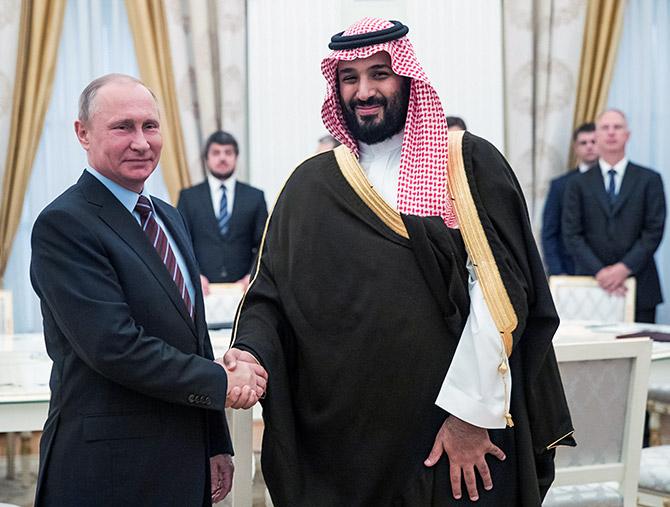 IMAGE: Prince Mohammed and Vladimir Putin, this time at the Kremlin, May 30, 2017.Photograph: Pavel Golovkin/Reuters
The short answer is -- oil.
Saudi-Russian energy cooperation has phenomenally transformed the Russian-Saudi relationship. The OPEC decision to cut oil production has been a joint Saudi-Russian initiative aimed at balancing supply and demand in the oil market to keep price stable at around $50 per barrel.
But then, this congruence of interests also means countering the US' rapidly growing profile as energy exporter.
The US shale industry is in a position to boost production to leverage oil price by creating glut in oil supply.
Therefore, Saudi Arabia and Russia hope to strengthen the oil cartel.
Do not rule out Russia becoming an OPEC member.
This oil cooperation strategy might assume a strategic dimension if an integration can be brought about between OPEC and the Gas Exporting Countries Forum, the grand design being that a mega cartel can block any disruptive role by the US in the world market.
This is a high stakes game, considering the complex backdrop of the proposed IPO of Aramco, which is expected early next year.
MbS hopes that the IPO will provide the first injections of capital into a massive sovereign wealth fund that could provide the underpinning for his ambitious project known as Vision 2030, the long-term development project through which he hopes to transform Saudi Arabia into a diversified and efficient economy and to modernise the country.
Unsurprisingly, MbS' evaluation of the IPO at $2 trillion is being contested by Western analysts.
A Reuters report on Thursday, June 22, estimated that if the oil price stays where it is now, at around $50 per barrel, Aramco would be worth only less than $1.1 trillion.
Evidently, Western pressure is building up to keep oil price low so that MbS is compelled to sell Aramco shares at discounted price.
Meanwhile, the Trump administration is canvassing to secure the Aramco IPO, the biggest in history, for the New York stock exchange.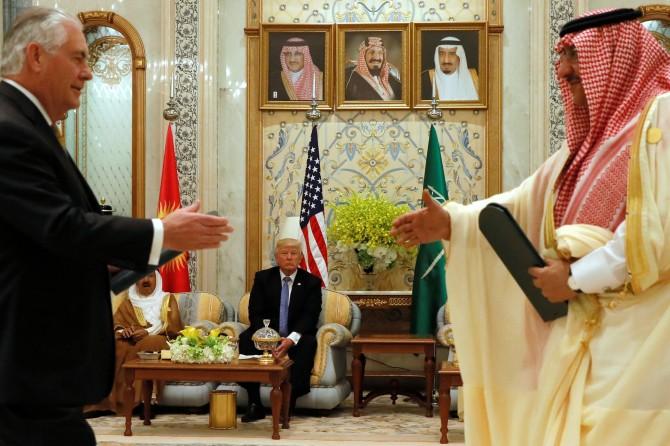 IMAGE: US President Donald Trump, centre, looks on as US Secretary of State Rex Tillerson, left, formerly Exxon's CEO, and Saudi Arabia's then crown prince Muhammad bin Nayef, right exchange a memorandum of understanding, a commitment by the Gulf states not to finance terrorist organisations, at the Gulf Cooperation Council leaders summit in Riyadh, Saudi Arabia, May 21, 2017.
Photograph: Jonathan Ernst/Reuters
But Saudi Arabia is non-committal because of the unease over the US laws that allow victims of the 9/11 attacks to sue the Saudi government.
All in all, Saudi Arabia's (read MbS') strategic autonomy is under severe challenge.
Therefore, eyebrows will be raised that the US state department chose to come out with a suo moto statement on Tuesday, June 20, coinciding with the royal decree on MbS' appointment as crown prince, which cast aspersions on the Saudi stance in the standoff with Qatar (which, of course, carries MbS's imprimatur).
State department spokesperson Heather Nauert hinted at the US 'having to step in in some sort of formal mediation role', and went on to make a surprisingly pointed reference to Saudi Arabia's past involvement in terrorism -- 'whether it is through terror financing or other means' -- and for not doing enough to fight terrorism.
The Russian analysts' prognosis is that given MbS' gravitation toward multi-polarity in oil politics, he may run into strong headwinds in his bid to succeed his father.
Control of the world oil market was a strategic theme of the Cold War and it cannot be otherwise in a New Cold War.
The US strategists maintained since the mid-1940s that to maintain 'substantial control of the world' through control of Middle Eastern oil ought to be 'one of the greatest material prizes in world history' -- to quote from a 1945 memorandum from the state department to President Harry S Truman.
Simply put, the surge of Saudi nationalism is the last thing Washington wants when it hopes to go for a big-time kill in the privatisation of Aramco.
The point is, Aramco is a State within the State of Saudi Arabia.
---
US faces historic setback in the Middle East
'Can the US ever restore its hegemony over the Muslim Middle East?' asks Ambassador M K Bhadrakumar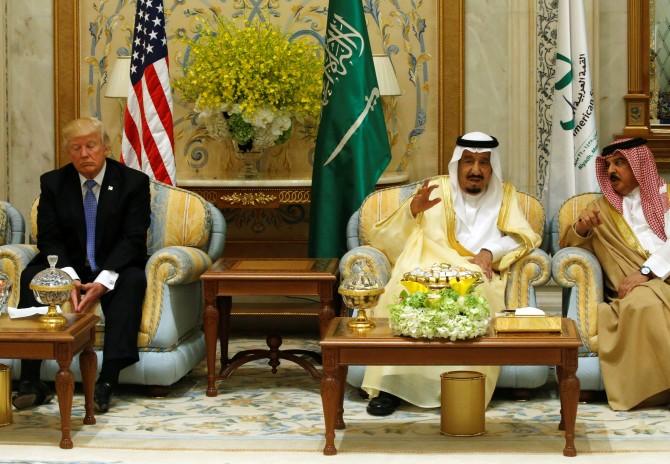 IMAGE: US President Donald Trump with Saudi King Salman bin Abdulaziz Al Saud, in Riyadh, May 21, 2017. Photograph: Jonathan Ernst
The bloc of four Arab countries led by Saudi Arabia that imposed an embargo against Qatar on June 5 has finally presented their charter of demands.
An AP dispatch lists the 13 demands. The most striking demands include Doha reducing ties with Iran, severing relationships with Hezbollah and the Muslim Brotherhood, closing a Turkish military base in the country, and shuttering State broadcaster Al Jazeera and several news outlets.
Interestingly, Qatar is also expected to 'consent to monthly audits for the first year after agreeing to the demands, then once per quarter during the second year. For the following 10 years, Qatar would be monitored annually for compliance.'
All this means that abject, unconditional capitulation by Qatar only will satisfy its 'big brothers' -- nothing less.
By the way, there is also a timeline to comply -- within the next 10 days -- or else the demands get ratcheted up.
To my mind, Qatar will have no difficulty to see this is nothing short of a thinly-veiled push for 'regime change'. The regime's response can only be that these Arab bigwigs can go and hang themselves.
What happens next?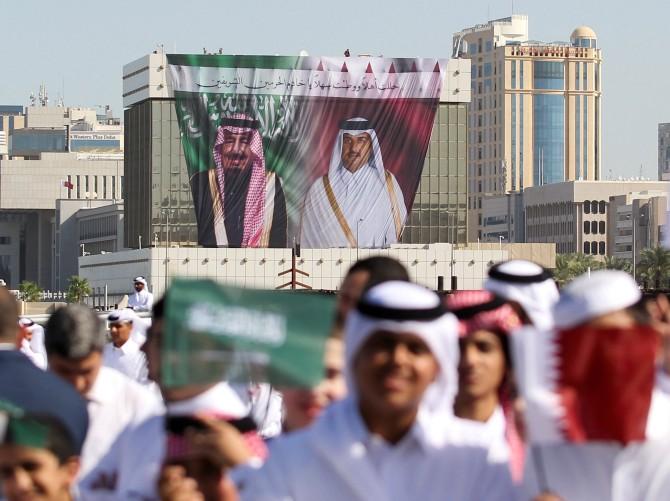 IMAGE: A poster shows Saudi King Salman and Qatar's Emir Sheikh Tamim Bin Hamad Al-Thani as people wave Qatari and Saudi flags during a welcoming ceremony for King Salman at the Royal Court on Doha Corniche, Qatar, December 5, 2016. Photograph: Naseem Zeitoon/Reuters
Simply put, the (Sunni) Muslim Middle East is about to split and the historic schism will have profound consequences for regional and international security.
Make no mistake, this latest development also signifies a slap on the face for the Trump administration.
Only last Tuesday, June 20, the US state department warned Saudi Arabia to resolve the standoff without any further delay lest direct US intervention became necessary, doubting the stance taken by Riyadh (which is widely regarded as carrying the imprimatur of the new Crown Prince Mohammed bin Salman) and showing broad empathy with Qatar (where the US Central Command is headquartered).
Curiously, the US spokesperson also had alluded to Saudi Arabia's past involvement in terrorism 'whether it's through terror financing or other means.'
IMAGE: Prince Mohammed bin Salman with US President Donald Trump at the White House, March 15, 2017.
Evidently, Saudi pride has been touched to the quick and Riyadh has taken exception to the US censuring.
Without doubt, these demands are a show of defiance at Washington too.
This is all now going to become a protracted crisis in all likelihood, which will seriously debilitate the US' regional strategies -- unless, of course, Qatar crawls on its knees -- and weaken its war against tISIS.
To be sure, Turkey will take great exception to the Saudi demand that its so-called military base in Doha should be shut down unceremoniously.
President Recep Erdogan will see this demand as an intolerable affront to Ottoman legacy.
Voice of America reported on Thursday, June 22, that Turkey has been moving food and troops to Qatar in a big way.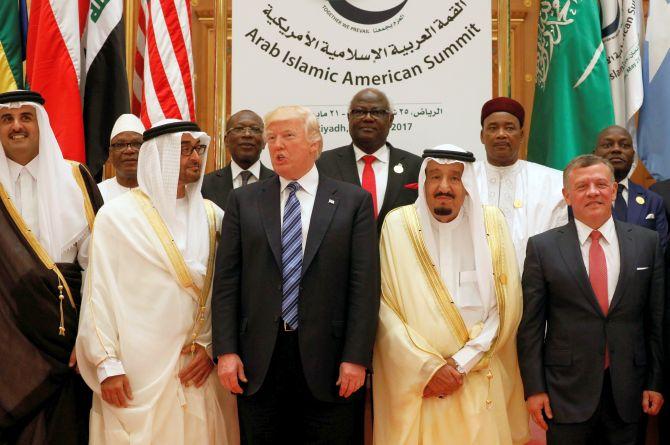 IMAGE: Qatar's Emir Sheikh Tamim Bin Hamad Al-Thani, left, with US President Donald Trump, who is flanked by Saudi Arabia's King Salman bin Abdulaziz-al Saud to his right and Abu Dhabi Crown Prince Sheikh Mohammed bin Zayed al-Nahyan to his left. Jordan's King Abdullah II, is at right.
This was the last time Qatar's young ruler met Trump, at the Arab-Islamic-American Summit in Riyadh, May 21, 2017.
Photograph: Jonathan Ernst/Reuters
Quite obviously, the crux of the matter is that the virus of the Arab Spring is hibernating in Qatar and it threatens to become an epidemic someday again, threatening the autocratic regimes in the Middle East.
Only Turkey, Iran and Israel are immune to the virus of democratic empowerment.
Evidently, Al Jazeera and the Muslim Brotherhood are driving the sheikhs crazy in Saudi Arabia, the UAE and Bahrain and threaten the military dictatorship in Egypt.
US credibility on the 'Arab Street' is now irreparably damaged.
For President Donald Trump all this becomes a big political embarrassment domestically.
It remains to be seen how the US can afford to sustain its belligerent posturing in Syria and Iraq much longer without any regional allies from the Arab world.
The Trump administration's containment strategy against Iran seems destined to collapse even before its launch and Trump's pet project of the 'Arab NATO' looks a macabre joke.
Can the US ever restore its hegemony over the Muslim Middle East? Doubtful.
A big slice of modern history of the Western hegemony over Arabs is breaking away and drifting toward the horizon.
To be sure, the Russians are coming!