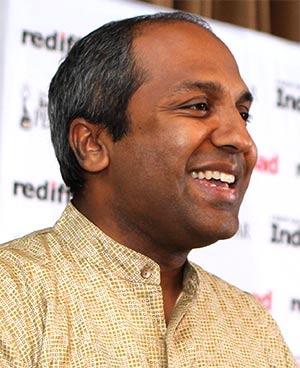 'Success comes only to those who dare and act,' says proud father Ambassador T P Sreenivasan.
Things happen in life in strange ways. I was not scheduled to return to Thiruvananthapuram till late last night after participating in the 50th anniversary celebrations of the Chinchwad Malayalee Association near Pune, together with former chief minister Oommen Chandy.
But I felt I should return sooner as my son Sree Sreenivasan and his twin children, Durga and Krishna, were at home. My hosts helpfully suggested that I could drive to Mumbai and catch a flight, that would bring me to Thiruvananthapuram in the afternoon.
The celebrated expressway from Pune turned out to be much more hazardous than I had expected with heavy rain above and pot holes below.
Once we reached Dharavi of Slumdog Millionaire fame, I thought that there was no way I could catch the flight. But my skillful driver, who makes this trip twice a day, assured me that he would get me there in time for the flight.
He expressed surprise, however, that I was not nervous or anxious about missing the flight! I did not believe his promise, but there I was on the flight as the doors were about to close. The flight, of course, did not take off for another hour!
Back in Thiruvananthapuram, my wife Lekha had lined up several options, the most important being a visit to the famed Ganesha temple, the most auspicious place to start anything new.
We delayed the visit to the temple as I had promised to take the children for a round of golf and then it was time to try out the new restaurant, 'Upper Crust', which, we thought, might suit the palates of the the three American citizens.
But Lekha had her priorities right and she had a kind of premonition that something good would come out of the visit. And there it was that the news came that Mayor Bill de Blasio of New York City had just announced that my son Sree was appointed the Chief Digital Officer of New York City.
We knew this was coming, but to receive the news at the Ganesha temple was sheer delight. It was the culmination of a totally unexpected experience of seeing a well settled 45-year-old son with a wife and two children suddenly without a job.
When Sree accepted the post of Chief Digital Officer at the Metropolitan Museum of Art three years ago, leaving a comfortable position as the first Chief Digital Officer at Columbia University, we saw it as a splendid opportunity for him to spread his wings and to find greener pastures.
To those who wondered whether it was wise to leave Columbia, I said the American system of 'hire and fire' was much more congenial to career development than the escalator system in many countries, including India.
Success comes only to those who dare and act, I said to Sree after he took me around the Met just before he took the plunge. Having changed 10 schools in 12 years, he was fully prepared to accept change. His brother Sreekanth too has shown great resilience in facing the challenges of change.
The Met, with which Sree had a 30-year-old love affair ever since we lived on Madison Avenue in the 1980s, took to his new career like fish to water and enjoyed the experience. Hardly had he mastered his new art and taken the Met to greater heights came the news that the Met could not afford him and, even more, his ambitious plans to make the Met the most digitalised museum in the world.
I characterised it as an effort to turn the Museum into a virtual university with every art object as a lesson. When Sree broke the bad news to us, it was a shock, but I stuck to my position that the 'hire and fire' system had its blessings and challenges and both should be accepted with equanimity.
I said as much to PBS, which interviewed me on 'Sreexit' from the Met. As it happened, I was in New York for a few days during this period. Our family had great faith in the abilities of Sree and his wife Roopa (Roopa Unnikrishnan, champion shooter, Commonwealth gold medalist, Arjuna Award winner, Rhodes Scholar) to rise to the occasion and they did.
The news of his exit came on my birthday and somehow I felt that it was auspicious and that he would soon be back in a position commensurate with his vast abilities and experience in the digital world, which he had mastered without any technology training.
History graduates from St Stephen's rarely become tech gurus. But what astonished us was the way he handled the new situation. He turned adversity into an opportunity. A Quartz article noted: 'But while many high-profile executives might have responded by withdrawing to lick their wounds and work their networks behind the scenes, Sreenivasan went in entirely the opposite direction. The same day the news broke about his dismissal, he posted a note on Facebook. Sreenivasan shared the Met's company-wide memo and his gratitude to his bosses and team, and he outlined some loose plans (a book, consulting, a speaking tour, and a family vacation in India). Perhaps most importantly, he said he was open to any and all meetings and included a link to a form inviting friends to offer advice about what he should do next.
The responses he received were overwhelming, but he and we realised that it was a cruel world out there and it would take time. Tantalising offers came from different parts of the world, but he made it clear that he would not move out of New York till his children finished Hunter College in the next five years.
Nothing would have suited him better than the offer he received from New York City. From a single institution in New York City, he is moving to the City Administration itself. As an observer of the fortunes of the Indian community in New York, Dr Thomas Abraham noted, Indians are not rare even in the White House, but New York City does not have many Indians in high positions.
He saw some poetic justice in Sree's appointment. Indians had made a great contribution to the growth of New York as a maximum city.
As we bask in the glory of Sree's new appointment, we are counting the blessings of the 'hire and fire system,' which recognises merit and offers exceptional opportunities.
Lord Ganesha appeared to have a particularly benign smile on us that evening when we folded our hands in gratitude.
IMAGE: Sreenath Srinivasan, the newly appointed Chief Digital Officer of New York City.