Deployment of THAAD in South Korea could unfold a new cataclysm in the Korean Peninsula with unwelcome prospects, notes Dr Rajaram Panda.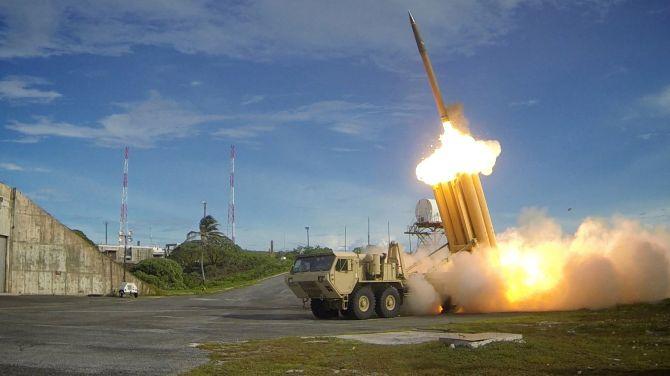 In response to North Korea's nuclear and missile threat, the United States and South Korea agreed on July 8 to deploy a Terminal High-Altitude Area Defence battery to be operated by US Forces Bay, which includes 28,500 troops based in South Korea. This is likely to worsen Washington's relations with Pyongyang and Beijing.
The decision came in response to North Korea's increasing threat, especially after the nuclear test in January and subsequent multiple ballistic missile tests.
A statement released by the USKF said that the decision to deploy THAAD is 'a defensive measure to ensure the security of South Korea and its people and to protect alliance military forces from North Korea's weapons of mass destruction and ballistic missile threats.'
South Korea and the US have not yet revealed a location for the THAAD deployment built by the Lockheed Martin Corporation. The decision to freeze the final location depends upon several considerations such as the system's effectiveness, environment, health and safety requirements. A joint US-South Korea working group is preparing to determine the best location for the deployment.
Though North Korea did not react to the deployment immediately, it did react aggressively to the new sanctions declared by the US Treasury Department for human rights violations as 'a declaration of war.'
The Obama administration has also urged other nations to cut employment of North Korean workers as a way to reduce Pyongyang's access to foreign currency.
Opinions in South Korea are divided. The spokesperson of the ruling Saenuri Party defended the deployment because of threat stemming from North Korea's nuclear armaments and missiles, including the recent Musudan launch and said that 'such measures will greatly contribute to our country's defence and safety of the people.' The party also made it clear that it would not be directed towards any third party nation.
Saenuri Party representative Won Yoo-chul called the Chinese objections and comments by the Chinese ambassador to South Korea 'blackmail.'
The Minjoo Party, however, was critical of the decision, saying that not enough discussion was held with either the people or the Opposition parties and therefore questioned the deployment's practical use.
According to MPK Chairman Kim Sung-soo, the Chinese ambassador warned that THAD deployment could negate the advances made in China-South Korea ties in the past three years under Presidents Xi Jinping and Park Geun-hye.
The People's Party, the second largest Opposition party in South Korea, neither opposed nor supported the deployment, but said the government should have considered China's likely reaction on this matter, and the financial damage that South Koreans might have to suffer as a result of worsened Sino-South Korea relations before agreeing to the deployment.

Experts were not shy to offer their opinions on how effective a single THAAD battery would be as they say that if North Korea launches enough missiles quickly enough, 'it could potentially either outnumber the THAAD interceptors or outpace the reloading process, or overwhelm the tracking radar, which would not only have to track incoming missiles, but also the interceptors fired by the THAAD battery itself.'
One country that would be unhappy and worried is China, which has long been critical of potential deployment of THAAD, even before the decision was announced about its deployment because of its potential impact on Chinese offensive missile capabilities in the region.
No sooner had the deployment decision been announced, China voiced resolute opposition and 'strongly urged the US and South Korea to stop.'
In order to address the concerns of China and possibly Russia, the US-South Korea joint statement clarified that THAAD in Korea 'would not be directed towards any third party nations.'
Beijing has alleged that the deployment of this powerful system, which fires projectiles to smash into enemy missiles is an attempt by the US to flex its military muscle in the region.
The system was expected to be in operation by the end of 2017. China objects to the THAAD deployment because it suspects the system's radar can reach into its territory.
The threat perception in South Korea was heightened when Pyongyang conducted the fourth nuclear test in January and the very next month launched a rocket to put an object into space orbit.
The UN Security Council condemned the launch, which it felt was a test of a long-range missile in disguise, because North Korea is prohibited from doing so under Security Council resolutions. Pyongyang has all along rejected such sanctions, which it says are an infringement on its sovereignty and right to space exploration.
To up the ante, North Korea again launched an intermediate range ballistic missile off its east coast in June. It was again suspected to be a test that showed some advancement in the weapon's engine system.
China fears that the THAAD deployment would destabilise the security balance in the region without achieving anything to end North Korea's nuclear programme. It warned both the US and South Korea to desist from taking any steps that could complicate the regional situation and harm China's strategic interests.
Though the decision to deploy the THAAD system was effectively taken in February, the delay was because of China's opposition.
The deployment issue is quite sensitive because South Korea and China are one of the largest trading partners and the US was careful not to cause damage to this strong economic relationship. Yet, the seriousness of North Korean threat led the US to go ahead with the THAAD deployment.
Each THAAD unit consists of six truck-mounted launchers, 49 interceptors, a fire control and communications units, and an AN/TPY-2 radar.
The first THAD battery, and currently the only deployed system, was set up in Guam several years ago to protect US forces and allies in response to North Korean aggression. That battery appears to be there for a long haul.
North Korea's alleged deployment of Musudan medium-range missile with range that covers all of South Korea and Japan and with potential to reach as far as Guam near its east coast was alarming news to the US and this may have hastened the THAAD deployment process.
Even before the decision to deploy THAAD was announced, there was speculation on how Beijing would react. Though South Korea weighed the costs and benefits, it finally agreed to the deployment because the security issue emerged paramount as the threat from North Korea did not show any sign of diminishing. Having secured hard-earned good relations with Beijing, Seoul now fears the risk of potentially ruining this relationship.
Now that the decision to deploy has been taken, what options are left with Beijing?
It may be recalled that not long ago Qiu Guohong, the Chinese ambassador to South Korea, had, while opposing the deployment, observed that the China-South Korea relationship would be 'destroyed in an instant' and 'take a long time to recover' if the system is deployed as planned.
Now, will Beijing implement its threat? Beijing's concerns stemmed from the fact that the deployment brings Beijing under the threat of attack. China believes the THAAD deployment could be used to monitor Chinese missile deployment, posing a threat to China's national security.
To dispel Chinese concerns, the US wanted to engage Beijing, but Beijing rejected the US offer of talks. US Secretary of Defence Ash Carter, while reassuring Beijing of its security, reiterated that the US has a responsibility to protect not only its own troops stationed in Korea, but also South Korea as its ally.
If the realist theory is applied in South Korea's case, it was reasonable for South Korea to agree to the THAAD deployment because as a State it needs to adopt means to defend itself from possible external attack.
In this case, since THAAD is a defensive system meant to protect an area from aerial assault from perceived attack from North Korea, it can be argued that South Korea was within its legitimate right to agree for THAAD deployment.
But if viewed from the balance of power angle, China and Russia see the deployment to work to their disadvantage.
The larger meaning from the US perspective could also mean that the deployment could contribute to support a democratic system as against the authoritarian Communist system in North Korea.
A larger consideration could be that the US needs to stay because unification, if and when that happens, ought to be under a democratic system. But then China is unlikely to make that happen.
The deadliest scenario could be if North Korea drifts to a situation of collapse and the US intervenes to ensure transition to a democratic system in the unification process, China would unlikely to welcome that strategy.
In that situation, with both the US and China engaged in the Korean Peninsula with conflicting strategies, another Korean War would loom large. This is because China is unlikely to yield space in its neighbourhood to a democratic system, whose ripple effect in its own territory would be unwelcome.
As a short term measure, China might develop technology that would render THAAD useless. Does this mean the THAAD deployment has introduced another arms race in the region or the beginning of another Cold War, this time between the US and China?
That is exactly what the Chinese ambassador to South Korea warned. He said that the THAAD deployment would 'create a vicious cycle of cold war-style confrontations and an arms race.'
If THAAD deployment brings both the US and China into a collision course, that would unfold a new cataclysm in the region with unwelcome prospects. South Korea-China relations would have nosedived as a result in such a situation.
But again what happens if Donald Trump becomes the US president given that he has articulated his views to withdraw the US presence from the northeast Asian region and if he implements his views if elected, would the THAAD deployment be withdrawn? There is no clear picture that can be drawn. But if Hillary Clinton wins the presidency, Obama's 'pivot to Asia' policy shall continue and THAAD would stay.
This would, however, not mean the unfolding of a dreadful scenario, but certainly a slowdown in the Sino-US relations. The strong economic partnership accruing mutual benefits are unlikely to be abandoned or put to risk of derailment. The task to deal with North Korea's nuclear issue shall continue to be persevered, nevertheless.
IMAGE: A Terminal High Altitude Area Defense interceptor is launched during a successful intercept test. Photograph: US Department of Defence via Reuters
Dr Rajaram Panda is currently the Indian Council for Cultural Relations chair visiting professor at Reitaku University, Japan.