The kidnapping of MQM workers is a message from Pakistani security agencies that any show of allegiance to Altaf Hussain will be met with a brutal response, says Aveek Sen.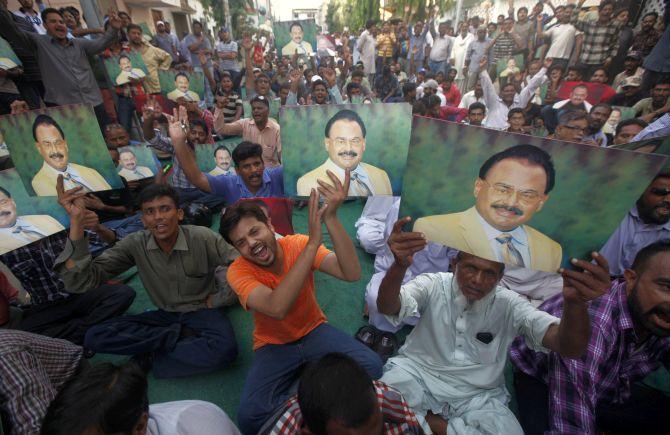 IMAGE: Muttahida Quami Movement supporters hold posters of their leader Altaf Hussain in Karachi. Photograph: Athar Hussain/Reuters
On August 2, the Pakistan Rangers, a paramilitary force, raided the home of Muttahida Quami Movement central coordination committee member Rehan Nasreen in Karachi. In her absence, the Rangers arrested her husband and took him to an undisclosed location.
The police in Mirpurkhas in Pakistan's Sindh province raided the homes of Azra Baloch and Tasleem Bibi, two women MQM workers. Both women were taken to the Ghareebabad police station and according to witnesses, allegedly tortured by the police.
This occurred after Baloch and Bibi, part of MQM's women's wing, staged demonstrations in Karachi and Mirpurkhas against the illegal raids on MQM offices and enforced disappearances of MQM loyalists.
Last month, two relatives of MQM founder Altaf Hussain were kidnapped within a week. The MQM suspects Pakistan security agencies to be involved in these disappearances. The brother of an MQM central coordination committee member was also kidnapped.
None of those detained have yet been produced in a court of law.
From 1986 till date, nearly 20,000 MQM workers, officials and supporters have been arrested.
In the ongoing operation against the MQM -- it began in September 2013 -- there have been more than 130 enforced disappearances and 76 extrajudicial killings.
Who is Altaf Hussain?
Altaf Hussain is the self-exiled leader of Pakistan's Muttahida Qaumi Movement.
The MQM defends the rights and interests of the Muhajir community, Muslims from pre-Partition India who settled in Pakistan, mostly in Sindh.
Altaf Hussain's controversial style of functioning and the MQM's violent track record turned the Pakistani security establishment against the party.
In May 1992, Hussain fled Pakistan, escaping an imminent government crackdown on the MQM. He sought political asylum in London, and became a British citizen in 2002.
Last month, Khalid Hussain, Altaf Hussain's cousin, was kidnapped from near his home in north Nazimabad, Karachi. A cardiac patient, he recently underwent open heart surgery.
Altaf Hussain's brother and nephew had earlier been abducted by Pakistani security officials. Both men died in custody. As did Altaf Hussain's brother-in-law in Adyala prison, Rawalpindi, reportedly after being tortured.
'The establishment is playing the dirty game of kidnapping relatives of Altaf Hussain in order to force him to accept what the establishment wants,' the MQM said in a statement.
Neither Khalid Hussain nor the husband of the central coordination committee member nor the others abducted are MQM political workers. None of them have political affiliations.
This gives credence to the possibility that the men were abducted to exert pressure on Altaf Hussain and the MQM leadership based in London.
A message is being sent out to MQM workers that any show of allegiance to Altaf Hussain will be met with a brutal response.
Baloch and Bibi's abduction is a message to Altaf loyalists that none will be spared.
Such is the state of 'democracy' in Pakistan.