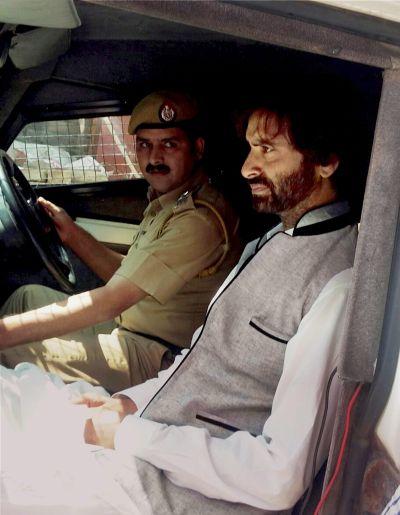 IMAGE: Yasin Malik, chairman of the Jammu and Kashmir Liberation Front, being arrested ahead of his proposed meeting with Pakistan's National Security Advisor Sartaj Aziz in New Delhi on Thursday, August 20. Photograph: S Irfan/PTI Photo.
India should be more confident and let Pakistanis meet Hurriyat leaders. India's main concern is terrorism, and India should talk terrorism. If that means talking Kashmir, so be it, says Shivam Vij.
New Delhi says Pakistani officials should not interact with Hurriyat leaders because Kashmir is an issue only between India and Pakistan and there is no third stakeholder. But how does inviting Hurriyat leaders to a reception at the Pakistan high commission make them a third party to talks on Kashmir? It is their private matter.
The Pakistan high commission will hold a reception for its visiting National Security Advisor Sartaj Aziz, if he does arrive in New Delhi, that is. Three Hurriyat leaders are invited to it. The Government of India has a problem with that. The Government of India owes us all an explanation as to what exactly is the problem with Pakistan officials meeting three Kashmiris?
Does the Government of India decide who Pakistani officials can meet in Delhi? Does the government of Pakistan decide who Indian officials can meet in Islamabad?
Just who are these Hurriyat leaders? If Syed Ali Shah Geelani, Mirwaiz Umar Farooq and Yasin Malik are criminals, please put them in jail and convict them under due process of law.
As far is New Delhi is concerned, Geelani, Malik and the Mirwaiz are Indian citizens. They are residents of Srinagar, a place that belongs to India. So the Hurriyat leaders are Indians, private citizens of India. Does India prevent any of its citizens from meeting any diplomats and visiting foreign dignitaries in Delhi?
By saying that Pakistan's NSA Sartaj Aziz cannot meet three Indians, India is only revealing its own weakness. If these three Indians have committed crimes, put them in jail and convict them through the due process of law. After all, India follows the due process of law, unlike Pakistan which is ruled by a military dictatorship from time to time.
These three Indians are Kashmiris and by saying that Pakistanis should not meet them, India is revealing its insecurity about Kashmir. It is India's position that there is no internal problem in Jammu and Kashmir. The problem is external: Terrorists coming in from the porous Line of Control.
However, by telling Pakistan not to talk to three Kashmiris, New Delhi is implying that there must be some internal problem in Kashmir.
If the problem were limited to three individuals, nobody would give them importance. By giving so much importance to the Hurriyat leaders, New Delhi is implicitly confirming that they represent a little more than just themselves. Could it be that they represent a sentiment in Kashmir that is more widespread than we like to believe?
India wants to believe that Kashmir is not a dispute. India wants to talk to Pakistan only about terrorism, not Kashmir. But the reason why Pakistan does terrorism is Kashmir.
Granted that Kashmir is not a simple issue, but can India realistically pretend that it is not an issue between India and Pakistan? By saying that Pakistanis should not meet three Kashmiris, India is anyway allowing Kashmir to be an issue. After all, there would be no problem if Sartaj Aziz was meeting three Odiyas.
India should be more confident and let Pakistanis meet Hurriyat leaders. India's main concern is terrorism, and India should talk terrorism. If that means talking Kashmir, so be it. India can't answer terror with terror because we don't have terror factories. India can't answer terrorism with war because we both have nuclear weapons. That leaves talks as the only option.
To talk terrorism, we have to first talk to Pakistan. Pakistan will say we will talk terrorism only if we also talk Kashmir. We have been there before. This tu-tu-mein-mein ended in 2004 when India and Pakistan started a 'Composite Dialogue.' Atal Bihari Vajpayee was the prime minister. The solution was simple: We will talk about everything together.
The Modi government is thus taking the India-Pakistan peace process back in time by 11 years. This puts India at even greater risk of terrorism from Pakistani soil, and escalates military tensions too. The statesman-like thing to do would be to ignore the Hurriyat's tea in Chanakyapuri, and engage Pakistan on the diplomatic table to make sure that tensions de-escalate.
But we don't seem to be actually interested in talking. If we were, we would stop pretending that Kashmir is not an issue on the table. We would not draw the unreasonable red line that Pakistanis can't meet three Kashmiris, which they have been doing for years. It is mere tokenism for Pakistanis to show to their domestic constituency that they aren't giving in to India on the Kashmir issue.
The Ufa joint statement by Prime Ministers Nawaz Sharif and Narendra Modi did not mention Kashmir, but it said the two countries would discuss 'all outstanding issues.' This was taken by Pakistanis to mean that Kashmir is on the table. Why are we so afraid of the Kashmir issue?
New Delhi is pretending as though the Pakistani NSA will take a flight just to come and collect Indian dossiers on terrorism from Pakistan. That is not how diplomatic negotiations take place. Diplomatic negotiations require give and take, they require flexibility and magnanimity.
Talking is a two-way process. If India was in a position to dictate terms to Pakistan, there would be no conflict with Pakistan. Truth is, Pakistan has a strategic advantage over India, called terrorism. If India is not going to talk to Pakistan, what is the Modi government's alternative strategy in dealing with Pakistan-sponsored terrorism?
By sabotaging talks with Pakistan, New Delhi is losing an opportunity to talk tough on terrorism with Pakistan. Time and time again, India has climbed the high horse of not talking to Pakistan over terrorism. The Parliament attack of 2001 and the Mumbai attacks of 26/11 were two occasions when India tried disengagement with Pakistan. Vajpayee in 2004 and Manmohan Singh in 2009 had to climb down from the high horse and start talking to Pakistan. Why? For the simple reason that India doesn't have any other option.
It is said that Prime Minister Modi has done well with foreign policy, but Pakistan has always been India's biggest foreign policy issue. His real test is Pakistan. A confused and shifting policy, or a foreign policy that seeks diplomatic disengagement with a neighbour, is not good foreign policy.