'Who wouldn't want to rub shoulders with the neighbouring country's premier's childhood confidante?' asks Kishore Singh.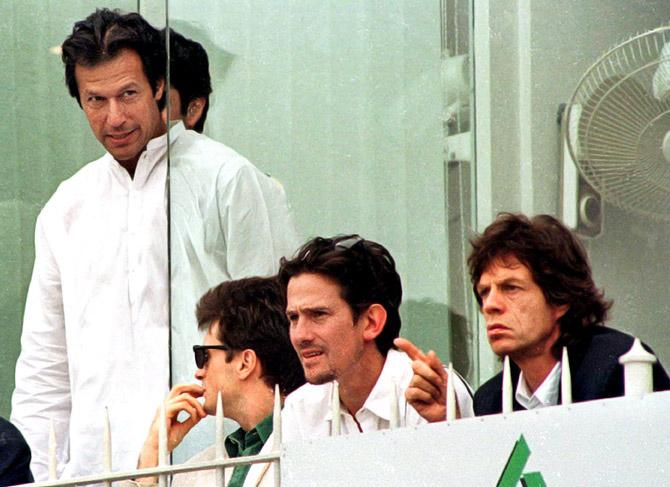 Now that Imran Khan is going to prime minister of Pakistan, I guess we'll have to invite our friends over to introduce my wife's BFF and bête noire whose single act of celebrity is that she used to defy her father's curfew hours in Rawalpindi and climb down a window to go party at the cricketer's friend's home.
For reasons of diplomatic protocol, let us draw a veil over her identity here, but suffice to say that she describes a Pakistan at odds with its international image today.
There would be music, she tells us, and alcohol, of course, and -- let us say -- certain substances that might be described as inducing hallucinations.
This was the 1970s when the subcontinent's teenagers, brought up on a diet of zealous austerity, found the whole experience of sports and glamour surreal and exciting.
To be flirting, then, with one of the world's sexiest sportsmen was a heady experience. One can hardly blame her for dining off the story.
Now, of course, it could well become her calling card.
Who wouldn't want to rub shoulders with the neighbouring country's premier's childhood confidante?
True, we've known her claims to be somewhat exaggerated -- did she even meet the Khan at those parties? -- but it would be equally silly if a teenager's hormones became the reason for her to shed opinion on the likely political outcome of Pakistan's future under his tenure.
'Wasn't it his 'Big Boys Play At Night' tee-shirt that had confirmed his reputation as a playboy, as much at home in London's clubs at the time as among Bollywood's glitterati?
For a while, it seemed the society magazines that gave him wall-to-wall coverage in India were rife with speculation of an Indo-Pak truce based on a romance between Hindi cinema's sexiest heroine, Zeenat Aman, and Pakistani cricket's ditto captain, but that petered out to be no more than a fling, if that at all.
Admittedly, those were more liberal times, though women might rate them as misogynistic. At any rate, Khan's views on such matters have been written up in an excoriating diatribe by his second wife, while his first was hardly forgiving at the time of their divorce.
Still, it is surprising that a cosmopolitan icon should travel the long distance towards an unappealing conservatism.
How different is the Khan of the 1970s and 1980s from the politician today?
My wife's sport of choice is tennis. Kolkata, where she grew up, worships at the altar of football. Yet, the only time she went to Eden Gardens was to see Imran Khan "in person".
His looks and cricketing lore may have made India giddy-headed at the time, but it remains to be seen whether, as Pakistan's elected head -- army puppet or not -- he can sway the people of this country by his charisma alone.
Instead, Khan's deliveries will be closely watched to see who is powering the hand that claims to hold the reins of Pakistan.
Meanwhile, there is still the matter of the party my wife wants to have for her friend who may or may not have known Imran Khan.
"My best friend ji," she has been extolling her other kitty friends, "she was Imran's best friend na."
It's my wife's turn to dine out on the story, even though she isn't entirely convinced of its authenticity.
"I think she made up the whole thing to get attention," she told me with some authority, but she isn't letting her personal perception colour her publically-held view.