This historic judgement brought the issue of sexual harassment in the workplace into the mainstream discourse. Given the achingly slow pace of social progress in India, this is no small cause.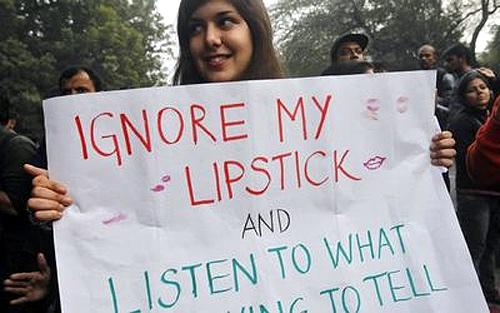 IMAGE: A demonstrator takes part in a New Delhi protest rally in December 2012. Photograph: Mansi Thapliyal/Reuters.
In 1997, the Supreme Court broke new ground for the cause of gender equality by setting out the first explicit definition of sexual harassment in the workplace and guidelines to deal with it.
Twenty years on, how do we assess its legacy?

First, let's recognise that this judgment -- which came to be known as the Vishaka judgment/guidelines after the primary non-government organisation that moved a public interest litigation -- marked an emphatic leap forward for the cause of women's rights for multiple reasons.

One, it went some way towards rectifying a depressing saga of lower court injustice against a woman, a gutsy Rajasthani grassroots community worker, who was gang-raped by upper caste men for trying to prevent another crime, a child marriage.

For another, the Vishaka guidelines, delineated by a three-member bench headed by then chief justice of India, J S Verma, turned the klieg light on an embarrassing truth in the post-economic reform India Rising story. That, reflecting our deep-rooted societal misogyny, the average Indian workplace is hostile at worst and unappealing at best for the average working woman.

The Vishaka judgment's definition of workplace harassment was broad enough to attract at least one of three sections of the Indian Penal Code. Importantly, it brought lewd behaviour -- with which almost every professional woman is undoubtedly familiar -- and not just physical contact within the definition of harassment.

The guidelines also stipulated that organisations were to set up complaints committees headed by a woman with women comprising at least half its members.

Because of its pioneering nature, the judgment was assiduously covered by the media. But -- unsurprisingly perhaps -- the code and guidelines were observed mostly in the breach by corporations large and small.

With no penalty for violating the guidelines, the issue never became a critical one for Indian organisations, even as more women were joining the workforce and competing with men on equal terms.
Ironically, entrenched gender discrimination may have played a part in the underwhelming response: The lack of women in sufficiently senior positions to make up a credible complaints committee cohort.

Thus, in India's mostly male business milieu, the rampant practice of workplace harassment became a non-issue. Industry chamber chiefs, breathless in their endorsement to global investors of India's status as "the world's fastest-growing democracy", never thought it worthwhile to chivvy their members to improve the environment for women employees.
Cases like Infosys's dismissal of Phaneesh Murthy for sexual harassment in 2002 were honourable exceptions that understandably grabbed the headlines.

It took 16 years for the issue to engage Parliament, that too after a non-workplace related gang-rape and death of a para-medical student in 2012.
With protests on Raisina Hill making the country the focus of international opprobrium, Parliament passed in quick succession, tougher rape laws and a workplace harassment act.

The ponderously labelled Sexual Harassment of Women at Workplace (Prevention, Prohibition and Redressal) Act, 2013, replaced the Vishaka guidelines (Justice Verma had a hand in framing this law too).

The act considerably expanded the scope of workplace harassment, the powers of the complaints committees, the responsibilities of organisations of a certain size to ensure gender-sensitive workplaces, and it set out timelines within which complaints must be disposed of. The Act also made it mandatory for firms to report sexual harassment cases in their annual reports.

The progress since then has been incremental but not discouraging. The statute has seen a bump in women coming forward to report. In FY16, Nifty 50 companies reported a 26 per cent increase in sexual harassment cases and the National Crime Records Data Bureau reported a doubling of such cases in 2015 over 2014, and a 50 per cent rise in harassment in work-related premises.

Yet entrenched chauvinism means that sexual harassment, like rape, remains an under-reported crime. An Indian Bar Association survey this year said 70 per cent of women did not report sexual harassment by superiors for fear of reprisals.
Isolation within an organisation for a complainant also discourages women from coming forward.

The princely fine of Rs 50,000 for employers that do not implement the provisions of the Act is a mild deterrent.
Several surveys show that almost half of information technology and advertising and media companies, which employ large numbers of women, do not have complaints committees.
This included Tehelka, which, ironically, organised a huge seminar on women's rights just after which its proprietor was accused of sexual misconduct.

Small and medium enterprises, which account for the bulk of employment and operate under the radar, can be guaranteed to be in violation of the Act, since compliance checks will be an unwieldy task.

For all that, the Vishaka guidelines set off a process -- however imperfect -- that brought the issue into the mainstream discourse. The attention to cases like those at TERI, Tehelka, Infosys and Indian Hotels have shown that.
Given the achingly slow pace of social progress in India, this is no small cause to have celebrated on International Women's Day recently.