'The mobilisation is nothing but a political ploy -- a sort of a fixed match between Hindu and Muslim communal forces, towards polarisation, in a run-up to the next election,' argues Mohammad Sajjad.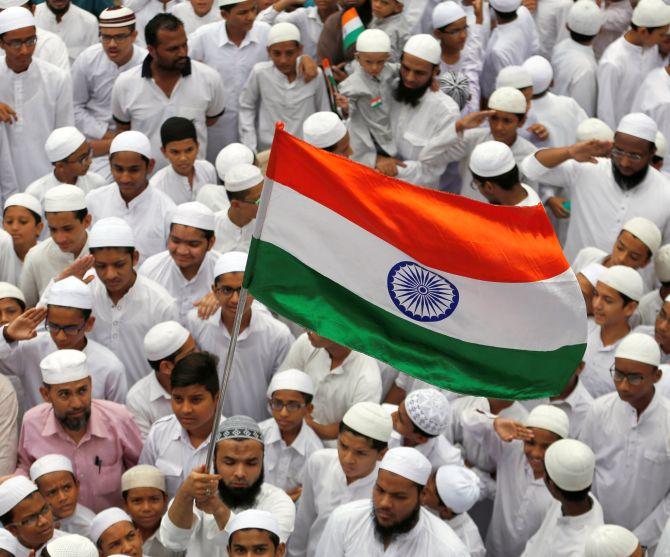 Today, when the overlap between the incumbent NDA and the Muslim clergy's clarion call of Islam in Danger (Deen Bachao, Desh Bachao rally at Patna on April 15, 2018, with support from the incumbent NDA), and their intransigence on bringing in some necessary gender reforms has become evident, it is pertinent to revisit the (by now closed) debate on Muslim question which ensued over Ramchandra Guha's response to Harsh Mander's column -- which was actually in response to Sonia Gandhi's remark on 'delinking Muslims with the Congress' at the India Today Conclave -- that unleashed a series of responses and debates on the 'Muslim question' in India's plural democracy.
Guha has finally re-tracked his statement. Hence, no justification whatsoever for chastising him, anymore!
Guha should have cited the example of Asghar Ali Engineer (1939-2013) rather than illustrate it with Hamid Dalwai (1932-1977), whose popularity even within his own Konkani community was not much.
By advocating for a Uniform Civil Code, without explicating the complexities involved in it, Dalwai ended up alienating the Muslim minority whose religio-cultural concerns are not something to be wished away dismissively.
Asghar Ali Engineer was a reformist, invoking the Quran quite progressively, and was a bearded, practising Muslim, and did a lot of welfarism for riot victims, besides other charitable activities.
Despite these credentials, he was ostracised and tortured by conservative reactionaries. Guha himself cited Engineer's example in his article 14 years ago in The Times of India.
A more significant aspect of the series is the fact that those opinion pieces, which talked of necessary reforms among India's Muslims, appear to have been paid lesser attention. This (in)attention is even more glaring for the fact that this series ran in the midst of the issues of gender reforms among Muslims making headlines.
In this regard, the following four responses merit greater attention:
i. Suhas Palshikar (external link), for he said pertinently:
'Unfortunately, the way Hindu majoritarianism has framed the Muslim question in recent times, there is little space for imagining that the two types of politics -- Muslim politics of reform and Muslim politics for full citizenship rights -- can combine. Such a combination could happen only when Hindu majoritarianism was not politically ascendant.'
'So, it is not sad that Sonia's Congress appears set to abandon the Muslims, the real sadness is that the Congress for long intellectually failed to realise and politically failed to practise a robust combination of reform and citizenship.'
'When a senior Congressperson today argues in favour of instant triple talaq and when parties like the Congress and SP (Samajwadi Party) dither in welcoming the court ruling on this issue, they are only continuing with that double failure.'
ii. Arshad Alam (external link), for he insisted that historically speaking without State intervention no reform succeeds and that in the case of India the liberal left have been paternalising, and thereby perpetuating 'Muslim conservatism, and have thereby contributed to the saffron rise.'
iii. Shajahan Madampat (external link), who is quite eloquent to insist that three crucial preconditions of internal democratisation must be fulfilled to facilitate the emergence of liberal leadership within the community -- a. evolving a modus vivendi to deal with the schismatic, theological/jurisprudential diversities through dialogues, rather than polemics; b. shunning the practice of demonising every critical insider as a pariah, or as a lesser Muslim; c. willingness to accept that a gender-unequal order is no longer acceptable.
iv. Khalid Anis Ansari (external link), who rightly complains that 'in addressing the 'Muslim question', left-liberals have been extremely hesitant in acknowledging the Ashraf-Pasmanda divide.'
Thus, while subjecting the liberal-left to critique, these four respondents also ask Muslims for necessary reforms.
Apoorvanand's response turned out to be arguably more popular among sections of Muslims. Why? Because it remains as paternalistic, as the liberal-left have almost invariably been to the Muslim regressivism -- almost no talk of any reform -- not even on gender and caste.
Probably because of this, only this piece went on to be rendered in Urdu. Ignoring or shelving the issues of reform within India's Muslims is so dominant that except an opinion piece in the Qaumi Awaz (by Syed Khurram Raza, April 4, 2018), to the best of my knowledge, almost none of the Urdu broadsheets/portals, carried out pieces, advocating for some necessary reforms towards gender and social justice.
In fact, the editor of a prominent Urdu portal, went on to mock the idea of reforms among Muslims on the social sites.
Urdu newspapers have the widest reach among the madrasa community, and it is this network through which the clergy exercises its extraordinary influence upon the community. However, in this context, a clarification is needed to be made.
Political abuses of religion is, however, not the monopoly of the clergy alone.
Mullah is a mindset subscribed by few others too, and they use religion as a political instrument through their own politics of the pulpit.
A friend of mine puts it like this: "yeh Allah se darte nahin hain, yeh sirf qaum ko Allah se daraate hain (the maulvis and their ilk themselves are not God-fearing; they only scare the community of God's wrath).
Modern educated, successful, professionals -- quite a lot of them NRIs -- are hands in glove with them.
In fact, this is a matter worth investigating by social psychologists as to why such fellows -- Hindus and Muslims -- are more prone to conservatism and communalism.
Let us also recall that the un-Quranic instant triple divorce upon Shah Bano (1916-1992) was perpetrated (in 1978, inside the Indore court) not by a mullah/theologian, but by a modern, professionally successful advocate.
This should also be noted here in this context that not only theological seminaries (madrasas) and the clergy, even historic modern universities, funded by the secular Indian State, have maintained almost a silence on all such necessary reforms.
These better known universities like AMU, JMI, Hamdard, etc have got research and teaching departments of gender studies, of law, of Quranic studies, of Islamic studies, of theology, of interfaith studies, consuming lots of public funds.
The Maulana Azad Urdu University of Hyderabad is mandated to popularise such efforts through Urdu translations.
Hardly a handful of these academics have made desirable and adequate interventions into persuading the community towards undertaking the bare minimum of gender and social reforms.
These scholars as well as the Britain-educated barrister-parliamentarian Asaduddin Owaisi have not shown their willingness to persuade the All India Muslim Personal Law Board to first bring a model nikahnama and a draft Bill too, around which the secular political parties have to debate within Parliament.
They have rather been oscillating and obfuscating. This is (in)directly supported by the secular political formations.
In this meaningful series of highly informed debates, however, certain vital issues still remain un-addressed. These could be as follows:
Sonia Gandhi, as her Congress is the lead Opposition party, rather than succumbing to the Hindutva pressure of invisibilising Muslims, and almost acceding to it to render Muslim electorates irrelevant, should have spoken out with courage of conviction and equanimity.
This required a frank confession to be made that the Congress committed many mistakes in the 1980s, if not earlier, when it prodded and encouraged competitive communalism and conservatism of the Hindus as well as Muslims.
One of the most glaring was to have taken the side of Muslim conservatives in 1986, in exchange for unlocking the Babri Masjid.
This was a sort of deal between the AIMPLB's Ali Miyan Nadvi (1912-1999), the then secretary, AIMPLB, and Rajiv Gandhi, the then prime minister. This is something evident in Nadvi's Urdu memoir, Kaarwaan-e-Zindagi, volume 3, chapter 4.
Sonia should have then asked the AIMPLB to make all necessary reforms on specific gender issues on which the incumbent BJP is trying to play a mischievous politics of its own -- as mischievous as that of the Muslim clergy led by the AIMPLB and the Imarat-e-Shariah through its 'Deen Bachao mobilisation, in collusion with the NDA.
Sonia should have spoken out quite categorically. It is never too late. She, and her allies must speak it out even now.
Interestingly, a most important member of the AIMPLB and the Imarat-e-Shariah, Maulana Wali Rahmani, is an All India Congress Committee member.
His father Maulana Minatullah Rahmani (1912-1991) too was with the Congress, and by virtue of that, he was also in the state legislature, just as Maulana Madani of the Jamiat-ul-Ulema-e-Hind (founded in 1919) have been in the Rajya Sabha.
Many of us have repeatedly been saying, through our writings and through social media, that the mobilisation is nothing but a political ploy -- a sort of a fixed match between Hindu and Muslim communal forces, towards polarisation, in a run-up to the next election.
It has eventually become more evident when our conjectures have now been testified by the fact that the Deen Bachao, Desh Bachao rally at Patna's Gandhi Maidan on April 15, 2018 -- a drumbeat and desparate war cry of 'Islam in Danger' -- is now joined and endorsed by Nitish Kumar, the Bihar chief minister.
In their desperation to grab power, even by colluding with the NDA, how pathetic have these theologians become!
The Imarat-e-Shariah (founded in 1921) has been a fierce opponent not only of British colonialism, but also of the Muslim League's communal separatism.
It also played a role in rehabilitating riot victims as well as fighting legal battles for their justice in the courts. One of its most outstanding successes was in the communal violence of Bettiah (Champaran) in August 1927 as I have demonstrated in my books.
It has now chosen to forget its progressive history and resorted to sheer opportunism. For the last several months, so many incidents of communal violence, arson and loot have taken place.
Yet, rather than organise a joint protest against the lynchings, rapes, communal violence and against farm distress, unemployment, etc, it has chosen to align with the NDA and stage protests on Islam-in-Danger!
This Saffron-Green overlap seeks to push India in the binary of two communalisms rendering all other forces of liberation and progress quite weak and even non-existent. It appears to replicate, in some ways, the 1938-1947 era.
Towards saving India's pluralist democracy, presently caught in a more perilous whirlpool, therefore, the sad aspects counted above need to be addressed by all stakeholders -- political parties and civil society.
Professor Mohammad Sajjad is at the Centre of Advanced Study in History, Aligarh Muslim University and has published two books: Muslim Politics in Bihar: Changing Contours(Routledge, 2014/2018 reprint); Contesting Colonialism and Separatism: Muslims of Muzaffarpur since 1857 (Primus, 2014).
Kindly note the image has been published only for representational purposes.