The US needs to find global support, especially from Russia and China, to make North Korea back down, says Claude Smadja.
Illustration: Dominic Xavier/Rediff.com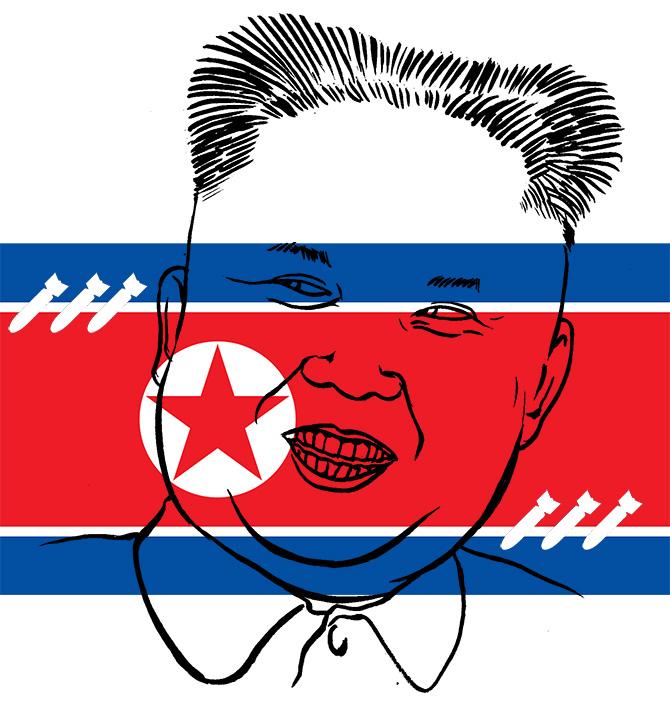 'If it (the US) is forced to defend itself or its allies, we will have no choice but to totally destroy North Korea. Rocket Man is on a suicide mission for himself.'
These were the extraordinary words of President Donald Trump in his address to the UN General Assembly on September 18.
Seoul and Tokyo may have found solace in the fact that the US leader was thus reaffirming unambiguously Washington's commitment to defend its allies against North Korean's belligerence.
This came four days after Pyongyang added a new provocation by test firing a ballistic missile, which flew over Japan and had the range to reach the US territory of Guam.
At the same time, it was quite unprecedented to have the leader of the first superpower in the world threatening from the UN podium not only a regime but a whole country -- or part of it if you consider that South and North Korea are still the same country -- of direct annihilation.
Once again, Mr Trump lived up to his reputation and managed to generate awe, concern and unease by his choice of words, the tone of his speech and his direct targets -- not only North Korea but also Iran, and more incidentally Venezuela -- put in the same category of rogue states
When the US president promised earlier to unleash 'fire and fury' on the Pyongyang regime, this could be seen as improvised remarks -- the kind of which the world is becoming accustomed to from Mr Trump.
However, a speech in front of the UN General Assembly -- the first from the American leader -- is all but improvised, and this marks a new escalation in the war or words and reciprocal threats between the two countries.
Will the combative rhetoric of the US president make Kim Jong-un back down?
Certainly not.
In fact, this makes the prospects of resolving the present crisis through negotiations even more remote, as the North Korean leader cannot afford to look like he is intimidated by US threats -- he would lose face and put his regime at risk.
In fact, Mr Kim may consider that Mr Trump's threats are providing him a justification for accelerating his nuclear programme as the best way to safeguard the survival of his regime and -- as importantly -- to force the US to recognise North Korea as a nuclear power and deal with his regime on a quasi-equal footing.
Which leads to one ominous question: Are we inexorably moving into a war in the Korean peninsula which -- either triggered by a Pyongyang or Washington first strike -- could unleash an unpredictable chain of events, involving not only the US and North Korea but also Japan, South Korea, China, and Russia?
The risk cannot be underestimated.
However, even if this may sound unduly optimistic, the situation remains manageable.
Contrary to his depiction as an unpredictable lunatic by many international commentators, Kim Jong-un is a remarkable, cool-headed poker player.
He has so far been able to placate the US and China -- the two most powerful countries in the world.
On the one hand, he is betting that the US would not dare start a war, which would provoke -- by way of North Korean reprisals -- the obliteration of a great part of South Korea, and the loss of life for tens of thousands of Americans based in Korea.
This would also destroy the US credibility as a security guarantor not only in the Asia Pacific region but worldwide. And this, without even talking about the risk of a direct confrontation with China.
On the other hand, he knows that though there is no love lost between him and the Chinese leaders, Beijing cannot afford to have an allied regime being destroyed by the US not only because of the blow to the international prestige of China but also out of concern for the refugee crisis that war in North Korea will certainly unleash on its bordering region.
In addition to that, as he prepares for the 19th Congress of the Communist Party of China, which will mark the consolidation of his grip on power and endorse the domestic and international orientations on which he will embark his country over the next five years, President Xi Jinping is looking for anything but the diversion created by an acute international crisis.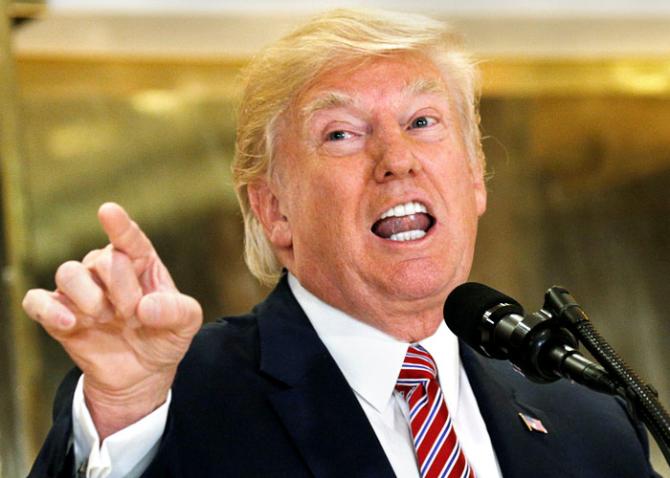 IMAGE: Sooner rather than later, Donald Trump will need to find ways -- short of military action -- to demonstrate his determination to contain Pyongyang. Photograph: Kevin Lamarque/Reuters
While, as has been often mentioned, China does not have as much leverage on the Pyongyang regime than Mr Trump credits it for, it has nevertheless some tools to exert tough, but discreet, pressure on Mr Kim.
It is not unrealistic to expect that these tools will increasingly be applied by Beijing to prevent the rhetorical war between Washington and Pyongyang from escalating into a real one.
As mentioned, the North Korean leader is no fool.
He wants to stay alive, maintain his power and continue to enjoy his Emmental cheese. So he will presumably listen to the messages from Beijing and Moscow on how far he can push the envelope with his provocative ballistic missiles tests.
However, he will not renounce on his goal to be recognised as an interlocutor by Washington and to have North Korea join the group of nuclear powers.
This is where the real challenge resides for President Trump.
The US diplomats around him will certainly have noted that his attempt at the UN General Assembly to rally the world around the US to try to rein in North Korea's and Iran's nuclear programs has not generated a widespread support -- to say the least.
Whatever the revulsion that the North Korean regime inspires, no one would endorse or support a first strike against the Korean regime.
So, sooner rather than later, the US president will need to find ways -- short of military action -- to demonstrate his determination to contain Pyongyang. He will also need to find ways to control his own temper as bombastic threats not only alienate much needed international support but increasingly make him look like a "paper tiger".
This is where Russia's and China's support is absolutely essential for any hope of reducing tensions and finding a way out of the present dangerous crisis.
These are the only two countries that can have a real impact on the North Korean leader actions.
So far, despite Moscow's and Beijing's reluctance at seeing Pyongyang achieve nuclear power status and China exasperation with Kim Jong-un provocations, neither Vladimir Putin nor Xi Jinping have had a real incentive to take the North Korean thorn away from Mr Trump's side.
At some stage, sooner rather than later, the US president will need to find -- and propose -- the kind of quid pro quos that will make his Russian and Chinese counterparts join him and truly weigh in, presumably quietly, to tame the 'Rocket man'.
Claude Smadja is the president of Smadja & Smadja, a strategic advisory firm.