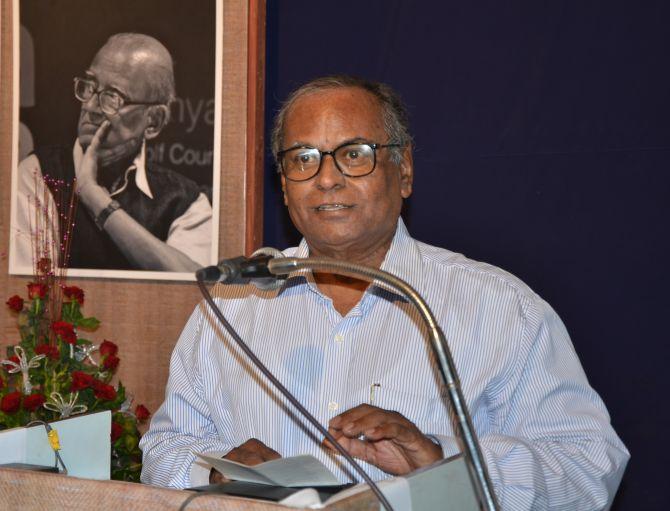 Mahesh Vijapurkar pays tribute to Aroon Tikekar, journalist, historian, author and an important intellectual voice of Mumbai, who passed into the ages on Tuesday.
What was Aroon Tikekar, 71, who passed away on Tuesday in Mumbai?
A journalist? Yes, he was editor of Loksatta, the largest Marathi newspaper. Prior to that, assistant editor with the Maharashtra Times, and much later, Lokmat, another Marathi newspaper. His last journalistic assignment was with Sakal as editorial director.
Historian? Indeed yes, with his PhD thesis itself being The Kincaids, Two Generation of a British Family in the Indian Civil Service. He also wrote well-researched books -- as many as 20 of them -- both in Marathi and English. Listing them would be like a library's invoice, but he had a huge personal library and no space for more.
Few can be as comfortable in both languages as he was. The 1986 The Cloister's Pale: A biography of the University of Mumbai was revised and updated recently, making him an authority on the institution. He later held it responsible for letting intellectualism decline in Mumbai in his book, Mumbai De-Intellectualised: Rise and Decline of a Culture of Thinking.
The point is, as editor of Loksatta, he made it a platform for diverse writers, commentary being their forte, and brought gravitas to the editorial page and to the weekly supplements, and like his predecessor Madhav Gadkari, kept the intellectual pot boiling but in their different ways; Gadkari liked to provoke controversy, Tikekar, a thought.
"More the ideas, more the difference of opinion, more the stimulation the reader gets," he had once told me in our long telephone conversations post our retirements, he from newspapers, and I from The Hindu.
Readers "need news, that's why it is a newspaper. But they need intellectual stimulation too, a duty that newspapers have to provide." Of late, he was appalled that newspapers were entertainers. The 'morning fix', in short.
Despite this responsibility, an understanding he had about the purpose of a newspaper, as an editor he was not exactly a reporter's editor. Tikekar was the thinker's editor. However, being an historian and a serious journalist who did not stand on any politician's doorstep made him stand apart. This combination was the result of him being a thinker himself who did not hesitate to tell it like it is.
Here is an example. His Mumbai De-intellectualised was not just a critique of the university though he held it responsible, but there were two other sections which had made the city crass: The media and the artists. He expected the university to be a thought leader, not an unreasonable demand, given that as much was expected of it when set up in 1857.
Then, it was thought that if it produced half a dozen scholars who could be fit enough to become the Asiatic Society's members, it would have served its purpose. It did, and later, it did not. That was the cause of his angst, and wrote boldly about the poor quality leadership of the university in recent times.
As things would have it, Tikekar was elected chairman of the same Asiatic Society for two successive terms, and brought some weight to it. Only recently, as recently as November 26, 2015, he was conferred an honorary fellowship of the society, even as five monographs on The Founders and Guardians of the Asiatic Society of Mumbai were released. Unsurprisingly, Tikekar was the general editor of the series. He was not the chairman of the society when he was made a fellow.
I have personally gained from Tikekar's generosity, both in terms of time and thoughts he shared. On my transfer from Ahmedabad to Mumbai in 1987, I found that a visit to his office was valuable in that devoid of gossip he started giving me insights into Maharashtra and its society.
Language was a marker of a community binding it, but its use by the Shiv Sena irked him. Maharashtra was founded on that premise, but its use in a manner to promote partisanship within the state was unacceptable. He called it uncouth.
Mumbai of the past which he loved to research, and the Mumbai he had known because of his research, were different. It is a city that did not evolve but even as it grew, degenerated. It was not nostalgia, mind you, that burdened him, but an anguish of its lost purpose in areas other than commerce.
A premier city cannot be big and bad for it served no one's purpose except the bad ones, and that was a lament often made in our conversations.