'India is currently waging a diplomatic war against Pakistan, to convey to Islammabad that each terror attack on India will come with huge diplomatic costs,' says Rajeev Sharma.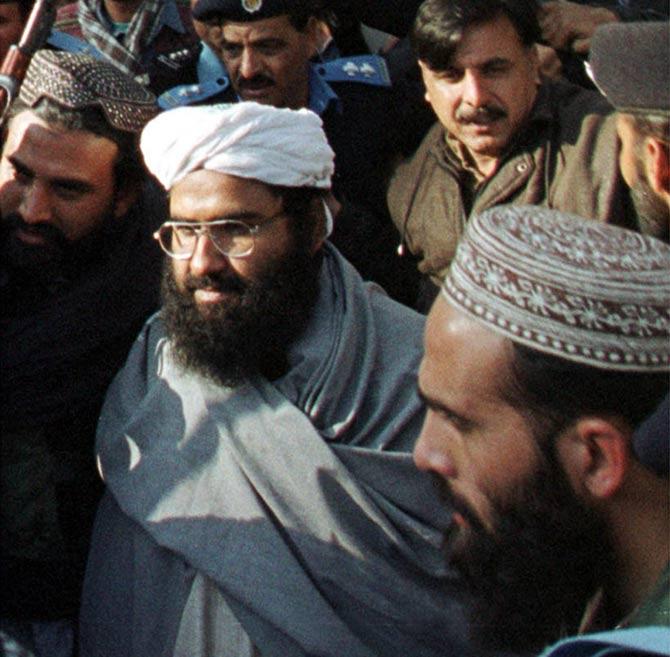 IMAGE: In this January 27, 2000 Reuters photograph, Masood Azhar, the Jaish-e-Mohammad terrorist, seen in Islamabad for the first time after he was released December 31, 1999, from an Indian prison in exchange for the passengers and crew of the hijacked Indian Airlines flight IC-814.
Pakistan may have scored a diplomatic victory over India when China blocked an Indian resolution before a United Nations committee last Thursday, March 31, seeking a ban on Pakistan-based terrorist Masood Azhar, but the indications are that Islamabad and Beijing are fighting a losing battle.
China and Pakistan have hunted in pairs in the United Nations when it comes to the international community asking tough questions on Islamabad's attitude towards terrorism.
For years, China has bailed out Pakistan before the UN as it did last week with regard to Masood Azhar, the Jaish-e-Mohammed chief whom India has flagged as the prime conspirator of the Pathankot attack.
But China and Pakistan may not continue with this deniability game for an indefinite period and the chances are that China and Pakistan will be face to face with harsh diplomatic realities. This will happen sooner rather than later.
This time around when India sought the UN nod to ban Masood Azhar, the ground realities had changed drastically. So much so that the Indian resolution, backed by solid evidence, passed muster with the United States, France and the UK. The three nations decided to be co-sponsors of the Indian resolution.
Therefore, China's blockade at the UN Sanctions Committee should not be seen as taking on only India, but the UK, US and France.
If one were to expand this reasoning further, China has taken on the entire world because all other members on the UN committee, including nations from Africa and Latin America, had lent their support to the Indian resolution on Masood Azhar and his terrorist organisation.
This reveals that China has gone against the determination of virtually the entire international community and thrown its weight behind its all-weather friend and ally Pakistan. Obviously, it shows the extent to which China is prepared to bail out Pakistan.
And yet, the China-Pakistan duo has reasons to worry. Here are are two good reasons why:
First, the Indian resolution may have been put on the back burner for now, but the process is very much alive. It will come back in due course of time to haunt the China-Pakistan combine.
The resolution will be taken up again in some form or the other. This may happen in one month or in one year. Essentially, it's not a question of if, but when.
Second, when the Indian resolution has the backing of the US, the UK and France, it means that China, not India, faces the threat of being isolationalist. China will have to recalibrate its move, sooner or later.
China,after all, is a pragmatic power and would not like an albatross around its neck for long even if happens to be a close ally like Pakistan.
While the Chinese may have bailed out Pakistan yet again in the UN over its alleged shenanigans on terror, Beijing must have given Islamabad a earful privately, coaxing them to make amends.
It won't be in China's long-term diplomatic interests to go against the global perception of Pakistan as a terror-exporting nation.
This essentially means that Pakistan will be under increased pressure -- covert pressure this time -- from China to be more accommodative towards India.
A lot of behind-the-scenes diplomatic activity would be taking place between Pakistan and China. All these factors combined may eventually force Pakistan to take a reasonable line vis-a-vis the Indians in the Pathankot case and beyond.
After all, diplomacy is the art of patience and perseverance. India may have lost a battle, but not the war. India is currently waging a diplomatic war against Pakistan in its bid to convey to Pakistan that each terror attack on India would come with huge diplomatic costs.
There are Pakistani media reports that the Pakistani Joint Investigation Team, which completed its probe into the Pathankot case last week, has found no evidence of involvement of any Pakistani national.
While this may be so, Pakistan will definitely find it very difficult to take a hard line officially.
India is playing a clever game of diplomacy at the international level. Yes, it may be a long haul. But Pakistan will continue to face the heat from the international community in coming months.
Most importantly, China won't be able to shield and protect Pakistan beyond a limit.
Rajeev Sharma is an independent journalist and strategic analyst who tweets @Kishkindha