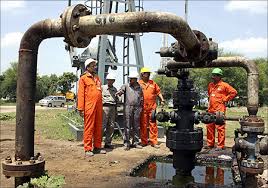 By the end of 2020, India will lay 32,737 km across the length and breadth of the country. It needs to lay down and comply with strict safety standards especially since some of these pipes will go through areas of dense habitation, says Rashme Sehgal.

Recent gas leaks have brought back the spectre of the Bhopal gas tragedy which saw thousands of Indians lose their lives and is considered the world's worst industrial disaster.
Three gas leaks occurred in quick succession in June with two taking place in India's top Navratana companies, the Steel Authority of India Ltd and the Gas Authority of India Ltd.
The first accident occurred at the Bhilai Steel Plant run by SAIL, followed by an explosion in a GAIL gas pipeline near Nagaram village in the East Godavari district, Andhra Pradesh.
Scarcely had we had time to come to terms with these two disasters when a third occurred on June 28. Gas leaked out of the hull of a ship that was being cut open at a ship-breaking yard in Alang, in the Bhavnagar district of Gujarat, leaving five labourers dead and seven seriously injured.
The gas leak at the Bhilai Steel Plant on June 12 resulted in the death of two Deputy General Managers B K Singh and N K Katariya, a master technician A Samuel, senior operator Yarad Ram Sahu, assistant fire station officer Ramesh Kumar Sharma and two others apart from injuring over 50 people.
Plant authorities claim it occurred when a key pipe which supplies water to the gas cleaning plants of the blast furnaces got ruptured. Loss in water pressure saw the gas enter the pipeline, adversely impacting the technical crew who were trying to rectify the fault.
The BSP has ordered a high-level inquiry into the accident, but General Manager Corporate Affairs Rakesh Singhal in a written reply to this analyst stated, 'All accident cases are investigated and near miss cases and dangerous occurrences are analysed for taking preventive action to avoid occurrence.'
SAIL has set up a team comprising bureaucrats and experts from the steel industry to investigate the cause.
NGO activists like Gopal Krishna of the ToxicsWatch Alliance allege that SAIL has been witness to several accidents in the past few years, the majority of which have been hushed up. Gopal Krishna claims that "The SAIL management remains tight lipped despite the death of 13 employees during the last 15 months, with another 26 having met with minor injuries. Two SAIL employees have been sentenced to a year's imprisonment, but most of these accidents have been brushed under the carpet."
He points out that there is an urgent need to upgrade this 60-year-old plant before further accidents take place. A negligent attitude to maintenance seems to lie behind several of these disasters.
The situation at Nagaram was alarming because the local villagers had repeatedly complained to GAIL authorities about a foul smell emanating from the pipe. But these warnings were ignored. The 18-inch pipeline continued to leak till finally it exploded at 4.30 am on June 27, with flames leaping to a height of 30 feet, ravaging homes and killing several villagers.
Pressure from politicians has resulted in GAIL sacking the general manager and deputy general manager at the Rajahmundry unit, but this is much too late. It reflects a level of insensitivity that the complaints of villagers go unheard.
Dr Shashidhar Reddy, former chairman of the National Disaster Management Authority, blames lack of maintenance as the key reason for this pipeline disaster. The other factor," he said, "that needs looking into is the fact that pipelines are being laid in areas where there is habitation."
"At the start of the 12th Plan we had 12,144 km of laid pipeline which will be expanded to 15,928 km by the end of these five years. By the end of 2020, we expect to lay 32,737 km across the length and breadth of the country," Reddy said.
"We need to lay down and comply with strict safety standards especially since some of these pipes will go through areas of dense habitation. We will see pipelines going from Bathinda to Srinagar, Surat to Paradeep, Chennai to Tuticorin, Kakinada to Haldia and in fact criss-crossing the length and breadth of the country," Reddy added.
The multi-million ship breaking industry at Alang has one of the highest accident rates (2/1,000) in the world making it worse than even the mining industry. In January 2013, three workers died while dismantling ships on the beach, but their families received no compensation as none of these workers were insured. In 2012, another 12 workers lost their lives and many more were injured. None of them received any compensation.
India presently enjoys the dubious distinction of having emerged as the largest ship-breaking centre in the world, but no safety norms have been laid down for the workers participating in this behemoth industry.
Despite a history of repeated disasters and the findings of the National Institute of Occupational Health, Ahmedabad, that over 16 per cent of the workforce in the ship-breaking industry suffers from asbestos exposure, little has been done to improve their lot.
Rather, here again, local bureaucrats in Alang claim that this recent gas leak is unprecedented and has not occurred previously in this ship breaking yard.
India's safety record leaves much to be desired. Chhattisgarh, where the Bhilai Steel Plant is located, has one of the poorest safety records for a state. In 2009, 45 workers were killed due to a chimney collapse at the BALCO construction site in Korbe also located in this state because of failure to adhere to minimum safety norms.
The massive fire at the state-run Hindustan Petroleum refinery-cum-petrochemical complex in Visakhapatnam in August 2013 left nine workers dead and 34 injured and the fire at the Indian Oil terminal in Jaipur in 2009 which killed 11 workers and caused losses of $60 million has been attributed to a failure to follow standard operating procedures as also poor upkeep of equipment.
The Bhopal gas leak saw over 500,000 people being exposed to methyl isocyanate gas and other toxic chemicals but resulted in few convictions and no lessons learnt. More recently, NDMA and other safety experts had repeatedly warned the United Progressive Alliance government on the need to have strict safety measures in place, as also to conduct frequent hazard and operability studies for people living in and around hazardous zones.
We now have to see what kind of safety measures the new government will enact given that there have been a slew of accidents after the Narendra Modi government took over.