For Rajnikanth, who the BJP is wooing, politics looks more likely to happen in 2019, although his friend Kamalahaasan could afford to wait a little longer, says N Sathiya Moorthy.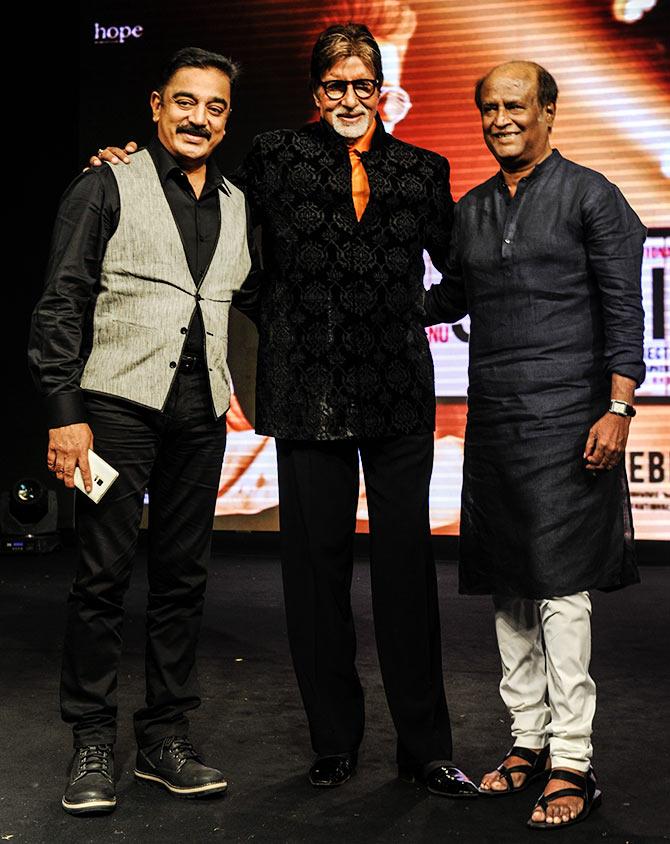 After Tamil cinema's superstar Rajnikanth hinted yet again about the possibility of his hitting the political track, his compatriot and long-time friend, Kamalahassan, too has dropped more than mere hints about his joining a future race for chief minister's post in 'Dravidian' Tamil Nadu.
If Rajnikanth's more recent indications were welcomed by had-been politicians, some of whom also got invited to his Poes Garden residence (not far away from that of late AIADMK Chief Minister Jayalalithaa), Kamal's experience has been immediate, and different.
Ministers in the AIADMK government, under incumbent Chief Minister Edappadi K Palaniswami, have been prompt in heckling Kamal. The latest and a repeat-performer has been Finance Minister D Jayakumar, who has now challenged Kamal to enter direct politics by January 31, or else.... (quit talking politics?).
It's not without reason. Unlike Rajnikanth, who has not said anything directly about the ruling party or the political players in the state, Kamal has been critical of the state government, often taking back his references, when provoked by ministers and/or media, to Jayalalithaa's regime.
He has however been careful to draw the differentiation, saying that he was hurt, yes, by the state government initiated protests against his films like Virumandi and Vishwaroopam, but his current posturing had much more to it, as a saddened citizen and worse.
Unlike Rajnikanth, or Vijaykanth or other Tamil film actors who have taken a political posturing or a deep dip in it, Kamal has been openly praising Jaya's DMK rival leader, M Karunanidhi, now irrecoverably indisposed in his nineties.
However, in a hour-long interview to a Tamil TV channel on Sunday night, he drew the distinction between his respect and regard for the man, his powerful pen and shared non-belief in god and religion -- and went on to claim that he had openly differed with the latter on policies and programmes in public and otherwise.
This was especially so in 1983, when Karunanidhi asked him to join the DMK. "I was a nobody at the time, and rival AIADMK Chief Minister, MGR Sir, also asked me to join his party," Kamal recalled for the benefit of his younger viewers and fans, but only to argue a point that he was not after politics for the sake of publicity and popularity.
"If I was interested in popularity and power, I could have joined either of those parties," Kamal explained, adding that his current expositions were an expression of the helplessness of ordinary citizens like him, as could be accessed through the media, including the social media.
However, like Rajnikanth, Kamal has also added ifs and buts at every turn of this interview and also the series of tweets and statements over the past weeks, raising doubts about his ultimate decision on entering direct politics.
For now, he has thrown enough indications that he may not join any other political party but would float one of his own if it came to that. He too was in no hurry to take that decision, and would evaluate all issues and problems that he was likely to encounter if he were to enter direct politics, he told Ranganath Pandey of Thanthi TV on Sunday night.
Both the interviewer and the interviewee repeatedly underscored the point that Kamal did not do business in black money, and the actor said that was among the factors when one thought of entering politics where one often heard of big money playing a bigger role.
In the interview, Kamal also made the point that he would take time to assess the mood and methods of Rajnikanth's initiative before taking a decision, if the latter were to launch a political party of his own ahead of him.
He made it clear that he had not discussed Rajni's thoughts in the matter with "my friend" of 30-40 years, but threw enough hints of not joining hands with him in any political mission of the kind. "Yes, if I enter politics, it will be one of my own," he told Pandey.
Though Kamal has been sounding more specific, assertive and even part-aggressive, it is nowhere near the most powerful of all political one-liners of Tamil Nadu that Rajnikanth mouthed ahead of elections 1996.
With Jayalalithaa ruling the roost and the ruling AIADMK running riot across the state, and literally so, Rajnikanth openly declared his support for the rival DMK-led alliance, and prophesised as much: "Even god cannot save Tamil Nadu if the AIADMK came back to power (aandavanalum Thamizhnattai kappatra mudiyadhu)."
However, independent of their intentions, real or not-so-real, of joining direct politics when they feel they are "ready" for it, criticism is ripe that they have muscled courage to test-fly the idea only now, in a polity where Jayalalithaa is dead and Karunanidhi is retired for all practical purposes.
The unasked question is if either or both of them would have had the courage to test their electoral popularity with either or both the leaders around and active.
To that extent, some respect still goes to DMDK founder Vijaykanth, who took the risk as far back as 2005, and polled eight per cent vote-share in his maiden outing in the assembly polls of 2006 and even improved upon it in the parliamentary elections of 2009, with a higher near-11 per cent vote-share.
But Vijaykanth's subsequent failure to build upon his initial acceptance levels is also shown up as the reason for other, even though more popular, film stars like Rajnikanth and Kamalahaasan to think a thousand times before taking the political plunge and the electoral route.
It is acknowledged that minus either of the two popular brands of 'Big Two' Dravidian majors, no party or leader has ever crossed the 10 percent vote-share mark so very convincingly, to be able to come to power at the first attempt itself.
Despite claims to the contrary, neither the BJP, nor the Congress rivals at the national level, or any of the regional outfits, including the DMDK, PMK, MDMK, et al, can produce the numbers that could skyrocket even the most popular of film actors, or any other public figure, to electoral power in the foreseeable future.
If anything, some marginalised parties and leaders like VCK's Thol Thirumavalavan and Naam Thamizhar Katchi's Seeman, a film personality himself, were critical of Rajni joining politics just now.
That Kamal has not faced such criticism does not go unnoticed, but then their place has been taken more directly by the ruling Edappadi faction of the AIADMK.
That makes it as challenging as it is provocative, but then Kamal says that he is up to it. Rajni, after initial meetings with sections of his fans after a long break, has announced his decision to meet more of them, after work on his pending movies get finished over by the year-end.
That's not a long wait for the fans, and maybe even Tamil Nadu, but could be so for the ageing actors, who may at best have only a single go at electoral politics, if at all, before deciding to stay on or quit.
It should be the 2019 parliamentary polls -- or, the assembly elections due two years afterwards, in 2021, not anytime afterwards.
For Rajnikanth, who the BJP is wooing, it looks more likely in 2019, if at all, though Kamal could still afford to wait until after the other had made his electoral debut before deciding his own launch date.
Image: Bollywood superstar Amitabh Bachchan flanked by Tamil superstars Kamalahaasan and Rajnikanth. Photograph: Pradeep Bandekar.
N Sathiya Moorthy, veteran journalist and political analyst, is Director, Observer Research Foundation, Chennai Chapter.