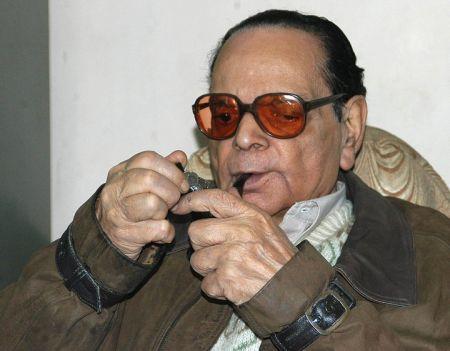 Mrinal Pande remembers Rajendra Yadav, one of the most prolific fiction writers and thinkers of Hindi literature in the recent times, who passed away on Monday.
In his lifetime Rajendra Yadav, one of the most complex of Hindi writers, editors and literary critics, appeared to outsiders a deceptively ageless two-dimensional, black and white figure from Hindi literature of the late 20th century.
The last time I saw him, he was a frail 84-year-old in a wheelchair scowling behind his tinted glasses, eyeing the women in the auditorium at the India International Centre with interest . He cackled as I approached him and held my hand before trying to crack a lewd joke about women and freedom but then he became breathless and went quiet. I flinched at the sorrow in his eyes, his utter despair at his inability to shock or tickle a funny bone. His sparse hair was still a carefully dyed black, arthritis and small strokes had severely curbed his physical movements but not his wild demands from life.
A nubile young girl was helping him. She smiled inanely at writers, saw to his comforts, and helped him with his editorial work. Yadav's eyes still twinkled mischievously if the visitors hinted at some sort of inappropriate goings-on his cramped flat in Mayur Vihar. He loved to have that done unto him which he had long done to others.
Yet, his numerous fans who regularly subscribed to Hans, founded by Premchand, about the only decent literary magazine in Hindi after the Times of India and Hindustan Times closed most of their Hindi magazines, were of the opinion that these infirmities in his case were irrelevant and unworthy of comment. So as he spoke from his chair at various literary dos and reminisced and lambasted writers in a broken voice, senior fans in the audience looked past old age and clapped for the springy irreverent writer of Sara Akaash and Kulata who had lit up their own youth and the young clapped at the ribald and iconoclastic quips from grandfatherly lips that regularly detonated onstage and off, from his speeches to the monthly editorials in Hans.
Rajendra Yadav was born in Agra and some of his best fiction evokes beautifully the sights and smells and peculiarly lilting Hindi of old and gently decaying towns in the Hindi belt of the '60s and '70s India. This is where repressed young men and women from the lower middle class were haunted forever by visions of an inescapable and dark destiny like Lakshmi's, a young girl kept deliberately at home by a superstitious father who was told by some astrologer that his millions were tied to his daughter's presence in his haveli, slowly going mad.
Characters he portrayed are mostly angry, unfulfilled and handicapped by physical or mental problems. Yadav had himself lost a leg in a freak accident very early in life and could never erase the anger and sense of loss this had evoked in him. He was constantly mocking. If not the anglophilia of the rich and the beautiful, then the religious fervour of traditional Hindus or else the colourless lives of middle class India, straitjacketed into rigid social and cultural laws.
He deeply loved Hindi and wrote and edited as few in his generation could. But he was also revolted by the life most practitioners of Hindi led, their meanness of spirit, their ultra right wing ideologies and last but not the least their grinding genteel poverty. He frankly loved the good things of life himself and invited criticism when he accepted lavish awards two of the OBC chief ministers of Hindi states gave him. Stories of his flirtatious liaisons with mediocre women writers whose work he was said to be rewriting as a return favor, were legion. But he had a great sense of the absurd and laughed heartily when some of us called up and pulled his leg about the latest tale about his unbecoming behaviour we had heard.
There were no hidden areas in his life. He drank expensive whiskey regularly with his courtiers, enjoyed the company of women, flirting publically and saying politically incorrect things. He liked to be well groomed and preferred to wear western clothes, posing often for photos lighting or smoking a pipe ( interestingly his friend Mohan Rakesh too smoked cigars with a similar flourish). Yet the hard facts of his life and literary output remain as unique and as beguiling -- and in a funny way as quintessentially and lovably Hindustani, as anything he ever lampooned in his own editorials.
That day, even as I held the hand of what was to me an embodiment of Yeats's image of old age as a coat upon a coat hanger, I could see Rajendra Yadav still threw a large shadow. He was, after all, one of the three big talents that Hindi fiction of the '60s and '70s had, along with Kamaleshwar and Mohan Rakesh. All the three were witty, led profligate lives, lit up dull Hindi magazines and duller literary meetings with extravagant satires and managed to create the Nai Kahani movement that energised fiction-writing for a whole new generation of writers. Their jaunty attitude compelled even the most starchy editors to open their doors to their writings.
Mohan Rakesh and Kamaleshwar were editors one after another, of Sarika, one of the most memorable Hindi fiction magazines. Rajendra Yadav stood at a distance initially, taking occasional swipes at these writers turned editors in essays like Lekhak Chala Sampadaki Chaal (the writer decides to walk as an editor). He wrote less and less fiction and more and more literary criticism but his work was always readable, always controversial and spared no one.
Then in 1986, Yadav decided to tread the editorial path himself and relaunched Hans, a memorable magazine of the pre Independence years, edited by Prem Chand. Despite many dire predictions about the magazine shutting down he managed to keep it going till his own death and made it into a cult magazine for pop feminism, pop secularism and pro reservationists. The energy and affection of his younger fans were reflected constantly in their long letters to the editor that Yadav published in the four to six opening pages in each issue of Hans. To his credit he also published some of the most vicious and vituperative ones as well in which his critics accused him of everything from being anti-Hindu to anti-Manu and men. His young readers boomed their approval each time he criticized the Nehru-Gandhis, the leaders of the saffron brigade and editors of right wing publications, with equal zeal. Heartened, he delightedly began publishing some of the most ribald and badly crafted so-called 'bold autobiographical' writings by women, his private revenge perhaps on a world of male writers who could still write well while his own creativity shriveled up and died.
It was not as though he was unaware of how this last tango in feminine pornographic prose made him more and more into a lonely and bitter undertow to the new media of an entirely new era to whom ribaldry was neither shocking nor a forbidden territory. His complicated and irrepressible literary siblings had long gone, Mannu Bhandari, his patient and graceful and extremely talented writer wife of many years ultimately parted company and moved into her own, and the publishing industry changed completely with translations of Chetan Bhagat and Shiv Khera and Amish Tripathi becoming bestsellers in Hindi. The few close friends and acolytes he had, lingered at his offices in Daryagunj and later in Mayur Vihar, as if staying a bit longer with him might give their dear friend and mentor, a few more ounces of energy, a few more months of life.
But that, as he himself said, was a non-starter by now.
Today as I think of this great showman among writers, a man many loved and loathed with equal ferocity, Martin Bell's Ode to Groucho Marx comes to mind:
A hero for the young
Blame if you wish the human situation
Subversivest of con-men
In an age of ersatz heroes:
Be talkative and shabby and
Witty; bully the bourgeois;
Act the obvious phoney…
Image courtesy: Rajendra Yadav's Facebook page