The military establishment is in no mood to forgive or forget Imran's anti-military utterances, observes Rana Banerji, who headed the Pakistan desk at RA&W, India's external intelligence agency.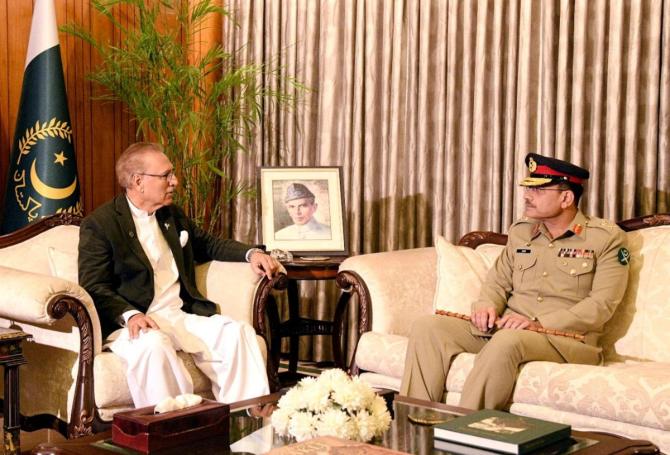 The appointment of a retired lieutenant general as chairman, National Accountability Bureau for a three-year term on March 4, 2023 indicates for now, the continuing support of the military establishment for the beleaguered Shehbaz Sharif government.
Pakistan's supreme court has asked them to go ahead with the provincial assembly elections in Punjab and Khyber Pakhtunkhwa, which could see landslides for Imran Khan's Tehrik e Insaf if held on time (April 30/early May 2023).
The release of the IMF's second tranche of $1.2 billion is still awaited.
The NAB was set up first by General Pervez Musharraf under Ordinance XIX in November 1999, to lead anti-corruption and financial crime enquiries after his October 12, 1999 coup.
Its existence as an accountability arm of the ruling regime became institutionalised later, under enabling provisions of Article 270 AA of the 1973 constitution.
Why Aftab Sultan resigned
The appointment comes days after the sudden resignation of Aftab Sultan, former Intelligence Bureau chief under then prime minister Nawaz Sharif, who became head of the NAB only in August last year.
Regarded as an upright police officer, he helped ease initially some biased NAB persecutions against the Sharif family, but is reported to have developed reservations over the haste and pressure to tighten the prosecution noose against Imran Khan and his Pakistan Tehrik e Insaf cronies.
There were reports also of unhappiness against him or pressure from the military establishment over his opposition to too many secondments to NAB of retired army officers.
In his past incarnation too, Sultan may not have endeared himself to senior generals, having exposed in a sting operation the involvement of then director-general, ISI, Lieutenant General Zaheer ul Islam in shoring up Imran Khan against the Nawaz Sharif government.
Rumours surfaced of another upright police officer, Bashir Memon, being considered for the post of chairman, NAB but this apparently did not find favour with Pakistan Peoples Party Chairman Asif Zardari, a prominent alliance partner of the Pakistan Democratic Movement government.
On March 2, 2023 Prime Minister Shehbaz Sharif had a long meeting with army chief General Syed Asim Munir where this decision may have been finalised.
The appointment requires consultation with the leader of the Opposition.
The assent of Raja Riaz, a PTI dissident member of the national assembly from NA 110 Faislabad, who performs this role after the en masse departure of PTI MNAs from the national assembly in April, last year was duly obtained, but the PTI has objected to the appointment.
They hold that Shah Mehmood Quereshi continues to be leader of the Opposition as the Lahore high court recently held national assembly Speaker Raja Pervez Ashraf's acceptance of the PTI MNAs's resignations invalid.
Nazir's army career
Lieutenant General Nazir Ahmed Butt (retd) is the third army officer to head the NAB (after Lieutenant General Syed Mohd Amjad and Lieutenant General Shaukat Aziz).
An officer from the Frontier Force Regiment, army chief General Syed Asim Munir's parent arm, he was commissioned in 1983 after graduating from the 67th Pakistan Military Academy Long Course.
Hailing from an army family of Kashmiri antecedents, Nazir ticked most of the aspired milestones of a successful army career, completing the Command and Staff College course in Quetta as a senior officer, then serving a stint as Pakistan's defence attache in the United States.
He was Commandant of the Pakistan Military Academy Kakul (July 2013). He commanded the 7 Infantry Division, deployed to handle counter insurgency in South Waziristan (September 2014) before picking up a three star rank.
As lieutenant general, he was inspector general, communications and information technology at GHQ under General Raheel Sharif (October 2015) and chairman, National Defence University, Rawalpindi (April-December 2016), before becoming XI Corps Commander, Peshawar in December 2016.
He retired from the army in October 2018.
In between (2008-2010), he did an interesting 'quasi-political' assignment as military secretary to the prime minister, spanning tenures of both Shaukat Aziz (under General Musharraf) and the PPP's Yousuf Raza Gilani.
The NAB appointment comes in the aftermath of a rather rueful admission by former prime minister Imran Khan (March 2, 2023) that while he held no grouse against the new military establishment, what could he do if General Asim Munir was spurning his efforts to meet or talk with him.
This reflects Imran's frustration at a moment when his popular support shows no signs of abating.
It is clear indication that the military establishment is in no mood to forgive or forget his anti-military utterances of the recent past.
The short-lived arrest (February 27-March 4, 2023) of 80-year-old Lieutenant General Amjad Shoaib (retd), who runs his television site -- Defence, Diplomacy & Politics - for statements conducing to public mischief (Section 505 of the Pakistan Penal Code), inciting revolt against institutions and promoting enmity (Section 153 PPC) was also perhaps, a carefully considered rap on the knuckles of PTI supporters.
Shoaib's telephone records revealed he was in touch with prominent pro Imran Khan Television anchors as well as politicians like Asad Omar and Fawad Chaudhry.
As head of an ex servicemen's organisation, he enjoyed support within a section of retired and serving army personnel, though his dabblings in defence housing scams, in league with estate dealer par excellence Malik Riaz may not have exactly endeared him to the puritanical Asim Munir.
After becoming army chief, Asim Munir has maintained a low profile, eschewing any overt political utterances even as he focuses on containing the discontent within senior and mid-level army echelons witnessed in the build up to the retirement of his predecessor, General Qamar Javed Bajwa.
Two lieutenant generals retired compulsorily after Munir's ascension as chief -- Azhar Abbas and Faiz Hameed.
Reports indicate, a special cell in GHQ is enquiring against the role of two Faiz henchmen in the tape recording of deliberations in the prime minister's office.
Apart from the appointment of Lieutenant General Mohammad Saeed as chief of general staff and the reversal of the X Corps Rawalpindi assignment (Lieutenant General Shahid Imtiaz replacing Lieutenant General Nauman Zakaria), no other major three star appointments have taken place so far.
Munir may be waiting patiently for the April 2023 retirements.
Meanwhile, there have been two or three quiet changes at the two star level.
Munir has a new director general, Military Intelligence in Major General Wajid Aziz, Punjab regiment, replacing Major General Iftikhar Hassan Chaudhry, who goes as Commandant, PMA Kakul, while General Bajwa's erstwhile private secretary, Major General Mohammad Irfan, Punjab, has moved as GoC, 12 Division, Muree.
A social media blog, run by retired major Adil Raja, a recent emigre to the United Kingdom, has mischievously alleged that Major General Faisal Naseer, deputy director (counter intelligence), who is from the Military Intelligence Corps, runs disproportionate clout within the ISI, reporting directly to the army chief on most internal matters.
A disgruntled Imran Khan has made similar allegations.
These rumblings within may be forcing Munir to move with care.
It remains to be seen how Lieutenant General Nazir Ahmed (retd) settles in to his NAB assignment and how he deals with burgeoning cases against Imran and his party heavyweights.
Feature Presentation: Aslam Hunani/Rediff.com