The window of opportunity is slight and how the Congress vice president conducts himself over the next few months will determine whether or not he has understood his serendipitous situation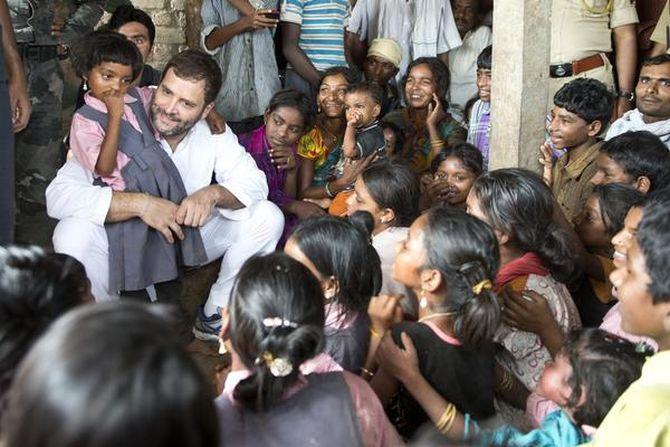 How has the return of Rahul Gandhi been handled in terms of spin and strategy? Has the "I'm just your regular bloke on the seat besides you in a cool tee – don't mind the TV cameras" approach endeared him to the populace? Have his relatively more strident appearances in Parliament galvanised his beleaguered party? Has his newfound love for farmers and their right to their land obliterated memories of a certain Robert Vadra and what is supposed to have gone down in Haryana?
What is interesting in Gandhi's case is that he's resurfaced at an extremely opportune moment in current affairs. The Aam Aadmi Party has (once again) shot itself in the foot; the Bharatiya Janata Party and its allies have to face the scrutiny of the electorate on promises made (and unkept); the media, newly emerged from the Narendra Modi-honeymoon, is restless and looking for stories to raise their TRPs; and, of course, the fact that approximately 95.8 million in India who work on farms are facing hardship due to man-made and natural disasters have given the Congress vice-president a fresh impetus in his quest to seize the political narrative.

Since his return, so far it appears he's made all the right moves: meeting agitating farmers, launching frontal attacks on the National Democratic Alliance's policies on land reform and net neutrality and even attempting jibes at the prime minister, albeit with the presence of a prompter -- a very tense looking Jyotiraditya Scindia -- by his side.

By the looks of it, the response has been appreciative. The carping amongst the senior members in his party about his lack of leadership qualities has been momentarily quelled; the media, which historically has treated him with derision and disrespect, has put aside its reservations to watch him with genuine interest; and he has even found the odd approval on social media!

But if Gandhi manages to pull off his rebooting and emerges as a viable opposition leader against Modi, it will have less to do with spin and more to do with the circumstances.

With 65 per cent of India's population under 35, Gandhi, at 44, is a more natural candidate to lead this demographic than Modi who is pushing 63. What's more, perhaps unwittingly, it is this populace that NDA is increasingly alienating with its heavy handed, censorious and regressive bans on free speech, offensive statements against minorities and curbs on personal freedoms.

With every regressive undemocratic authoritarian act or statement, NDA is pushing more and more people into the Congress vice-president's corner of the ring.

Remember, this is also a young demographic that might not be as conversant with UPA's acts of omission and commission as the earlier ones. The Emergency occurred so many years ago that its memory has almost faded from their minds. Many of them are children and beneficiaries of the post-1990's economic reforms and liberalisation ushered in by the Congress government and of the Rajiv Gandhi IT vision.

A beef-and-humour banning, caste and class upholding, misogynistic and backward-looking government is an anomaly to this populace.

This is the populace that can become natural allies to Gandhi in his bid for a comeback and for taking on the Modi government in the next general elections.

But the window of opportunity is slight and how he conducts himself over the next few months, establishing his credibility by convincing this populace, will make all the difference and determine whether Gandhi has understood his serendipitous situation or if once again he has snatched failure from the jaws of victory.