By hosting the 10 ASEAN leaders on Republic Day, India amply demonstrated that ASEAN is a central pillar of its Act East policy.
But is India 'central' for ASEAN, asks Dr Rahul Mishra.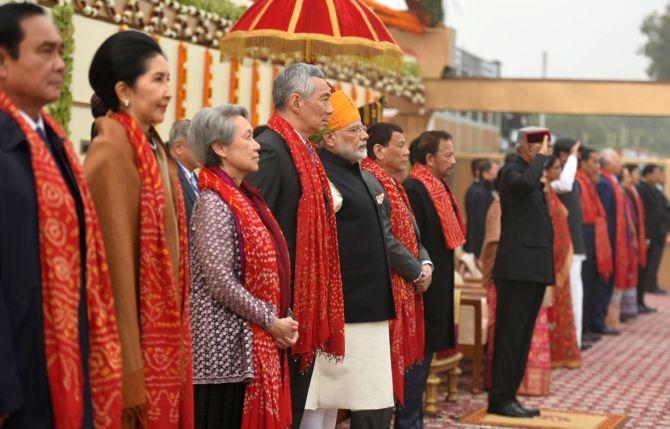 IMAGE: President Ram Nath Kovind and Prime Minister Narendra D Modi with the 10 ASEAN leaders at the Republic Day parade, January 26, 2018. Photograph: Press Information Bureau
2018 began with intense diplomatic footwork for India.
External Affairs Minister Sushma Swaraj visited Thailand, Indonesia and Singapore in early January.
Israeli Prime Minister Benjamin Netanyahu paid a week-long visit to India from January 14 to 19.
This was followed by Prime Minister Narendra D Modi's visit to Davos to deliver a speech at the World Economic Forum's annual meeting where he highlighted the three most significant challenges to human civilisation: Climate change. Terrorism. The backlash against globalisation.
However, the most intense and extravagant diplomatic engagement, at least in terms of deployment of diplomatic and security paraphernalia, was the visit of the 10 Association of Southeast Asian Nations (ASEAN) leaders to India for the ASEAN-India Commemorative Summit.
Celebrations of the 25th anniversary of the ASEAN-India dialogue partnership, and ASEAN-India Commemorative Summit were successfully concluded in New Delhi on January 25, 2018. After the summit, the 'Delhi Declaration of the ASEAN-India Commemorative Summit to mark the 25th Anniversary of ASEAN-India Dialogue Relations' was also issued.
In a bid to showcase the salience of ASEAN for India, Modi had invited the 10 leaders of the ASEAN member countries as guests of honour at the 69th Republic Day celebrations. India has not invited so many heads of States or governments ever for Republic Day, and membership of a regional grouping never functioned as an 'essential qualification' for the invitation either.
With this event, India has proved, at least symbolically, that it is Acting East with ASEAN positioned as the 'central pillar' of its policy.
2017 was important in several ways. ASEAN completed 50 years of its existence. The India-ASEAN dialogue partnership turned 25, summit-level partnership completed 15 years, and their strategic partnership turned five.
Therefore, it was the appropriate time to tell the member countries that India considers the ASEAN region a top priority, and is ready to play a greater role in shaping the regional security architecture.
That India has been engaging 'East' is evident from the fact that India has been inviting leaders from the East Asian countries since 2010. That year, then South Korean president Lee Myung Bak; in 2011, then Indonesian president Susilo Yudhoyono; then Thai prime minister Yingluck Shinawatra in 2012; Japan's Prime Minister Shinzo Abe was invited in 2014.
Such warmth has been reciprocated by the East Asian leaders and India-ASEAN ties have improved over the last two decades.
Nevertheless, such a gathering should not be considered as a one-off, and the future course of action needs to be carefully charted out to achieve medium to long-term tangible gains as there still exist a few challenges.
For one, India-ASEAN two-way trade is yet to achieve its fullest potential, especially when compared with China-ASEAN two-way trade.
In 2016-2017, India's trade with ASEAN stood at $70 billion; China-ASEAN trade crossed the $500 billion mark the same year.
One of the major objectives behind the Look East Policy was to be regionally integrated with the economies of the region. However, the trade and investment realities still fall short of expectations.
There is an urgent need for India to improve trade and investment stakes in ASEAN economies and regional supply chain networks. Positioning at less than three per cent of ASEAN's external trade will not lead India far.
India should also work for early conclusion of the Regional Comprehensive Economic Partnership.
Almost all the Southeast Asian countries, despite being apprehensive of China's rising military prowess and increasingly assertive postures, are inching closer to China because of the potential gains of China's ambitious One Belt, One Road project.
The reason why countries such as the Philippines are overlooking their differences with China is that these countries are trade-dependent on China and are in desperate need for fast and cheaper infrastructure development.
China is willing to fulfil their short-term demands for its own bigger gains in the future.
India is not able to provide either huge trade interdependence or infrastructure development to a majority of the ASEAN countries.
Shared interests bind India and the countries of the Southeast Asian region together. China's unwillingness to amicably and multilaterally resolve outstanding issues such as the South China Sea dispute is a cause of concern for all the countries in the region.
China's increasing influence and presence in the ASEAN region and India's neighbourhood, should act both as an opportunity and a challenge in stepping up cooperation with countries across South Asia and Southeast Asia.
India seems to endorse the idea of a more benign 'Quad Plus' instead of just a 'Quad' which has been superimposed with a stereotypical image of a 'military alliance to contain China' by some analysts.
This is hardly surprising as the other three partners in the Quad -- Japan, Australia, and the US -- are indeed military and strategic allies, with the former two enjoying the benefits of alliance with the US.
Overlooking the repeated signals given by the Indian and Japanese governments, some analysts have themselves defined the 'Quad' as a military alliance, and then get disappointed that the 'Quad' does not work like a military alliance and is giving out 'confusing signals'.
Such an analysis also fails to understand the comprehensive nature of the India-Japan or India-US partnership which is more than military ties to counter a perceived adversary.
Nevertheless, to assuage the concerns of Southeast Asian countries, New Delhi has recently reiterated that the 'Quad could be significant in ensuring security in the Indo-Pacific region with ASEAN at its core'.
India's connectivity efforts are still marred by procedural issues.
While China is working on improving connectivity with countries across several regions, India and its ASEAN partners are still unable to complete the sub-regional connectivity projects initiated more than a decade back.
India's hesitant and uncertain moves, such as 'Sagarmala' and the 'Cotton Route', are not helpful in either its power projection, or the ambition to provide a viable alternative to China's OBOR.
It is important that both India and ASEAN member countries focus on the under-utilised aspects of the physical, economic, digital, and people-to-people connectivity. Improving economic and transport connectivity is a key component in that context.
India's maritime linkages including port development and maritime transport facilities are yet to catch up with countries such as Singapore which needs great amount of attention.
Nevertheless, what still works in India's favour is its strategic location.
No regional connectivity plan can be completed in its entirety without India's participation.
While India and ASEAN have certainly benefitted from each other in the past, they are yet to become key elements in shaping each other's future.
The time has come to earnestly strive for achieving long-term tangible gains.
By hosting the 10 ASEAN leaders, India has amply demonstrated that ASEAN is a central pillar of its Act East policy.
What remains to be seen is whether India is that 'central' for ASEAN.
Evidently, India has miles to go before it can achieve that status.
Dr Rahul Mishra is a senior lecturer, University of Malaya, Kuala Lumpur.