Separatists and their wide network must be neutralized for peace in the Valley, says Lt Col (retired) Anil Bhat.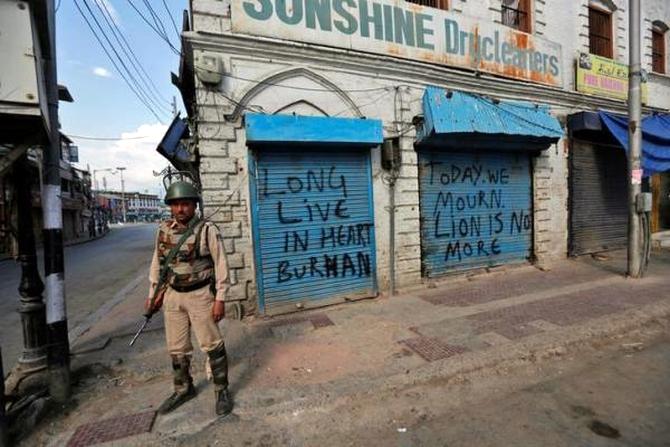 The mayhem in Kashmir Valley following the killing of Hizb-ul-Mujahideen poster boy Burhan Wani, who carried a bounty of Rs 10 lakh on his head, and ten of his cohorts by security forces, is the culmination after a build-up of several events and issues.
How did the young, handsome ex cricketer Burhan Wani become the leader of HM, a Kashmiri group raised by Pakistan's military and Inter-Services Intelligence? How did his killing, followed by a large gathering at his funeral, spark off an agitation with unprecedented violence against security forces?
A look at some past events and developments throws light on how the situation in the Valley was precipitated in July 2016.
The HM, with its cadre base being drawn from Kashmiri Muslims and Pakistanis, was one of 32 outfits proscribed under the Prevention of Terrorism Act, 2002. It was inducted into the Kashmir Valley in September 1989 as the militant wing of the Jamaat-e-Islami, an Islamist organization, at the behest of the ISI, to counter the Jammu and Kashmir Liberation Front which had advocated independence of Jammu and Kashmir.
Many of its early cadres were former JKLF members.
The HM has claimed to stand for the integration of Jammu and Kashmir with Pakistan and since its inception. It has also campaigned for the Islamisation of Kashmir.
Headquartered in Muzaffarabad, in Pakistan-occupied Kashmir, the HM is presently headed by Syed Salahuddin, who also heads the United Jihad Council. The HM is believed to have strong links with the proscribed Students Islamic Movement of India.
Following the assumption of power by the Bharatiya Janata Party in May 2014, Pakistan went into overdrive with unprecedented pressure of unprovoked firing across the International Boundary, south of Akhnoor, and a step-up in attempts at infiltration by Pakistani terrorist groups -- mainly Lashkar e Tayiba and Jaish e Mohammad across the Line of Control and IB.
The aggressive responses to both by the Border Security Force on the IB, the Indian Army on the LoC, and other security forces, including Jammu and Kashmir Police in the Valley, resulted in a fair amount of interceptions/arrests/elimination of Pakistani terrorists.
While much of Pakistan military and ISI's efforts were neutralized south of Pir Panjal, in the Valley, the ISI gave the HM a boost with a fresh induction of Kashmiri youth.
Burhan Wani was made the poster-boy and social media was aggressively used to radicalise and inspire educated Kashmiri Muslim youth to join its ranks.
Owing to the many successes of the security forces in eliminating Pakistani terrorists, the ISI pressed the separatists to deliver and the modus operandi of agitation with violence was resorted to.
On February 8, 2016, New York Times correspondent Carlotta Gall reported that experts have found evidence that Pakistan facilitated the Taliban offensive.
Gall said, "This behaviour is not just an issue for Afghanistan. Pakistan is intervening in a number of foreign conflicts. Its intelligence service has long acted as the manager of international mujahideen forces, many of them Sunni extremists, and there is even speculation that it may have been involved in the rise of the Islamic State... the region's triumvirate of violent jihad is living openly in Pakistan."
She named three terrorists -- Sirajuddin Haqqani, leader of the Haqqani network, Taliba leader Mullah Akhtar Muhammad Mansour and Al Qaeda's Ayman al-Zawahri -- enjoying sanctuary in Pakistan.
In October 2014, Lt Gen Subrata Saha, then GOC of the Indian Army's 15 Corps, which is headquartered in Srinagar (and now Deputy Chief of Army Staff), speaking to this writer, reiterated what he had cautioned then: "The emergence of ISIS flags merits concern and deserves the highest attention of the security agencies to prevent the youth of Kashmir from getting lured into ISIS."
While former chief minister Omar Abdullah had dismissively stated "The flag was waved by some idiots, which does not mean that ISIS has any presence in Kashmir," by April 2015, there were reports of not only protesters raising anti-India slogans and waving ISIS and Pakistan flags after Friday prayers at the Jama Masjid, but also of setting ablaze flags of Peoples Democratic Party.
Since then, the waving of ISIS and Pakistani flags has become a routine affair outside the Jama Masjid on Fridays. Further, Kashmiri separatists through their network revived the 2010 tactic of stone-pelting.
On May 31, 2016, Chief Minister Mehbooba Mufti, while concluding the discussion on the Governor's address in the Legislative Council, lashed out at separatists for disturbing peace on Fridays.
Without naming any separatist leader, she said they had turned blessed Friday into a stone-throwing day. She said she was being branded as anti-Muslim and anti-Kashmir.
"It is not only you (Opposition), many others (separatists) have been issuing fatwas that I am anti-Muslim. Kashmiriyat is that we should safeguard our religion and stay together. Our Islam is not what they (separatists) say you have to do (protests and stone pelting) on Fridays," she said.
The chief minister said Islam did not preach "slaughtering and shouting religious slogans".
She reiterated the PDP-BJP government's stand of bringing back migrant Kashmiri Pandits with respect.
"First, we have to put them in transit camps. We have to give them breathing space. We can't tell them to go directly to their villages. How is this possible?"
Mehbooba asked. "Workers of the Congress, PDP, NC and BJP are living with security. When they can't live without security, is it not important to provide a sense of security to Pandits? Once they feel the situation is conducive, they will go back to their villages... Kashmiri Muslims are fed up of violence. Kashmiri Pandits are not afraid of Kashmiri Muslims. They are afraid of those who perpetrated the Wandhama massacre. Who killed Abdul Gani Lone? Who shot Mirwaiz Moulvi Mohammad Farooq?" she asked.
Earlier, while speaking in the assembly on the rehabilitation process of displaced Kashmiri Pandits and other migrants, Mehbooba is reported to have said she would "not throw Kashmiri Pandits like 'pigeons before the cat' ".
While the National Conference said the chief minister owed an apology to people of Kashmir, hardline separatist leader Syed Ali Shah Geelani said she had "lost her mental balance after gaining power". She hit out at critics over the allegations that bringing back Pandits with Article 370 was totally wrong.
On June 12, 2016, Mehbooba Mufti visited the much revered Kheer Bhavani Temple, in Ganderbal, 35 km from Srinagar, where thousands of Kashmiri Pandits had converged to attend the annual 'mela' (fair), and said, "Kashmir is incomplete without Kashmiri Pandits... They will be brought back to Kashmir."
She also met with two Pandit pilgrims who were injured during stone-pelting clashes between protesters and police over the establishment of a police post, a day earlier.
Calling the incident "unfortunate", Mufti said, "It creates a wrong impression as lots of young Kashmiris are studying outside. There will be stigma associated with those involved in stone pelting incidents in the future."
On Mufti's earlier instructions to review stone-pelting and such like cases between 2008 and 2014, state government approved withdrawal of 104 cases and on July 5, 2016, as a gesture of amnesty on Eid, 634 persons facing stone-pelting charges were released. In 2013, the Omar Abdullah government had released 1,811 persons involved in cases of stone-pelting in the valley during 2010.
All agitations/lock-outs/stone-pelting by local populace are the direct result of incitement/motivation by Kashmiri separatists beholden to ISI. Through their intricate network of agents down to localities/colonies/streets, locals, particularly youth are direct them to perform disruptive acts.
Pakistani terrorists who have succeeded in infiltrating or lying low are also assisted by the separatist network. And all this is supervised by ISI and Pakistani terror groups it supports.
After Wani's killing, Hafiz Saeed not only addressed meetings in Lahore and Muzaffarabad to mobilize terrorists and separatists to up the ante in the Valley, but has been ranting afresh that Pakistan should sever diplomatic relations with India, ban Indian films, media etc.
And to top it all, Kashmiri separatist leaders not only have meetings with the Pakistani High Commissioner and his colleagues in New Delhi, but also attend Pakistani terrorists leaders meetings/rallies in Pakistan.
On the very important priority of the way forward, the thrust has to be twofold-tackle security and political alienation.
For security, firstly, separatists and their wide network must be neutralized and not be allowed to be reorganizing again and secondly, India must redevelop the capability to covertly strike at terrorists beyond its borders.
Both these require political will which must be exercised. For overcoming, the alienation that Kashmiris face, keeping in view that all of them of the age of forty or so, have been deprived of post-Independence Indo-Pak history.
The government must make sustained use of Internet and social media to educate not only young Kashmiris, but also powerful nations who have already been targeted by terrorists, or may be so in future.
The author is a strategic analyst.