'The Pakistani side was so cocksure of itself that it had come to the table with a pre-set agenda -- an agenda of unilateralism, knowing full well that nothing was going to come out of these talks,' says Rajeev Sharma.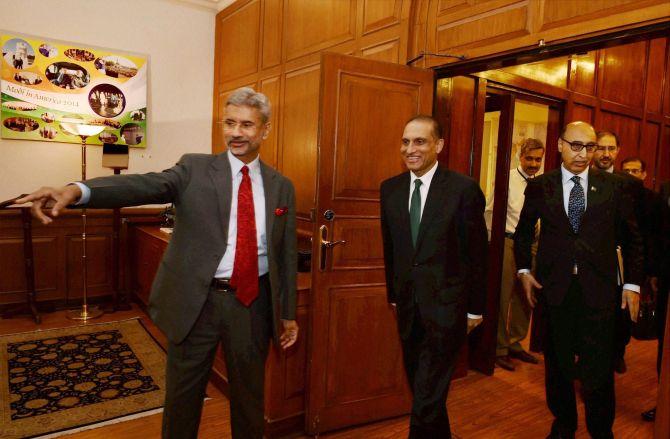 IMAGE: Foreign Secretary Dr S Jaishankar with his Pakistani counterpart Aizaz Ahmad Chaudhry in New Delhi, April 26, 2016. Pakistan's High Commissioner to India Abdul Basit, right, is also seen. Photograph: PTI
Most India-Pakistan talks are usually a dialogue of the deaf wherein the two sides merely end up reiterating their previously stated positions.
Tuesday's edition between Foreign Secretaries Dr Subrahmanyam Jaishankar and Aijaz Ahmed Chaudhry on the sidelines of the Heart of Asia conference on Afghanistan in New Delhi was no different.
There was one difference this time, though. The Pakistani side was so cocksure of itself that it had come to the table with a pre-set agenda -- an agenda of unilateralism, knowing full well that nothing was going to come out of these talks.
The Pakistanis resorted to a below-the-radar practice which it had never done before. A Pakistani diplomat started sending updates on social media about the meeting even though the talks were still on.
Manzoor Ali Memon, whose job is to interact with the media, started sending updates every 15 minutes from 11.15 am, 15 minutes after the meeting started.
Memon's updates were on core issues from the Pakistani perspective which the Pakistani side was to raise with the Indians. It didn't matter to the Pakistani side whether those issued had actually been raised by the Pakistani side by that time at the ongoing talks.
The Pakistani official was merely working on a script which had already been written and his job was to onpass this script in regular intervals to the news hungry Indian media through social media, irrespective of the fact whether these points had actually been made at the ongoing talks by then.
The most breathtaking part of the Pakistani brazenness was that this official was not even present in the room where the foreign secretary-level talks were going on. It showed that the Pakistanis had come for these talks with a pre-set agenda.
Obviously, it showed that the Pakistanis were just not interested in any substantive outcome.
Perhaps, their domestic situation is just not suitable for a breakthrough with India at a time when Pakistan's powerful military establishment is at loggerheads with the civilian government. Even the Pakistanis themselves are not sure whether Prime Minister Nawaz Sharif will keep his position for long.
For the record's sake, the two sides stuck to their already known positions on all points of dispute. The Pakistanis heard India's twin major concerns -- a credible action taken report on all terror issues, particularly the most recent terror attack on the Pathankot airbase, and specific dates on which the National Investigation Agency can pay a reciprocal visit to Pakistan in the Pathankot case. The Pakistanis did not say 'yes,' but did not say 'no' either.
The fact that the two sides agreed to disagree was clear from the fact that they came up with separate statements, making clear their divergences.
Sample the brief statement issued on behalf of the Pakistani high commissioner in New Delhi: 'FS emphasised that Kashmir remains the core issue that requires a just solution in accordance with UNSC resolutions & wishes of Kashmiri people. All outstanding issues including the Jammu and Kashmir dispute were discussed.'
The Indian statement focused on five points as follows:
'1. India's foreign secretary emphasised the need for early and visible progress on the Pathankot terrorist attack investigation as well as the Mumbai case trial in Pakistan. He also brought up the listing of JeM leader Masood Azhar in the UN 1267 Sanctions Committee.
2. Foreign Secretary Jaishankar clearly conveyed that Pakistan cannot be in denial on the impact of terrorism on the bilateral relationship. Terrorist groups based in Pakistan targeting India must not be allowed to operate with impunity.
3. We pressed for immediate consular access to Kulbhushan Jadhav, the former naval officer abducted and taken to Pakistan.
4. The discussions also covered humanitarian issues including those pertaining to fishermen and prisoners, and people to people contacts including religious tourism.
5. The two foreign secretaries exchanged ideas on taking the relationship forward and agreed to remain in touch.'
On the Kulbhushan Jadhav issue, Jaishankar confronted his Pakistani counterpart and asked him whether he seriously believed that India would believe the web of lies which the Pakistani side was flaunting as his 'confessional statement.'
Jaishankar said India would like to hear these things from Jadhav himself, but that could be possible only when India gets consular access to Jadhav.
India knows that getting consular access to Jadhav is a long haul. An Indian national Hamid Ansari was arrested by Pakistan some three years ago. India is yet to get consular access to him.
Rajeev Sharma is an independent journalist and strategic analyst who tweets @Kishkindha