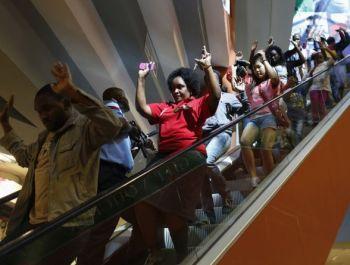 There is a strong chance that both the terrorist attacks are linked and represent a new phase of Al Qaeda's strategy, notes Lisa Curtis.
Within 24 hours over the weekend, two major terrorist attacks by Islamist extremists occurred in different parts of the world. In Kenya, military forces are still fighting terrorists holed up in a shopping mall in Nairobi, where nearly 60 civilians already have been killed. In Pakistan, over 80 were killed in a dual suicide bomb attack following a Sunday morning church service in the northwest city of Peshawar.
Are these two horrific attacks connected, or are they merely coincidental?
In both cases, the attacks appear aimed at showing the weakness of the state by provoking a sense of chaos as well as indirectly influencing US policy.
As Heritage expert Charlotte Florance has explained, Al Shabaab -- an Al Qaeda-linked group based in Somalia -- "wants Kenya and all other foreign troops present in Somalia to leave immediately." Florance further notes that Al Shabaab "has been threatening reprisal attacks for Kenyan military activities within Somalia for the past two years, but none of the attacks has been as large as the Westgate Mall attack."
In Pakistan, a faction of the Al Qaeda backed Tehrik-e-Taliban Pakistan claimed responsibility for the suicide bombings and vowed to continue their attacks against non-Muslims in Pakistan until the U.S. ends its drone campaign in the tribal areas bordering Afghanistan.
Both attacks fall in line with what appears to be Al Qaeda's new strategy for promoting its agenda. In an audio message marking the 12th anniversary of the 9/11 attacks, Al Qaeda leader Ayamn al-Zawahiri called for more small-scale terrorist attacks from "safe bases," where Islamist terrorist groups have a foothold, as part of the organisation's global strategy.
Zawahiri said that "continuing the drain of military and security expenditures so that we keep America in a state of tension and anticipation, (wondering) when and where the next blow will come…does not cost us anything but (organizing) dispersed strikes here and there."
It is possible that the timing of this weekend's attacks in Kenya and Pakistan are purely coincidental. There is a strong chance, however, that they are linked and represent a new phase of Al Qaeda's strategy, which is to inspire and direct attacks in different parts of the world as part of a global Islamist insurgency.
Lisa Curtis is Senior Research Fellow for South Asia in the Asian Studies Center at The Heritage Foundation.
Image: Civilians escape an area at the Westgate Shopping Centre in Nairobi during the terror attack
Photographs: Siegfried Modola/Reuters