The NINL management can see this as their moment of giving back to the nation and humanity.
Its plant has an oxygen unit that can produce 418 tonnes of oxygen every day.
418 tonnes is about 58% of Delhi's daily demand for oxygen, notes Sudhir Bisht.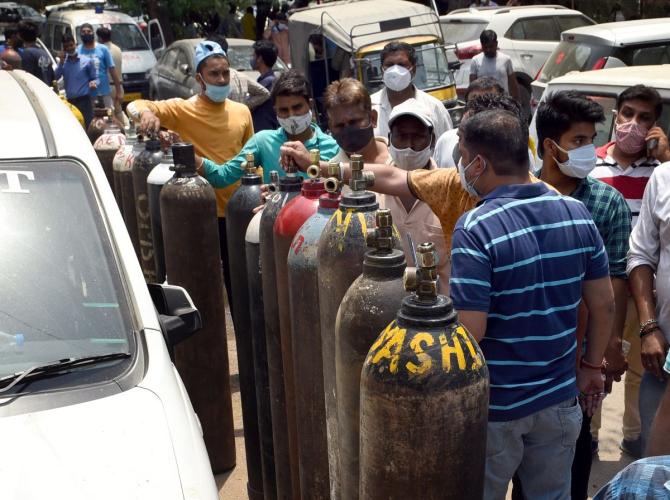 What is the most critical element right now, that everyone is making a beeline for, in the Indian medical industry?
Something the Union government and the state governments are trying to source it from anywhere and everywhere?
The answer is rather straightforward. Liquid Medical Oxygen (or LMO) is the most precious commodity that hospitals and patients of COVID-19 are awaiting with bated breath.
Social media, especially Twitter, is full of messages, from ordinary men and women, asking for help in obtaining oxygen cylinders.
It is reported that hospitals are not able to admit patients, as they fear running out of LMO fast if more patients are admitted.
The number of beds does not appear to an issue right now as the facilities across India were improved in this respect. It is the deficiency in the availability of medical grade oxygen, which is the biggest bottleneck in providing succour to patients gasping for breath.
There is this story of a 38-year-old schoolteacher in Bokaro, Jharkhand, who drove 1,400 km to Noida with oxygen to save his friend who was not getting admission to any hospital due to non-availability of oxygen.
The teacher, Devender, made it his mission to save his friend Rajan, as he searched all over the steel city for oxygen. He finally found it and paid a princely sum of Rs 10,400 for the oxygen cylinder and reached his friend just in time to save him from the jaws of certain death.
In many cases, it is learnt from the various media reports, the difference between recovery from COVID-19 and collapse is just a matter of sustained oxygen supply. The demand for medical grade oxygen has jumped manifold since the Covid second wave struck India.
In short, LMO is the most precious commodity in India today.
In such a situation what should be the response of those factories that are in the business of supplying oxygen?
Corporate India has risen in an unwritten accord to support the country. Reliance Industries has committed to supply over 700 tonnes a day from its Jamnagar refinery complex. It is said that the CEO of the company has moved to the refinery township and is personally overseeing the logistics involved in the supply of oxygen.
From various media sources, it is gathered that the RIL Jamnagar refinery in Gujarat had been producing 100 tonnes of medical-grade oxygen till some time ago. This capacity was ramped up to about 700 tonnes very recently and this will be further enhanced to about 1,000 tonnes per day.
RIL's Jamnagar refinery is making supplies to Gujarat, Maharashtra and Madhya Pradesh and the 700 tonnes that it is supplying is estimated to serve about 70,000 critically ill patients every day.
Similarly, Tata Steel has committed to supply 600 tonnes of oxygen every day.
Corporate India is doing its best in easing the hardship caused by the oxygen crisis. However, what strikes me most is that a Tamil Nadu-based private sector plant that had faced a forced closure has found an opportunity to serve India by appealing that it should be allowed to restart its plant, even if only to produce medical grade oxygen.
I am referring to Sterlite's copper plant, belonging to the Vedanta group, in Tamil Nadu that was closed by the state's pollution board in 2018.
The company officials have knocked at every door, including that of the Hon'ble Supreme Court, to resume operations so that it can produce oxygen. Within a span of few days, the company has been able to obtain approval to start the 1000 MT capacity plant to produce LMO.
Another plant that can produce medical grade oxygen but lies in a moribund state at Kalinganagar in Odisha is a public sector unit and has been closed since March 2020 as the government has decided to privatise Neelanchal Ispat Nigam (NINL).
The story at NINL is in sharp contrast to the story that has unfolded at Sterlite. The management of the private sector Sterlite is running from pillar to post to ensure that it is allowed to restart its oxygen facility.
On the other hand, the NINL management seems unperturbed about the fact that they are letting go the opportunity of giving the nation a helping hand in the crisis caused by scarcity of LMO.
The Sterlite management may be eyeing an opportunity to win back the goodwill it lost when it violated pollution norms that led to the local community rise up against them. But my point is that even if Sterlite harbours such dreams of riding the goodwill wave in the face of a calamity, what stops the NINL management from suggesting to the government to allow operations at their plant?
The NINL management can also see this as their moment of giving back to the nation and humanity. Its plant has an oxygen unit that can produce 418 tonnes of oxygen every day.
Just to give readers a sense of how significant 418 tonnes of LMO is, it is about 58% of Delhi's daily demand for oxygen. As per various reports, Delhi has been receiving only about 480 tonnes of LMO whereas it requires about 700 tonnes.
I am not saying that if NINL plant starts functioning it will solve the crisis that is hitting us right now. The point that I am making is that every drop counts, and we need oxygen and the lives of many patients depend upon it.
What is NINL doing about realising its potential to supply 418 tonnes of LMO in the medical ecosystem? Its officers association has petitioned the management to resume the Oxygen plant operations. That is about it. No pro-active approach by NINL management to get things going.
Imagine if the 418 tonne oxygen plant was not a PSU, but was under the ownership or under the management control of a private body. It would have been working full steam to augment the nation's oxygen capacity.
If NINL were in private hands, a middle-management level officer -- say a sales manager -- would have alerted the chief sales officer about the surge in demand of medical grade oxygen and in a matter of two to three days, the board would bave given its approval to start producing the maximum quantity of oxygen.
Perhaps this is not the right time to ignite the 'private sector versus public sector' debate. The nation needs to unite under the present leadership and wage war on COVID-19. Nevertheless, I would appeal to MMTC Ltd and the Industrial Promotion and Investment Corporation of Orissa Limited, the promoters of NINL, to restart the oxygen facility without any further delay.
In case NINL has retrenched all its workers, the management can quickly contract out the LMO facilities for the time being. The LMO plant can be handed over to the Steel Authority of India Limited as the latter has the expertise in managing oxygen plants.
I may submit here that SAIL too has risen to the occasion to meet the LMO shortage and is supplying over 670 tonnes of LMO to the medical industry.
So here's wishing that NINL quickly restarts its oxygen facility and contributes to a noble cause.
If it is able to add up about 400 tonnes of oxygen, it can meet the requirement of several thousand patients every day.
At a time when the defence ministry has airlifted 23 mobile oxygen generation plants from Germany, the country cannot allow a large government-owned oxygen facility to lie fallow.
Dr Sudhir Bisht, author and columnist, writes from New Delhi.