'As I look back on 2016, I see yet another year in which our country -- not just the government -- has failed to move ahead,' says Geetanjali Krishna.
Illustration: Uttam Ghosh/Rediff.com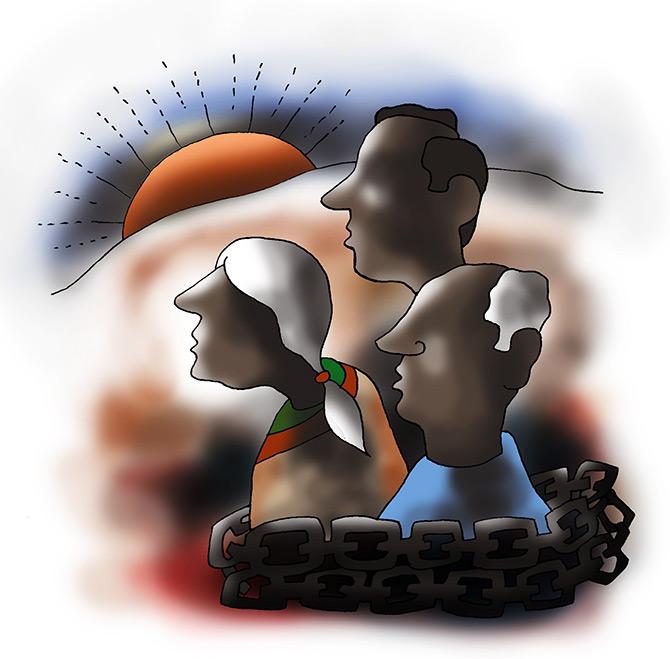 As another year drew to a close, it's customary to look back on it. As always, the media are full of stories of macro issues such as demonetisation and of personalities who made the news.
Instead, I decided to do an annual reckoning with three 'people like them' -- ordinary people whose ordinary lives aren't exactly newsworthy but are endlessly interesting, at least to me.
"Bouts of ill health this year have made me realise how little security I have," says Sudama, the old cook, who had to give up her job this winter and become dependent on her daughter because she is now incapable of looking after herself.
"Although I have applied for pension from the government, it hasn't yet come through," she says. "The coming year will only see me becoming older, weaker and more dependent on my daughter… So I'm not looking forward to it at all."
"When I look back on 2016, my biggest achievement has been to get one of my sons into Kendriya Vidyalaya," says Harish Kumar, a driver.
The other son goes to a private school, which charges a hefty fee and yet the quality of the teaching is so poor that Kumar spends Rs 4,000 a month on private coaching for his 10 year old.
Yet, he says, this is the only way his son will get the chance to compete with children from affluent families, who go to the private schools that people like Kumar find it hard to afford.
It took Kumar four years, several rejected applications and the exertion of whatever influence he could muster, to pull off this feat.
"It's a huge achievement for us," he says. "I hope that in the year ahead, I'm able to get my elder son into a Kendriya Vidyalaya, too."
The last conversation I have is with old Roopchand, the Bengali gardener at a nursery that I frequent.
"This year has showed me how dependent my fortunes are on my employer's whims," he says.
When the government announced its decision to demonetise old currency on November 8, Roopchand took his meagre savings of Rs 10,000 in old notes to his employer, requesting him to change the currency for him.
"The next day my employer gave me my money in new notes and a set of railway tickets in lieu of salary. He told me that since he couldn't afford to pay me another month's salary in cash, he was sending me home to my village for a month on unpaid leave," he says.
Roopchand had no option but to take the train home that very day.
"I guess I have a lot to be thankful for," he says. "At least I got my job back. So many people I know, haven't."
So as I look back on 2016, I see yet another year in which our country -- not just the government -- has failed to move ahead.
There remain too many people like Sudama, who are too old to work, too young to die and too tolerant or unaware to fight for their pensions.
There remain too many men like Harish, who want their children to get admission into Kendriya Vidyalayas by hook or by crook, but don't stop to wonder why government schools do not offer better standards of education.
And there remain far too many people like Roopchand, unprotected by the country's labour laws as they belong to the unorganised sector, who are so grateful to hold on to their precarious jobs that they don't even see the injustice in their daily working lives.
Here's bidding farewell to a year of discontent, and wishing that the year ahead has better things in store for Sudama, Harish and Roopchand.